Coeur du Christ Academy, Coeur d'Alene Tribe partner for youth football camp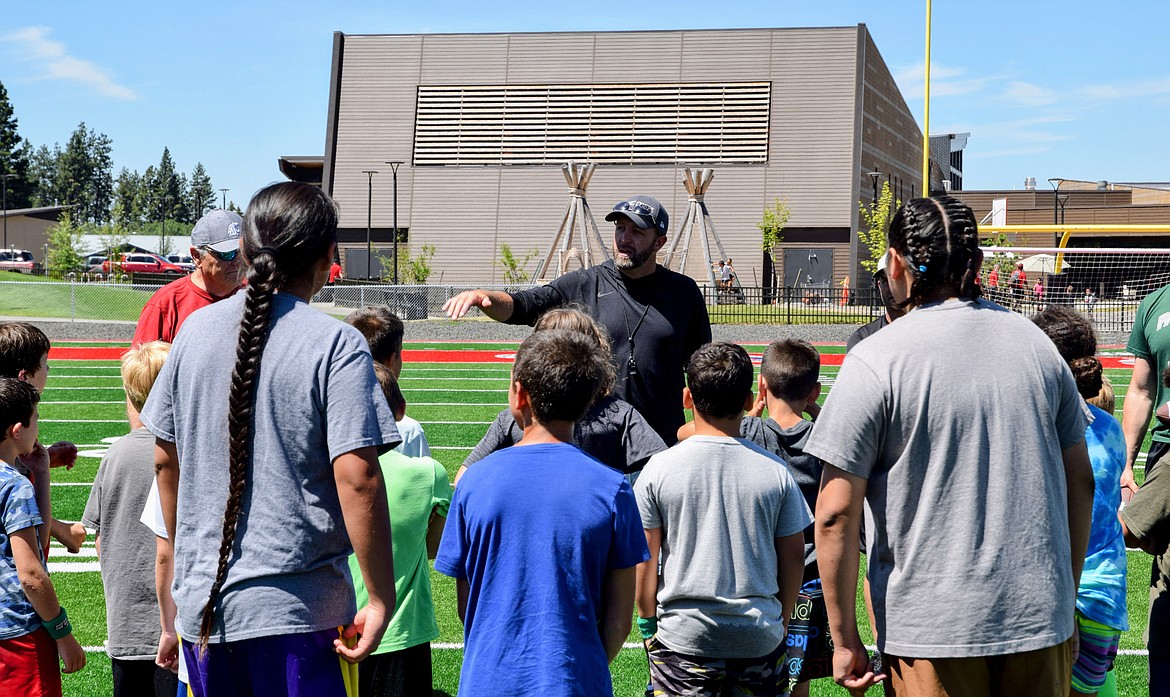 Retired National Football League quarterback Kellen Clemens works with youths July 21 during the Foundation Football Camp at the Marimn Health Coeur Center in Worley.
Photo by GENAVIVE EDMAN/Coeur du Christ Academy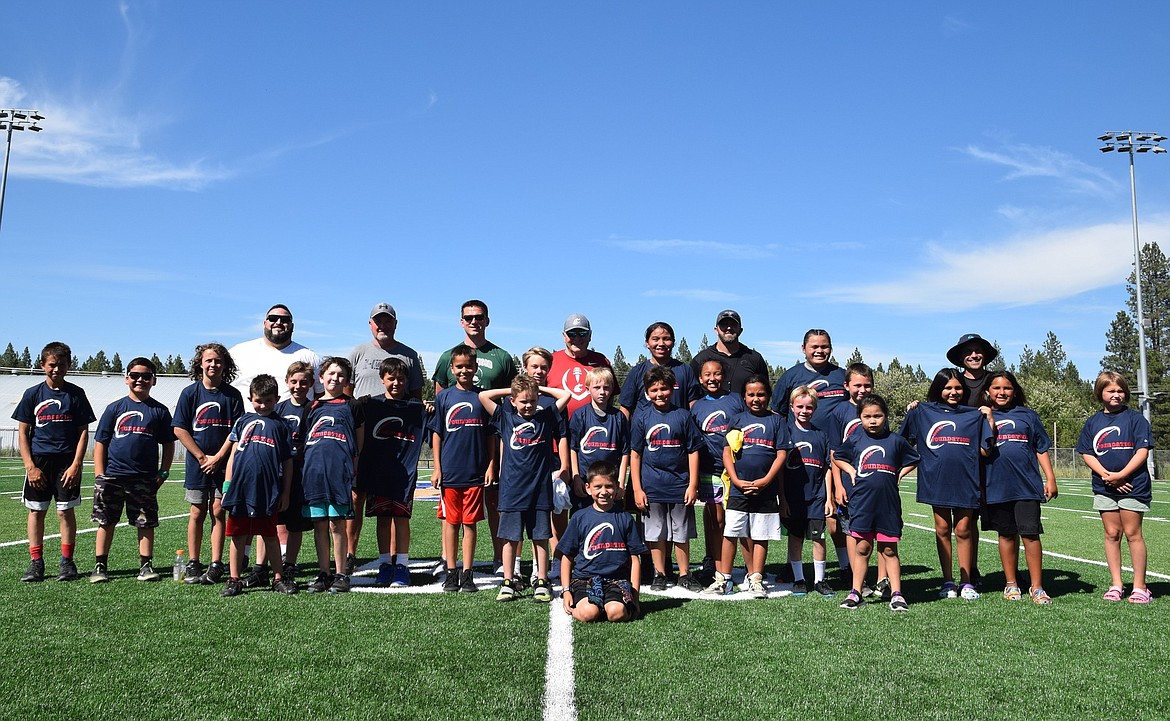 Football campers and their mentors smile for the camera at the Marimn Health Coeur Center.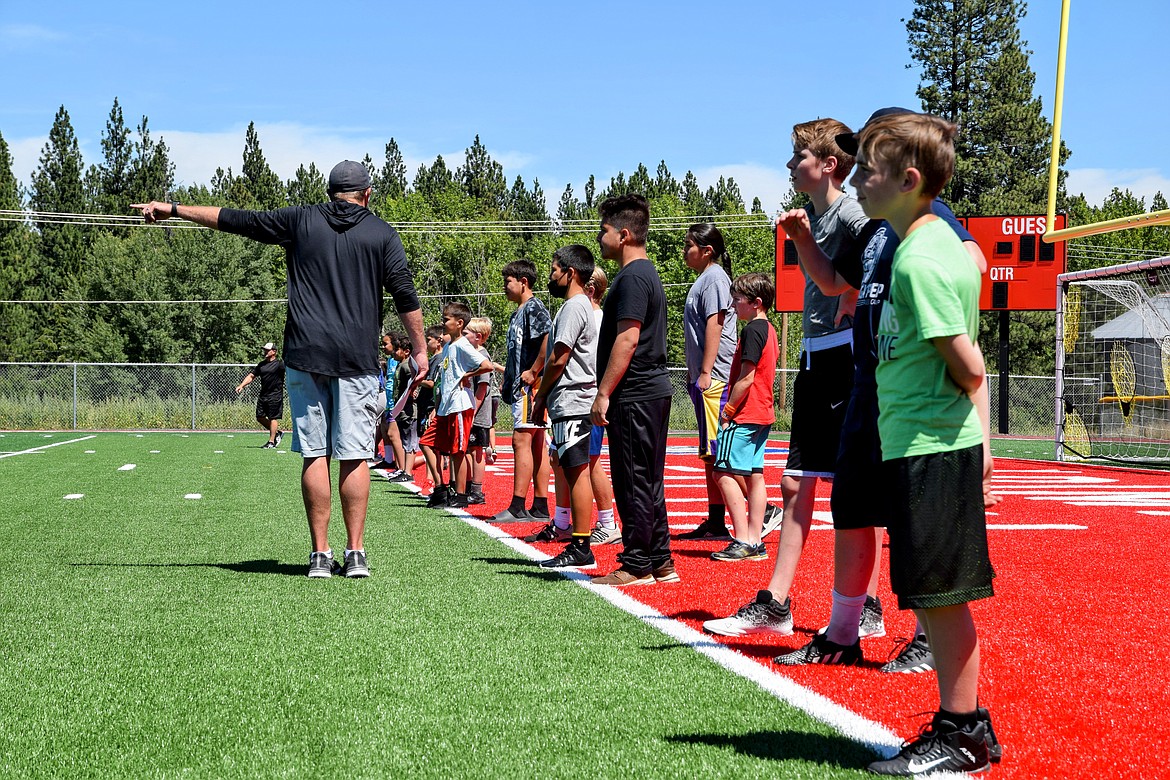 Kids line up to learn from the pros during the first football camp held at the Marimn Health Coeur Center. The camp was hosted by Coeur du Christ Academy.
Previous
Next
by
Press Staff
|
August 15, 2022 1:09 AM
Retired National Football League quarterback Kellen Clemens led an effort this summer that brought local youth together for a day of athletic excellence, teamwork, good sportsmanship and a love for the game of football.
The Foundation Football Camp was held in July on the artificial turf of the new Marimn Health Coeur Center, a 32,500-square-foot community center built on 20 acres of land in Worley where a significant percentage of youth growing up on the reservation live.
Retired Washington State University head coach Mike Price also contributed his expertise to the camp.
"For our kids to have the chance to work with professional athletes like Kellen Clemens and high-caliber coaches like Mike Price is a total game changer," said Chief Allan, chairman of the Coeur d'Alene Tribe.
Allan was joined by other members of the Coeur d'Alene Tribal Council.
"We built the Coeur Center to give our kids access to new opportunities — just like this football camp — to open their eyes to sports, activities and experiences that will broaden their horizons," Allan said. "We're grateful to Kellen and coach Price for their time and dedication to the positive development of our youth."
Roughly 60 youth ages 8 to 18 participated in the camp, which was the first football camp to take place at the Coeur Center.
Clemens, who serves as Coeur du Christ Academy's athletic director, shared a message of "Nunc Coepi," which is Latin for, "Now, I begin," taken from Psalm 77:10. He and former NFL quarterback Philip Rivers used this motto to inspire greatness both in faith and football when they played together for the San Diego Chargers.
"We must always begin again," Clemens shared with the youth. "Just because you won or lost a game, doesn't mean you don't go back and practice just as hard the next day."
He also encouraged the campers to take a similar approach in life.
"Every day is an opportunity to get better, but we have to start each day, each moment, with that intent — to begin again," he said.
The state-of-the-art Coeur Center facility opened in December 2020 and is home to the Boys and Girls Club of the Coeur d'Alene Tribe. It includes a football/soccer field with lights and a speaker system, bleachers, a three-lane track and a concessions building, which opened earlier this summer. The center is open to everyone in the community.
The football camp was hosted by Coeur du Christ Academy, a new private high school in the Catholic tradition in downtown Coeur d'Alene. Coeur du Christ will welcome its first students Sept. 7.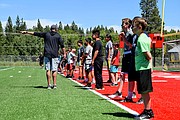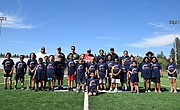 Recent Headlines
---