Leavenworth living
by
TYLER WILSON/Special to The Press
|
August 14, 2022 1:00 AM
A little bit of Old Europe in the heart of the Inland Northwest, Leavenworth in central Washington is probably the second most desired destination for Christmas cheer (first place going to North Idaho, obviously).
Modeled as a Bavarian Village, nestled along the Wenatchee River and surrounded by Cascade Mountains, Leavenworth attracts tourists year-round with plentiful outdoor activities, and, yep, the kind of holiday magic that gets imitated in about 75 Hallmark movies every year.
About 30 minutes northwest of Wenatchee (and about three and a half hours from Coeur d'Alene), Leavenworth is well within striking distance for a memorable vacation weekend. Should you love it enough to stay, you can join about 2,000 other residents (as of 2020) and start complaining about all the tourists in pretty much the exact same way you already do in North Idaho. But hey! Change of scenery!
With a market listed as "very competitive" by Redfin, Leavenworth's home prices in June 2022 were up 7.3 percent compared to last year. Redfin also reports a median price of $807,000, with homes selling after 13 days on the market compared to five days last year. Looking for a secondary source? Well, we have one for you anyway — Coldwell Banker reports a median price of $812,000 in Leavenworth, with approximately 104 properties listed as of press time.
As we've seen locally, interest rate changes have resulted in a number of price cuts on the Leavenworth market recently. Prices there are still pretty high though, at least compared to similar properties here in good ol' North Idaho.
The lowest prices currently active within city limits are lots in the low to mid-$300,000s. The next best deal was a two-bedroom, single family home with just over 960 square feet listed at $559,000.
More mid-range options include a three-bedroom, 1,500-square-foot home listed for $599,000 after a recent price cut, as well as a three-bedroom, 1,300-plus-square-foot home nearby listed at $659,000.
Next up are a number of properties in the high $700,000s — typically homes in the three-bedroom, 1,500-1,900-square-foot range with prices depending on location and age of the home.
As for the million dollar (and up) category, you've got a few beautiful properties just outside town with gorgeous views of nature and a little less hustle and bustle. There's also a new construction home with four bedrooms and 2,400-plus square feet that is designed to be an own plus lease duplex situation for $1.9 million.
In this writer's opinion, the dreamiest available property is a riverside retreat located about a mile from town with four bedrooms and 5,300-plus square feet priced at $2.3 million. That extra million really gets you a lot more house and view compared to the single million-dollar range. Hey, what's a million more dollars in the grand scheme of things?
• • •
Let us know about story ideas, standout neighborhoods and developments that we may feature in an upcoming Neighborhood of the Week. Contact Tyler Wilson at twilson@cdapress.com.
Attention Real Estate Agents! Take advantage of Neighborhood of the Week by sending in your suggestions for featured areas, including sites outside the normal confines of Coeur d'Alene, Post Falls, Hayden and Rathdrum.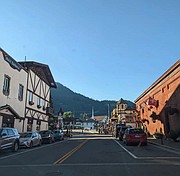 Recent Headlines
---