Hayden girl raising money to compete in mountain bike world championships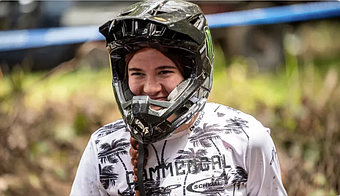 Courtesy GoFundMe Ella Erickson.
|
August 10, 2022 1:10 AM
Ella Erickson, 19, of Hayden is one of four women to represent Team USA at the downhill mountain biking world championships Aug. 24-28 in Les Gets, France.
The only funding she has to attend this event is through her parents, so a GoFundMe for Ella seeking $4,000 has been set up.
"She just hosted a women's and girl's ride at Silver Mountain Resort, in partnership with e*thirteen, and will be hosting another one on Aug. 19," said Jenna Norris, who his hosting the fundraiser. "Her goal for these rides is to help other women and girls build confidence, make new friends, learn new skills, and of course bring more women to the sport."
Erickson was fifth at the world championships in 2020, a three-time Junior U.S. national champion and was fourth at nationals this year.
To view the GoFundMe, visit: https://gf.me/v/c/ghdv/help-send-ella-to-uci-mtn-bike-world-champs
Recent Headlines
---