Match made in housing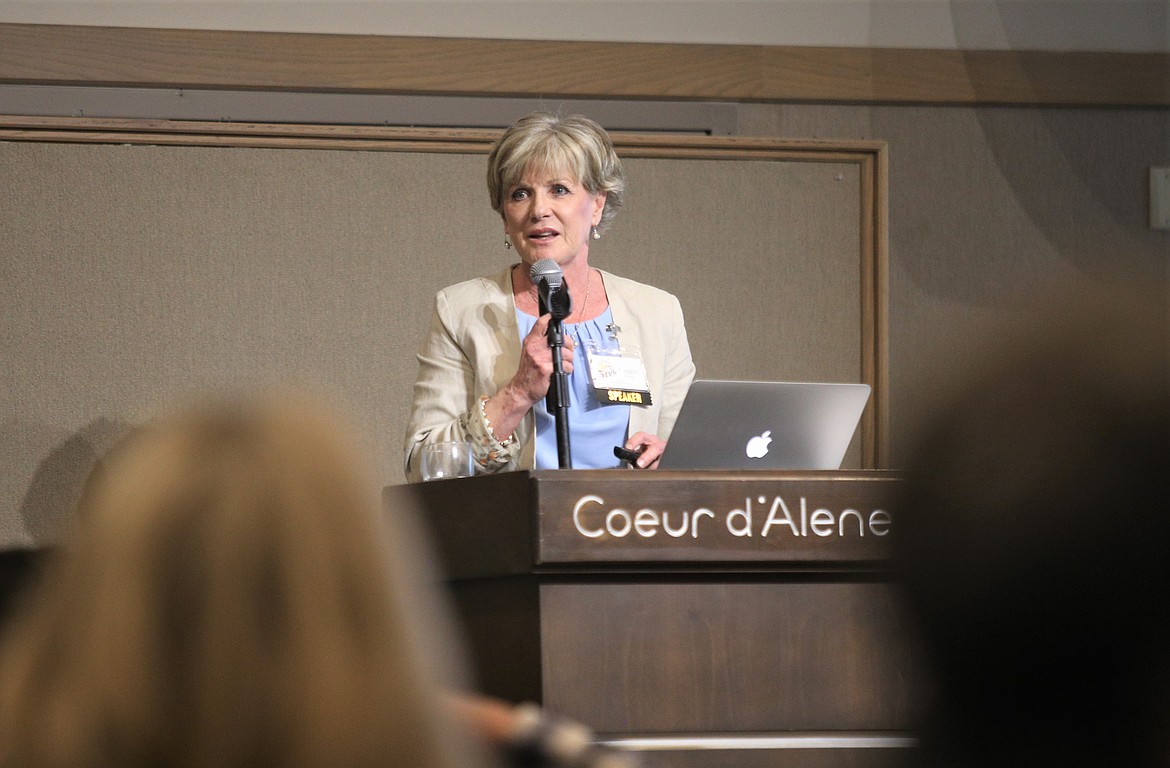 Maggie Lyons with the Regional Housing and Growth Issues Partnership speaks during the North Idaho Building Contractors Association meeting on Wednesday at The Best Western Plus Coeur d'Alene Inn.
BILL BULEY/Press
by
BILL BULEY
Staff Writer
|
April 22, 2022 1:08 AM
COEUR d'ALENE — Tom Lucas had long been looking into national homeshare programs.
The more he heard about them, the more he liked them.
"It's something I've always wanted to launch and get off the ground," said the board member of ElderHelp of North Idaho.
It may happen this summer and it could be part of a solution to the area's affordable housing shortage fueled by an influx of new arrivals and rising home prices and rents.
The concept is to match seniors or singles with spare rooms in their homes to a person seeking a place to rent.
In today's tight home market, the Regional Housing and Growth Issues Partnership believes it could help provide some solutions.
The partnership recently formed a Homeshare Subcommittee, chaired by Lucas and Kandi Johnson, a local businesswoman. The subcommittee is under ElderHelp's umbrella.
Lucas said they hope to have the program up and running by July.
He said there are successful homeshare programs nationwide.
"I think it has tremendous upside," Lucas said.
Many seniors are isolated and homesharing could give them companionship while providing a tenant with an affordable place to live, perhaps doing work in exchange for rent, he said.
It could also provide seniors with income and security.
A screening of both parties would be key to preventing potential problems.
Lucas said he's checking with companies that provide background checks to determine cost and level of service.
"We would not do it," he said.
It would likely include checking for criminal records, personal references and interviews "to provide a level of confidence and security" for all involved.
There could also be check-ins and mediation if things don't work out.
According to the National Shared Housing Resource Center, benefits to homesharing include:
• A way for people to remain at home where they want to be.
• Many people sharing their home feel safer having someone there instead of living alone.
• Affordable housing.
• Efficient use of existing housing stock.
• Meeting the needs of persons with varied economic and demographic backgrounds.
• Breaks down barriers between generations and cultures.
John Corcoran, president of ElderHelp of North Idaho, supports the homesharing concept.
Corcoran said he knows seniors who are having difficulty being able to afford living in their own home, or find other affordable housing.
He said one senior bought a home and would like to have someone living with them to help with chores.
Homesharing could be the answer.
"I see this being the beginning of something big in Coeur d'Alene," he said.
Corcoran said it will be important that "due diligence" be done on homeowners and renters who wish to be in the program.
The screening would likely include having the people meet prior to anyone moving into a home to get a sense of personalities, needs and likes.
Coeur d'Alene City Councilwoman Kiki Miller, who serves on the partnership, said the background check process is being reviewed.
"As the program is built the group will fill in details, documents and procedure," she wrote.
Meantime, Miller, Gynni Gilliam, president of Coeur d'Alene Economic Development Corp., and Maggie Lyons, president of ResolveFinancial and interim director of Panhandle Affordable Housing Alliance, continue to make the rounds outlining possible solutions to the lack of affordable housing in the area and recruiting help.
They spoke to the North Idaho Building Contractors Association on Wednesday at the Best Western Plus Coeur d'Alene Inn.
They called the situation a "crisis" and said they don't expect it to ease up soon, as people are expected to keep moving here.
According to World Population Review, Coeur d'Alene's population is 56,026, and is growing at a rate of 2.2% annually. Its population has increased by 27% since the previous census, which recorded a population of 44,137 in 2010.
That growth has affected the cost of housing.
The partnership said five years ago, 75% of county residents could afford a home when the median price was $250,000. Today, according to the Coeur d'Alene Association of Realtors, the median home price in Kootenai County is $535,000, a 21% increase from March 2021.
The affordability gap is growing. The median household income in Kootenai County is $65,500. But to buy a $500,000 home requires a median income of $100,000, and there are only a handful of homes under $500,000, with many of those mobile homes on leased land.
More than half of county residents can't afford the average monthly rent of $1,400, and rent rose about 30% in the past year.
That's forced some to leave the area, move in with relatives or quit working and seek subsidized housing.
The partnership says being proactive is key. It has been in contact with developers, builders, real estate agents and property owners to discuss land trusts and creative housing. It's looking at tax credits and seeking property owners who will work with nonprofits for low-income housing.
"We believe that in order to increase the inventory, it has to be privately driven," Lyons said. "We're looking to all of you in the private market to drive the majority of the houses that we need built for our community."
Lyons said solutions may be down the road, "but we can start now."
The partnership's message is "we can still have the flavor of this community to stay vibrant and fabulous if we provide the right inventory for housing."
Info: rhgip.com
Recent Headlines
---