Construction ramps up on U.S. 95 near Sandpoint
by
CAROLINE LOBSINGER
Hagadone News Network
|
April 18, 2022 1:00 AM
SAGLE — Better access and improved safety.
Bottom line, those are the goals behind an intersection improvement project at U.S. 95 and Lakeshore Drive, which began last year and will hit full stride this summer.
Area residents will get a chance to get an up-close look at the project at an open house this week being hosting by the Idaho Transportation Department.
The open house will be held Thursday from 4:30 to 6:30 p.m., at the Northern Lights building, 421 Chevy St., in Sagle. Information about the project's timeline, construction impacts and plans for the U.S. 95 corridor will be provided. The project team will be available to answer questions.
"The improvements on Highway 95 at the Lakeshore Drive, Bottle Bay, and Sagle Road intersections coming this summer will provide better highway access and safety," said Sen. Jim Woodward, who helped shepherd the project through the Legislature.
The project's first phase started in fall 2021, building an acceleration lane for drivers onto the highway from Lakeshore Drive. Last week, crews started installing signs in the area and plan to finish striping as soon as weather allows. ITD crews need two days of good weather to do the striping; however, two-way traffic will be maintained while the crews work during during the day, ITD Project Manager Phil Stout said.
Construction for the project's second phase will likely start in August, with the addition of a median U-turn on U.S. 95 as an alternative for drivers wanting to turn left from Lakeshore Drive, ITD officials said. Next spring, a four-way signal will be installed at the U.S. 95 and Sagle Road intersection with a detour in place for Sagle Road east of the intersection.
ITD is considering providing an acceleration lane for traffic turning northbound onto the highway from Bottle Bay Road, as well as a deceleration lane for northbound traffic turning onto Bottle Bay Road from U.S. 95. Another option includes constructing a median U-turn for Bottle Bay. These changes, unlike the first two phases, do not have funding for construction at this time, ITD officials said.
Woodward said he knows there will be temporary disruptions and challenges that come with rebuilding a section of road as busy as U.S. 95.
Info: itdprojects.org/us95lakeshoredrive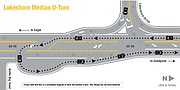 Recent Headlines
---