THE FRONT ROW with MARK NELKE: Shortage of referees, officials, umpires a growing concern in North Idaho ... and beyond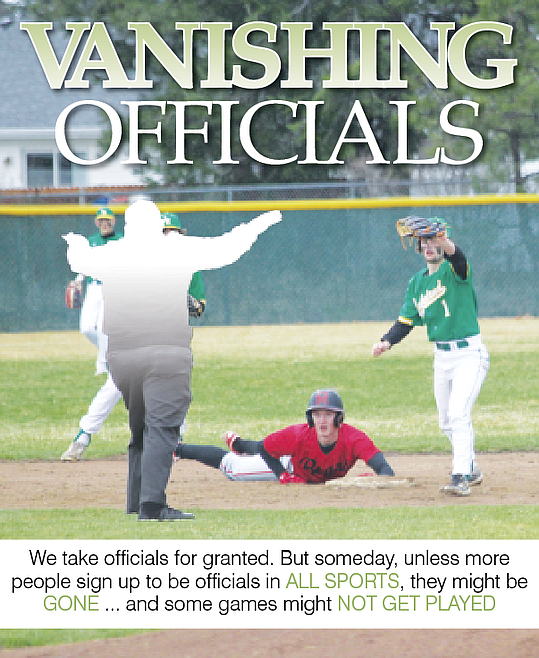 Photo by MARK NELKE/Press Illustration by GRANT PURDUM/Press We take officials for granted. But someday, unless more people sign up to be officials in ALL SPORTS, they might be GONE ... or some games might NOT GET PLAYED.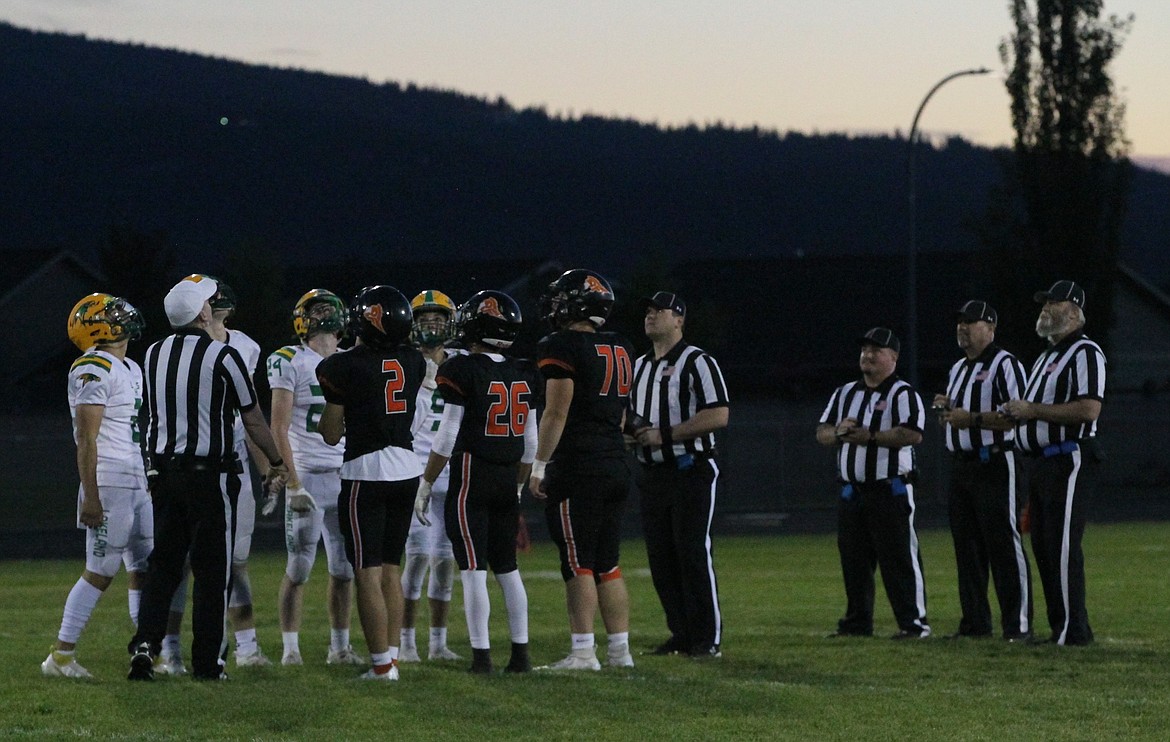 MARK NELKE/Press High school football in North Idaho has five-man officiating crews in all classifications except for eight-man, which has four-man crews.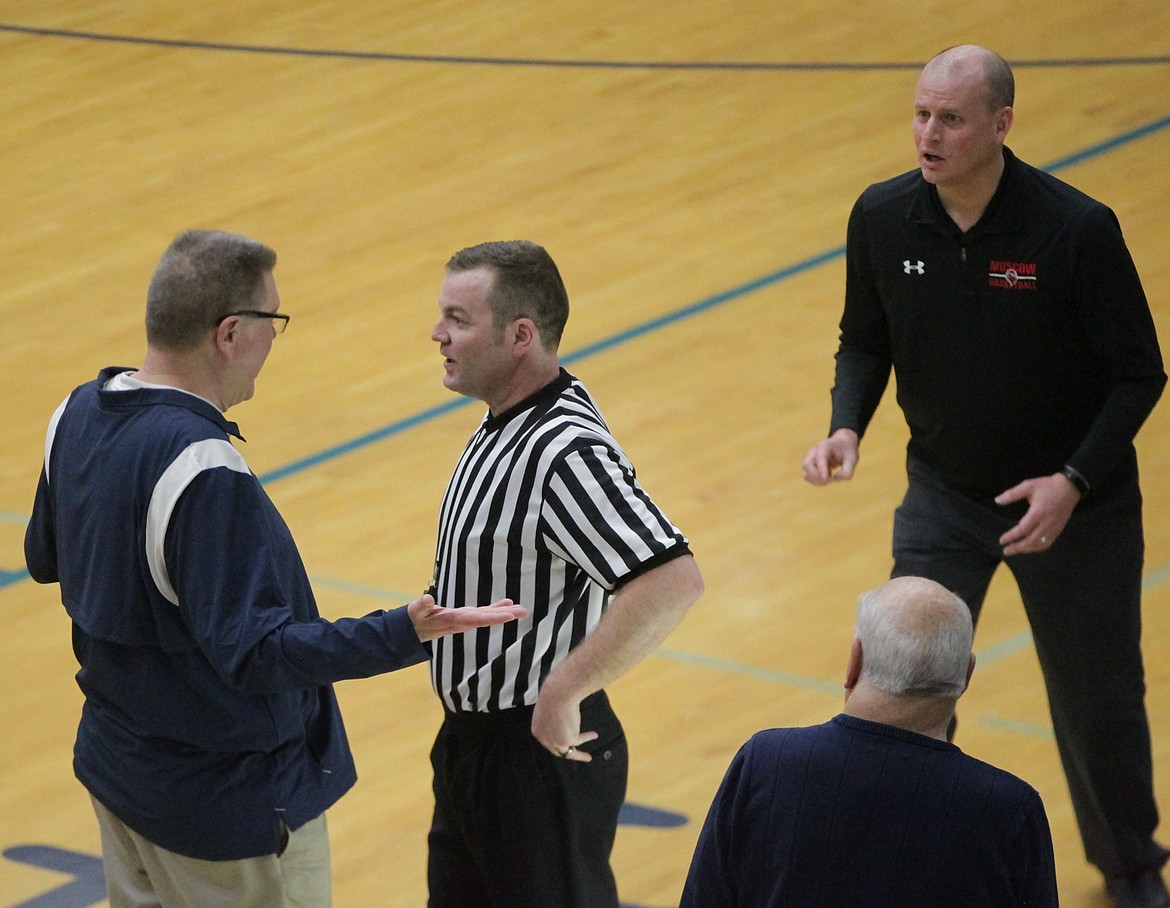 MARK NELKE/Press Official Tim Young listens to Lake City boys basketball coach Jim Winger while Moscow coach Josh Uhrig, right, looks on.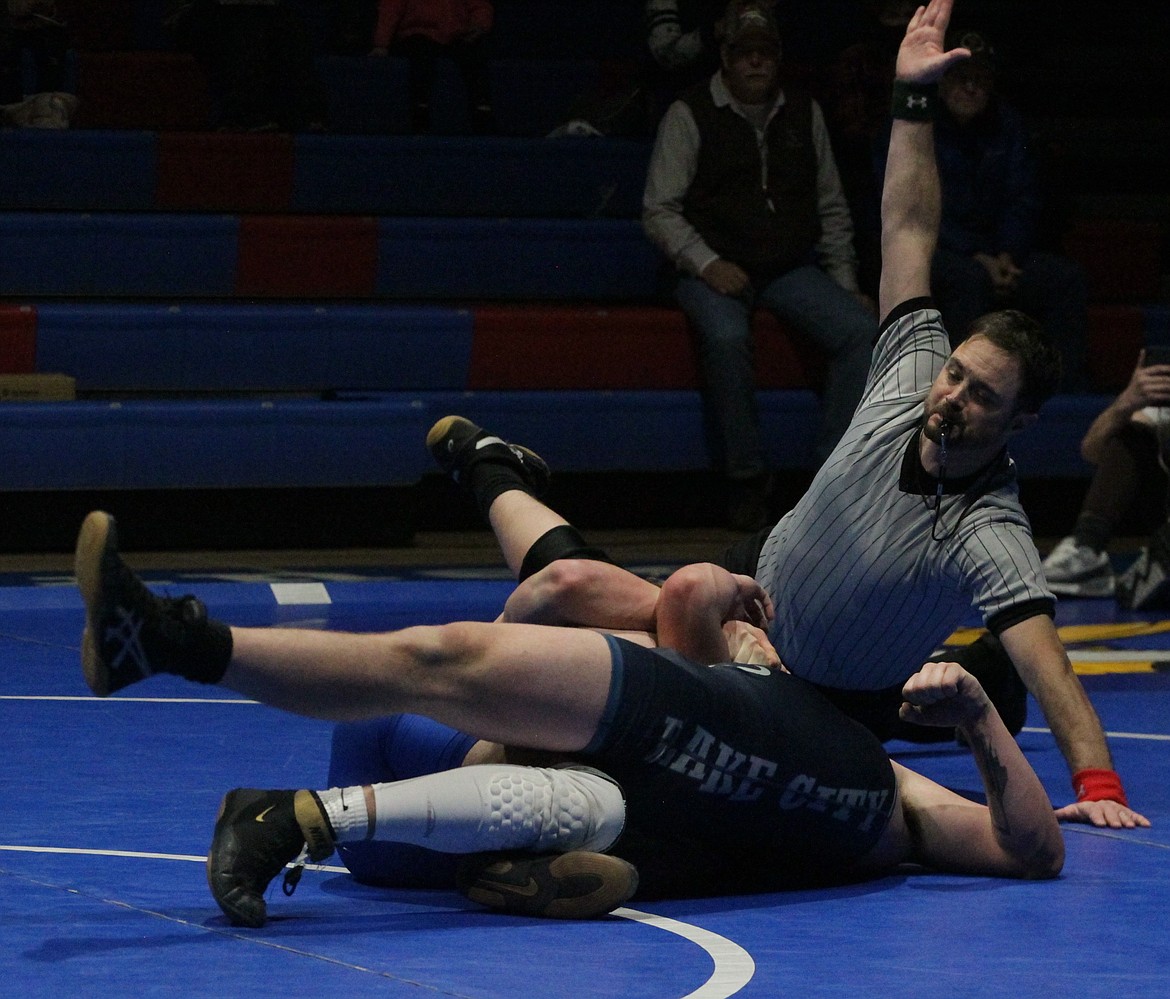 MARK NELKE/Press The shortage of officials in wrestling is not as bad because there are fewer duals — but that sport could still use a few more refs as well.
Previous
Next
Thursday Night Lights doesn't quite have the same ring to it, does it?
But, due a shortage of football officials in North Idaho (mirroring a national trend), some local high school football games traditionally scheduled for Friday nights will likely have to be moved to Thursday nights.
Or Saturday.
Or, heaven forbid, canceled, due to lack of officials.
"Everybody wants to play on Friday night. And we just can't cover it," said Roger Stewart, who as District 1 football commissioner is in charge of assigning referees to football games in North Idaho. "We have five weeks this fall that we know of, so far, that we are one to three crews short on those Friday nights."
In fact, a glance at some fall 2022 football schedules posted online shows some games already
moved to Thursday nights.
And other games may have to follow suit.
Recently, some principals and athletic directors from area schools met at Coeur d'Alene High to discuss the possibility of having to play football games on days other than Friday nights.
"ADs are reviewing their schedules, trying to determine what can be moved," said Mike Randles, current Coeur d'Alene High principal, and formerly CHS athletic director. "Some ADs, I imagine, will be very reluctant to move anything given the possible backlash for interrupting what in some communities is a sacred event (playing on Friday nights)."
And the shortage of officials is not limited to our area, and is not limited to football.
It is prevalent in all the other sports — basketball, volleyball, soccer, wrestling, baseball and softball.
And the problem is more dire in some sports than others.
"It's real," said John Posnick, who has been District 1 basketball commissioner for some 20 years. "It's to the point where we're not going to be able to cover some games, like lower-level games, freshman and JV games, if we don't get some more bodies. We need varsity officials bad, too, but what we really need is some people to start out and work some JV games."
Commissioners pinpoint several reasons for officials getting out — burnout, lack of pay, taking abuse from fans, coaches and players, and the time commitment, among others.
Increasing pay would help, but attracting more officials in each sport would greatly help in solving the problem. That would spread out the workload, and decrease burnout.
"An increase in pay just makes it a little more worth it, to put the effort in," Stewart said. "It really has more to do with burnout, and getting young people to buy into it. In none of our sports are we grooming that next group of 50-year-olds. They're just not out there. We don't have a lot of young guys, and that's catching up in a hurry."
Schools pay for the officials for their games, based on a fee schedule negotiated with the District 1 Board of Control.
As older officials retire, a few younger officials come along. Some stay with it, but many get out after just a few seasons citing myriad reasons — not the least of which is the amount of time spent away from a young family.
Stewart, for one, likes to focus on the positives of officiating.
"I've learned so many life skills through officiating on how to manage emotional people," Stewart said. "And you learn how to manage your own emotions."
Schools have taken to going to social media to get the word out that North Idaho needs more officials.
Or some games might not get played — or at least, not played on the nights most prefer.
Stewart and volleyball commissioner Rayna Longstreet said a handful of folks have reached out to them about the possibility of officiating, after seeing the pleas on social media.
So it's a start.
Here's a look at the officiating situation in each sport in District 1 — an area which stretches as far south as Lakeside High in Plummer to as far north as Bonners Ferry, and as far east as Mullan in the Silver Valley, and Clark Fork in east Bonner County, to as far west as Post Falls in Kootenai County and Priest River in west Bonner County.
FOOTBALL
Ten years ago, Stewart said, District 1 had 65 officials. Now, they're down to 30 to 32 that are varsity certified.
And most of them, he said, are over the age of 50.
"The problem we're having is, we get younger people in, but by and large, they don't stay," Stewart said. "We've been able to recruit a little bit, but retention has been a problem."
He gave an example of an official living in the Coeur d'Alene area, assigned to a football game on a Friday night at Sandpoint.
They might leave home at 4:30 p.m., get to Sandpoint around 5:30, fulfill their pregame duties — meet with coaches, timing personnel, inspect the field, etc. — work the game, shower, and get home around 10:30, 11 at night.
"And you do it for 65 bucks," said Stewart, who has gone to the District 1 Board of Control and asked for more pay for his officials. "Officials don't necessarily do it for the money, but you want to be compensated."
Stewart cited a survey about why officials leave, and the No. 1 reason is fan abuse.
"I don't think it's too bad here," he said. "We have pockets of fans here like that, but administrators do a good job."
No. 2 is burnout.
"Burnout is what we do see," he said. "We had basketball officials working 10, 12 games a week. Football officials working four nights a week. If you're 50, and your wife allows it, you can do it. If you're 30, with 2-3 kids at home … "
No. 3 is pay.
"How much is it to work to put up with the grief … and that is a factor in what we're dealing with," Stewart said.
In high school, eight-man games are officiated by four-person crews, and all other games have five-man crews.
Stewart recommended schools schedule sub-varsity (freshman and JV) games on Tuesdays and Wednesdays, and varsity games on Thursdays and Fridays.
That would allow some officials to work varsity games on two nights, though he would rotate that schedule so the same refs aren't working two nights in a row for 10 weeks.
"Guys like Steve Hudson in basketball, he wants to stay active, he'll work 12 games a week," Stewart said. "But that's not sustainable for most people."
Stewart points with pride to the quality of District 1 football officials — many of whom also work college games and beyond.
The aforementioned Hudson has more than 20 years' experience working Pac-12 games. Shane Anderson and Steve Currie have worked games in that conference for more than a decade. Hudson and Currie have worked bowl games.
Stewart is preparing for his 20th season working Big Sky football games.
Bob Burton is a replay official in the Big Sky.
Josh Behrens is now a Big Sky official.
Five others work football games in the NAIA Frontier Conference.
Stewart, Currie and Anderson all have at least a decade's experience working arena football games.
"We have NFL-level training," Stewart said. "We have a training program — we just need more people to train."
As alternatives to Friday nights go, Stewart said moving games to Thursdays is preferable to Saturdays.
He said he can handle a few high school games on Saturdays, but not many, because the aforementioned officials are working college games on Saturdays. Also, refs can make more money working multiple Junior Tackle games on Saturdays instead of working one JV or varsity game.
How dire is the situation in football?
"Well, the schools have to figure out a system, or they're going to get games canceled or moved," Stewart said. "There's just nobody left. We've put the thumb in the dike for several years."
Stewart recalled how he got into officiating.
"I lost my cool at a state softball tournament, (I was) 22 or 23 years old, and it was like the World Series. I had no perspective on life, and just lost it," he said. "And Dan Malcolm (longtime football and basketball official) said, 'You need this.' He says, 'You're really good at yelling at other people — you need to take it for a while.' And it did, it changed my life. It completely changed my life."
BASKETBALL
Less than 10 years ago, there were some 75 basketball officials in District 1.
Now, it's just above 50. And most of them are in their 40s, 50s and 60s.
"A lot of us would still be doing it if we physically could," Posnick said. "I've been doing this for about 20 years (as commisioner), and we've always needed people, but it's become critical now."
Varsity officials make $60 per game; JV officials, around $48. Sometimes, when there's a varsity doubleheader, officials will work the girls and boys games. Sometimes, varsity refs might work part of a JV game, rotating in with other varsity refs.
Most schools schedule basketball games on Tuesdays and Thursdays, as well as Fridays, which taxes the load on officials.
"I have officials working three, four, five nights a week. And sometimes multiple games," he said. "That's not sustainable either, on bodies.
"Every year we get a little older, and those kids stay the same age," he added with a laugh.
Varsity games feature three-man officiating crews; sub-varsity games are usually two-man.
Not only is basketball losing referees to age, Posnick said they're also losing good refs who choose to go into coaching.
Also, some refs may choose to work AAU tournaments where they can ref multiple games in one day.
Spreading high school games out to include Mondays and Wednesdays would help, Posnick said. But that would be more of a Band-Aid, he said; more officials are needed.
Or else …
"It's painful to tell schools we can't cover their games, because that means some kids don't get to play," said Posnick, who played football and basketball at Mullan in the late 1960s and early '70s. "It sucks."
VOLLEYBALL
The last four years, there have been between 26-32 varsity officials.
"However, several officials end up not working for various reasons and others only want to work one day a week," Longstreet said. "So I would say at any given time I have between 15-25 officials available to officiate, depending on the day of the week."
Ideally, she said, between 35 and 40 officials are needed.
Most volleyball matches are scheduled for Tuesday and Thursday nights. Officials usually work two matches in a night, but many times they have to work three matches in a row, 3-4 nights per week, which is leading to burnout.
This coming season, officials will make $60 for varsity matches, and $50 for freshman/JV matches. Pay for tournaments varies depending on the format. Also, as in other sports, officials can receive a travel fee.
"Volleyball officials seem to leave due to family reasons — having kids, job changes, child care, etc," said Longstreet, a volleyball official for 28 years, and commissioner for the past eight. "A few have left because they didn't like the pressure of being an official. Spectator abuse is present, but not to the level of other sports. Refereeing can turn into a bigger time commitment than some people want — if you're asked to referee three matches in one night, that night starts with being in the gym at 3:30 and walking out at 9. And that does not include travel time."
SOCCER
This fall will be Tony Norris' fifth season as soccer commissioner in District 1, and he's reffed games for more than a decade.
His first year, he started with 30 refs. Last year, he started with 21.
"The majority of the refs I lose is because the pay does not compensate for the abuse with which they deal," Norris said. "There is an attitude that you have the right to say anything you want to a ref just because your kid is playing. The refs definitely feel under-appreciated and under-protected."
He also said some leave because their schedule doesn't allow for that much officiating work, and that much travel — a ref could have a game in Bonners Ferry one day, St. Maries the next.
Still he, like the other commissioners, do the best they can with the resources they have.
"We make due with the refs we have and make adjustments as needed," Norris said. "The process of making adjustments begins before the season starts when I begin requesting schools to move games to less busy days. I also start begging my refs, who are already overworked, to squeeze in one, two, or three more games in a week. If neither of these tactics solve the problem then I have several options, which include switching to using two refs instead of three, moving games to be back to back (varsity game first, followed by the JV game), and as a last resort canceling games. We have been fortunate that our ref pool has gone over and above to try and cover every game. The number of games we have had to actually cancel is very minimal."
BASEBALL
Behrens, who also refs basketball as well as football, is in his second season as baseball commissioner in District 1.
This year he has 20 baseball umpires.
"However eight of those guys I am sharing as guys are also working college conferences, District II, or with the Spokane Officials Association," Behrens said. "In recent years we have had 20-25 baseball umpires, so numbers wise it looks like we are right where we should be, but on most days I have 12-15 guys available, which does not cover the games we normally have scheduled on Tuesdays and Saturdays."
He said he's had to ask ADs to move some games from those days so he can cover all the games.
"We've also started covering games with only one official if for some reason the AD is unable to move the game to a different date," Behrens said.
This year, umpires make $62 for a varsity game, and $48 for a JV game. And pay is scheduled to increase $3 per game in 2023.
A problem unique to baseball and softball umpires is, the amount and cost of protective gear they have to buy is way more than what other officials have to pay in their sports.
Depending on the quality of gear, that can set an ump back several hundred dollars.
And, since most umpires have day jobs, finding some who can get away for an early afternoon game during the week is difficult.
Behrens encourages those interested in umpiring to work Little League games to see how they like it.
In most sports, current officials "recruit" potential officials.
"On the recruiting aspect, I'll probably be focusing on graduating seniors who are staying local," Behrens said. "Someone who may be done with their high school playing career and going to school at NIC or LCSC, or U of I right here in Coeur d'Alene. Officiating is a good way to give back, stay in the game, and have a way to make a little extra money while going to school."
SOFTBALL
Ted Yurek, in his eighth season as District 1 softball commissioner, has been umpiring softball and baseball for nearly 50 years.
His stepfather was an American League umpire in the 1940s.
Yurek has 17 umpires in District 1 this year. Last year, he had 18. Ideally, he'd have 22.
More umps would help — eventually. Umps have to work JV games for two seasons before they can move up to varsity games.
He already knows there are more softball games scheduled in District 1 on April 19 than he has umpires to cover.
Some will have to be moved — or canceled.
He had to cancel one game this year because the school couldn't find a bus driver to drive the team at that time.
A varsity ump in District 1 makes $56 per game; JV umps get $46.
One-man umpiring crews, prevalent in rec softball, are usually not allowed in high school.
"State regulations say you have to have two officials on each field," said Yurek, a retired policeman who moved up from California 28 years ago. "I have been blessed by the state that I can put one man out there in JV if he's a pretty damn good official."
But for a varsity game?
"No way," he said. "In Washington, they run one-man mechanics all the time."
WRESTLING
Ryan Wood, a former wrestler and coach, is in his 11th year as wrestling commissioner in District 1.
Officials made $65 per varsity dual this season, and are scheduled to make $68 next season.
JV duals paid $48 this year and will pay $51 next season.
For tournaments, officials are paid by the match — which can add up quickly in bigger tournaments.
"The main reason wrestling has been able to weather the (officiating) shortage better is the fact that we have so many fewer events," Wood said. "The most events I ever have on a single date is five. It is also easy for us to do both the JV match and varsity match with one guy. I also have a small group of dedicated and flexible officials."
That said, Wood foresees problems in the future. He has around 10 officials now — some six less than he had a few years ago.
"The reality, though, is that some of my good officials over the years have moved on due mainly to treatment from coaches and fans," Wood said. "It is an incredibly difficult spot to be placed in night after night, and only a few people have the guts to risk scrutiny to provide good officiating for the sport. Being an ex-head wrestling coach, I understand the passion. I understand defending your wrestlers who have worked very hard to get where they are at. But there has to be a default setting for coaches that looks at the big picture.
"The reality is that most of the scrutiny comes from people who don't have the courage to try it themselves," Wood added. "I encourage everyone to have some grace, look at the big picture, and realize these officials are humans. I encourage everyone to come out and try it. I need officials."
Mark Nelke is sports editor of The Press. He can be reached at 208-664-8176, Ext. 2019, or via email at mnelke@cdapress.com. Follow him on Twitter @CdAPressSports.
WANT TO BE AN OFFICIAL?
Here are some folks to contact:
Roger Stewart, District 1 football commissioner: idastewco@gmail.com
Rayna Longstreet, District 1 volleyball commissioner: rayna.longstreet@gmail.com
Tony Norris, District 1 soccer commissioner: dist1ref@gmail.com
John Posnick, District 1 basketball commissioner: jposnick23@gmail.com
Ryan Wood, District 1 wrestling commissioner: rwood@sd273.com
Josh Behrens, District 1 baseball commissioner: Joshbehrens9@gmail.com
Ted Yurek, District 1 softball commissioner: tjyurek10@yahoo.com
Mindy Powers, Idaho High School Activities Association: powersm@idhsaa.org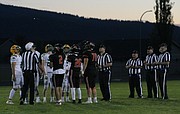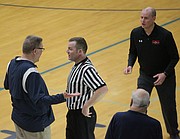 Recent Headlines
---