'The fight is at your doorstep'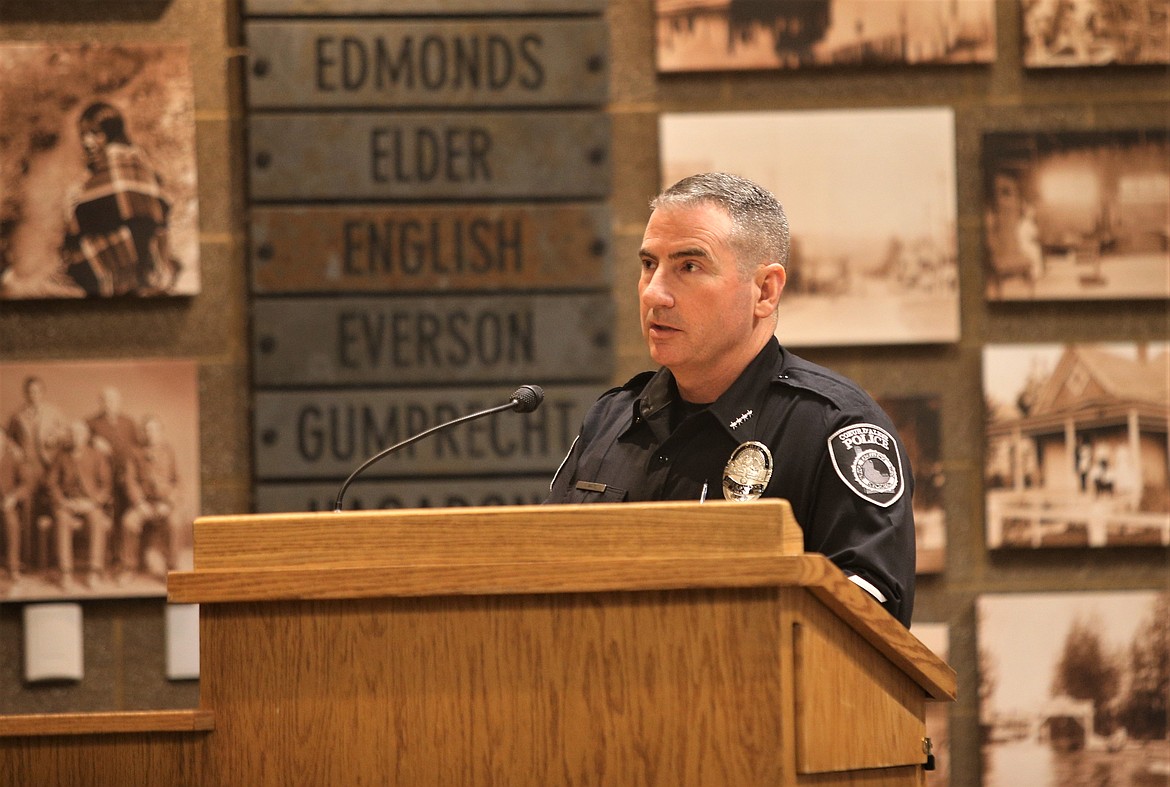 Coeur d'Alene Police Chief Lee White speaks to the Citizens Action Group on Fentanyl on Monday at the Coeur d'Alene Public Library Community Room.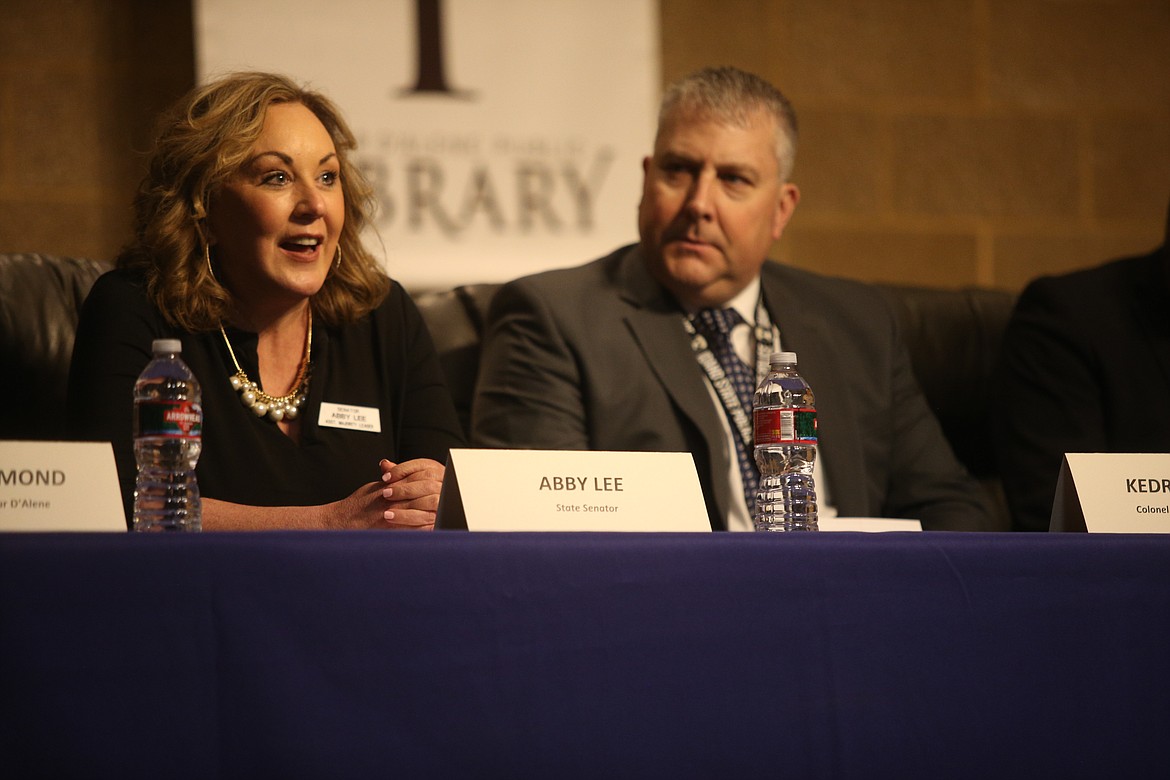 Idaho Sen. Abby Lee speaks while Idaho State Patrol Col. Kedrick Wills listens during a meeting of the Citizens Action Group on Fentanyl in Coeur d'Alene on Monday.
Previous
Next
by
BILL BULEY
Staff Writer
|
April 5, 2022 1:07 AM
COEUR d'ALENE — When it comes to fentanyl in Idaho, Canyon County Sheriff Kieran Donahue says it's time for the gloves to come off.
"Show people how dirty and evil this drug is," he said Monday to the Citizens Action Group that is part of Idaho's Operation Esto Perpetua, an initiative that unites law enforcement and communities to reduce the flow of fentanyl and methamphetamine into the state. The group met Monday in the Community Meeting Room at Coeur d'Alene Public Library.
Donahue said the source of the supply is no secret.
"The enemy is the cartels of Mexico," he said. "We know how it's being done, but we don't have the manpower to stop it."
Law officers will continue to be on the frontlines of the battle, Donahue said, but awareness and education are critical.
"The fight is at your doorstep," he said.
The Citizens Action Group on Fentanyl, which includes Coeur d'Alene Mayor Jim Hammond, began holding bi-weekly meetings in mid-March and will continue to do so throughout the state into May. They are hearing from local law enforcement as well as members of the public about their experiences with fentanyl and meth.
After the Citizens Action Group completes its work, it will provide a report with recommendations, and then the Law Enforcement Panel will identify action items.
The Legislature provided $250,000 for Operation Esto Perpetua.
Officials have said the availability of the drugs — high supply, low price and unpredictable potency — along with the impact on Idaho communities from abuse and violent crimes related to drug abuse, are a threat to all Idahoans.
From what was said Monday before about 30 people who attended the Coeur d'Alene meeting, it's an uphill battle.
"The amount of fentanyl coming across the border is just unbelievable," Gov. Brad Little said.
According to the governor, law enforcement reporting shows drugs are primarily transported into Oregon and Idaho from Mexico through California. About 96% of drug trafficking organizations investigated identified Mexico as the source country for drugs trafficked into the region.
Fentanyl is a synthetic opioid that's 50 to 100 times more powerful than morphine. Fentanyl pills are easily accessible, officials said, and can be bought online.
In 2019, there were 24 overdose-related deaths in Kootenai County. That number reached 33 in 2020 and 38 last year, with many of those deaths tied to counterfeit prescription pills.
Coeur d'Alene Police Chief Lee White said there were 191 drug-related arrests in the city in January and February of 2021, and 176 for those two months this year.
He said there are two things to focus on: The first is hiring more police officers and the second is creating more diversion programs to help first-time offenders who are on the cusp of becoming addicted, rather than put them in jail.
Kootenai County Sheriff's Capt. Brett Nelson said fentanyl has "permeated not only our county jurisdiction, but also greatly affected the constituents of the county."
He said KCSO, because of Kootenai County's proximity to the Washington state border, regularly sees an influx of drug traffickers.
He said KCSO devotes resources to the state line but there "continues to be an onslaught or inflow of people trafficking those drugs into our county."
Nelson said with limited resources, staffing shortages, and a crowded jail, it's a difficult fight.
"Unfortunately, within our county here, it's on a daily, if not hourly basis, where members of our community are affected by this," he said.
Idaho State Police Capt. John Kempf, said the amount of fentanyl seized in Idaho in 2021 was over 200,000 dosage units.
"We really started to see this fentanyl issue blow up about two years ago," he said.
According to the Drug Enforcement Administration, "the United States is facing unprecedented levels of fentanyl in our communities."
Much of this fentanyl is in the form of fake prescription pills.
Last year, the DEA seized about 21 million fake prescription pills — enough to provide a lethal dose to every American.
Mark Haigh with the DEA in Spokane said the lethality and availability of these pills is "staggering."
He said from 2020 to 2021 was a 186% increase of overdose deaths in Spokane County.
He said four of 10 fentanyl pills contain a lethal dose. Haigh has heard stories of people splitting a pill, each taking half, and both dying.
"So I hate to be doom and gloom. But we do need to understand the devastating impact this is having on all of us," Haigh said.
He said the best tools to win this war are education and awareness.
"We have got to have these conversations everywhere. At school, at home, at work," Haigh said.
The Citizens Action Group on Fentanyl includes Idaho House of Representatives Speaker Scott Bedke; Sen. Abby Lee; Custer County Commissioner Wayne Butts; Shoshone-Paiute Tribe Chairman Brian Thomas; and Dana Kirkham, former mayor of Ammon.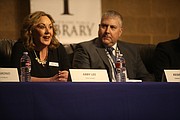 Recent Headlines
---