MOB SCENE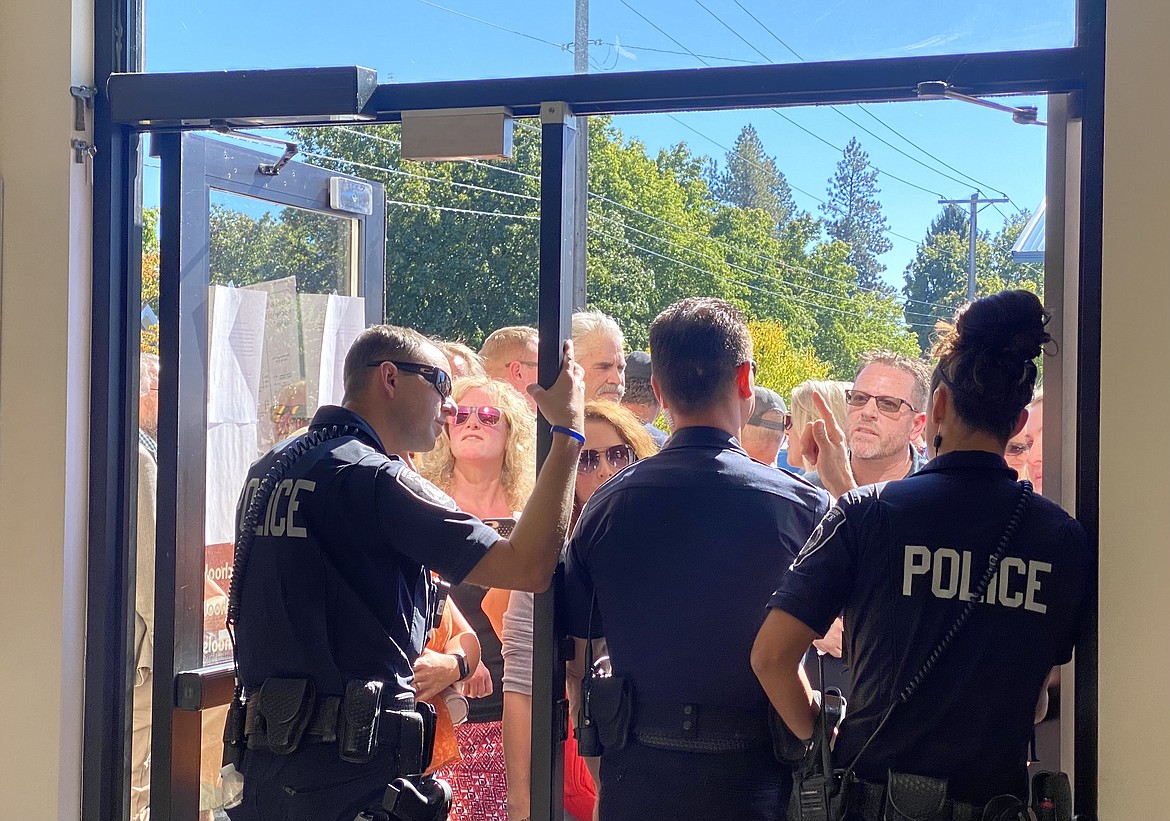 Three Coeur d'Alene Police Department officers stand in the doorway, blocking protesters from entering a Coeur d'Alene School District meeting in September to discuss a temporary mask mandate. (MADISON HARDY/Press)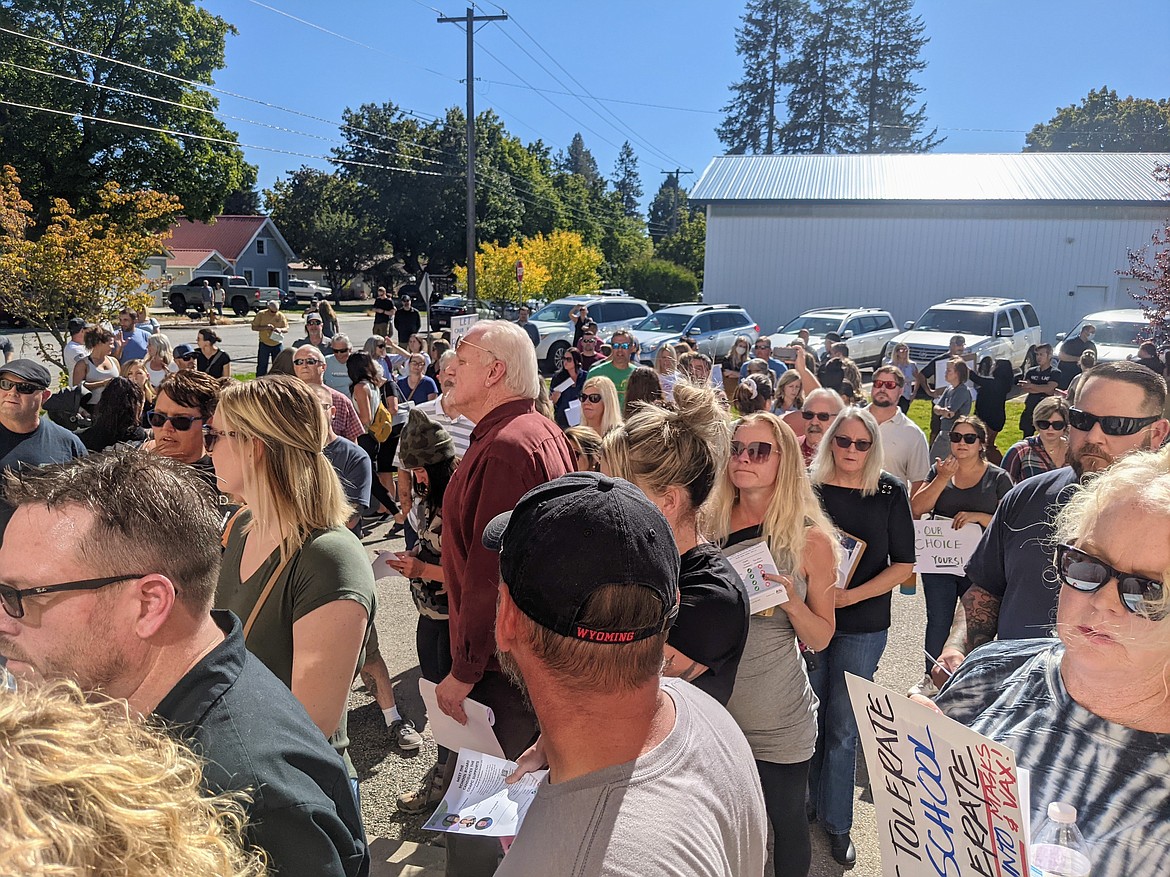 A crowd of nearly 200 people formed outside the Midtown Center Friday afternoon. (CHANSE WATSON/Press)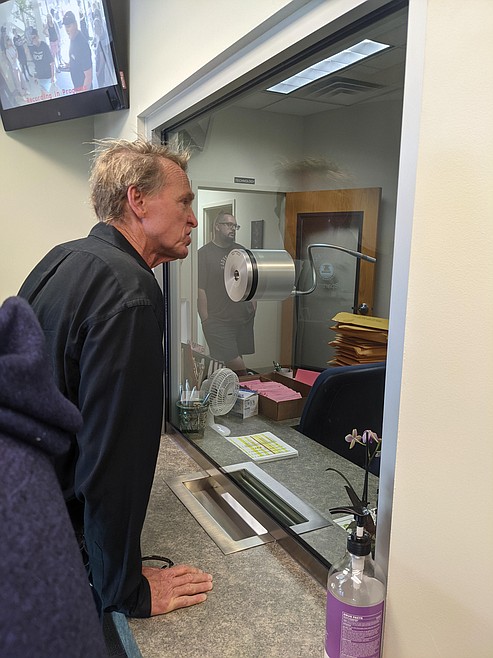 A man yells at Coeur d'Alene School District staff through a plexiglass divider after school board officials postponed a meeting to discuss mask mandates. (CHANSE WATSON/Press)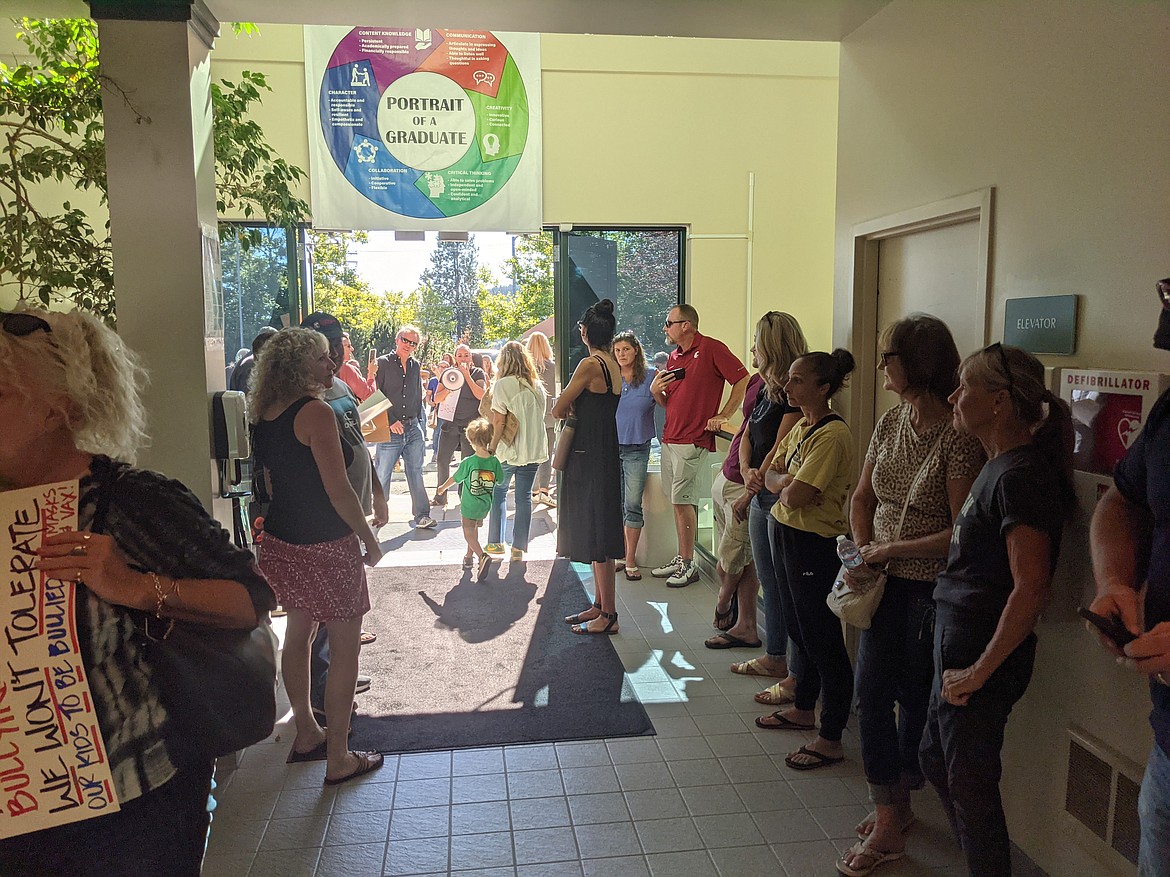 Over 100 protesters swarmed the Coeur d'Alene School District office on Northwest Boulevard Friday. (CHANSE WATSON/Press)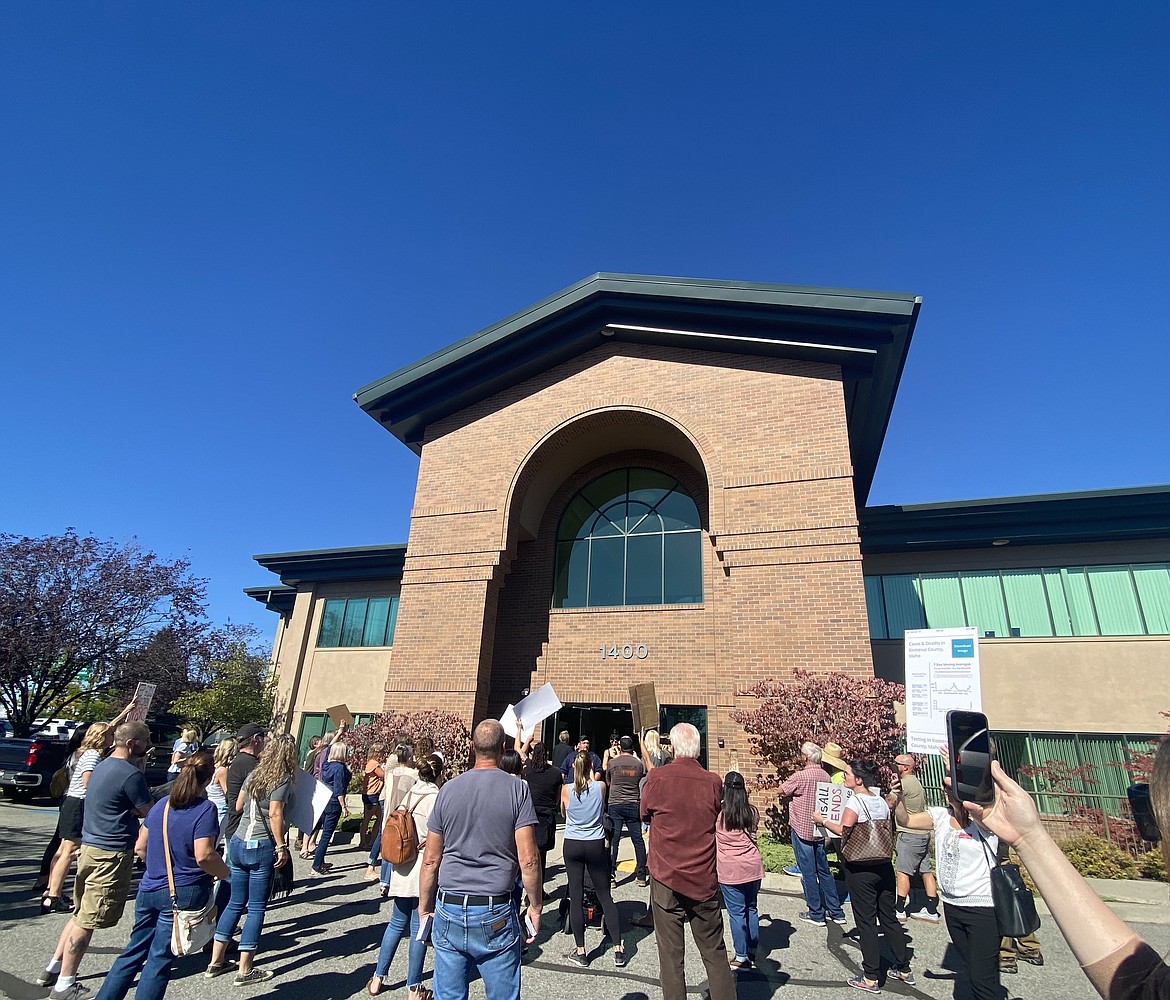 A horde of upset parents and residents flocked the Coeur d'Alene School District office after trustees cancelled a meeting on COVID-19 policies. (MADISON HARDY/Press)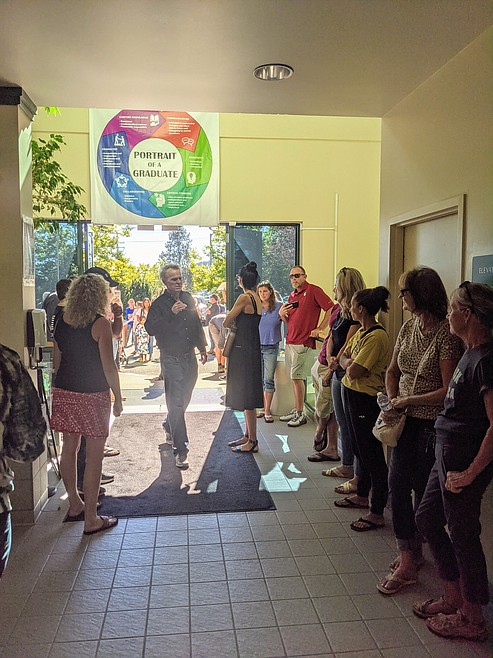 After leaving the Midtown Center, where the Coeur d'Alene School board had planned to discuss a temporary mask mandate, a crowd of protesters moved to the district office on Ironwood Drive and Northwest Boulevard. (CHANSE WATSON/Press)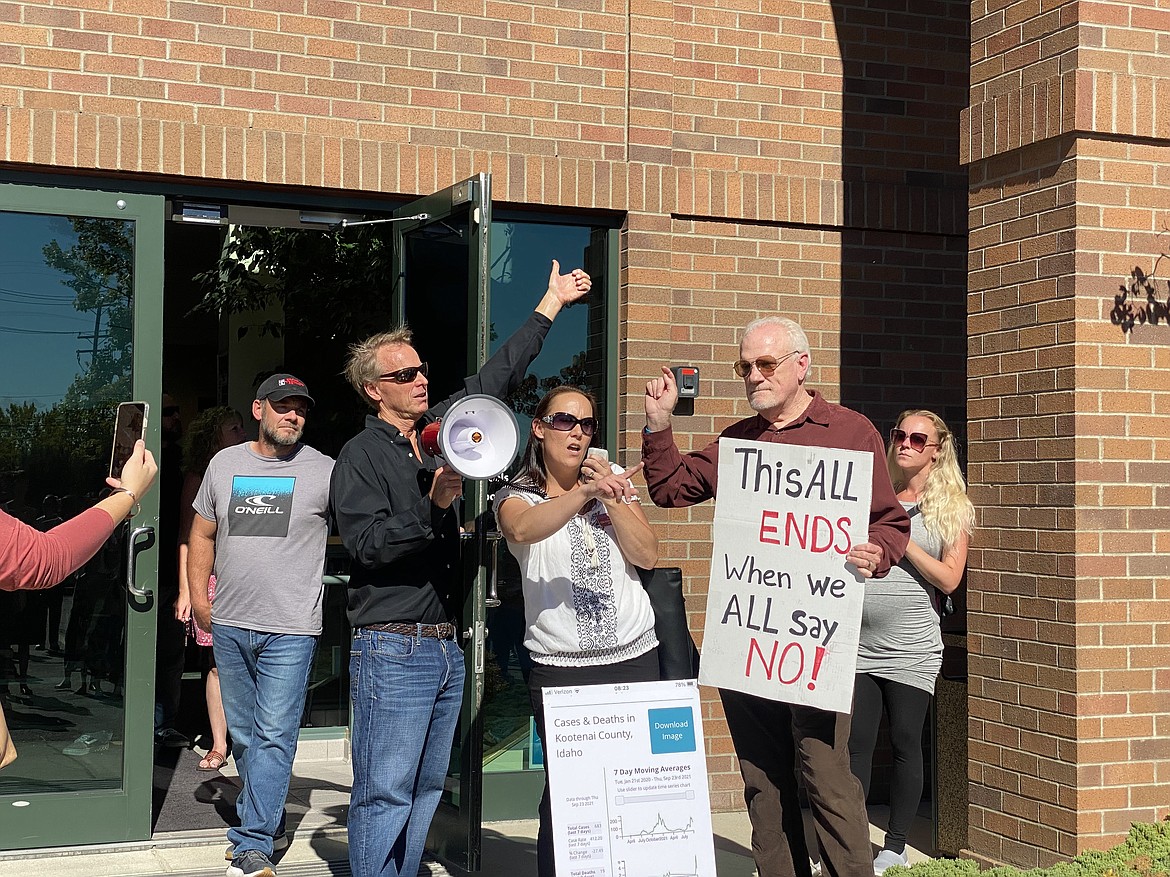 Two candidates running for Coeur d'Alene School District trustee, Allie Anderton and Glen Campbell, right, tell a crowd of protesters to get out and vote this fall. (MADISON HARDY/Press)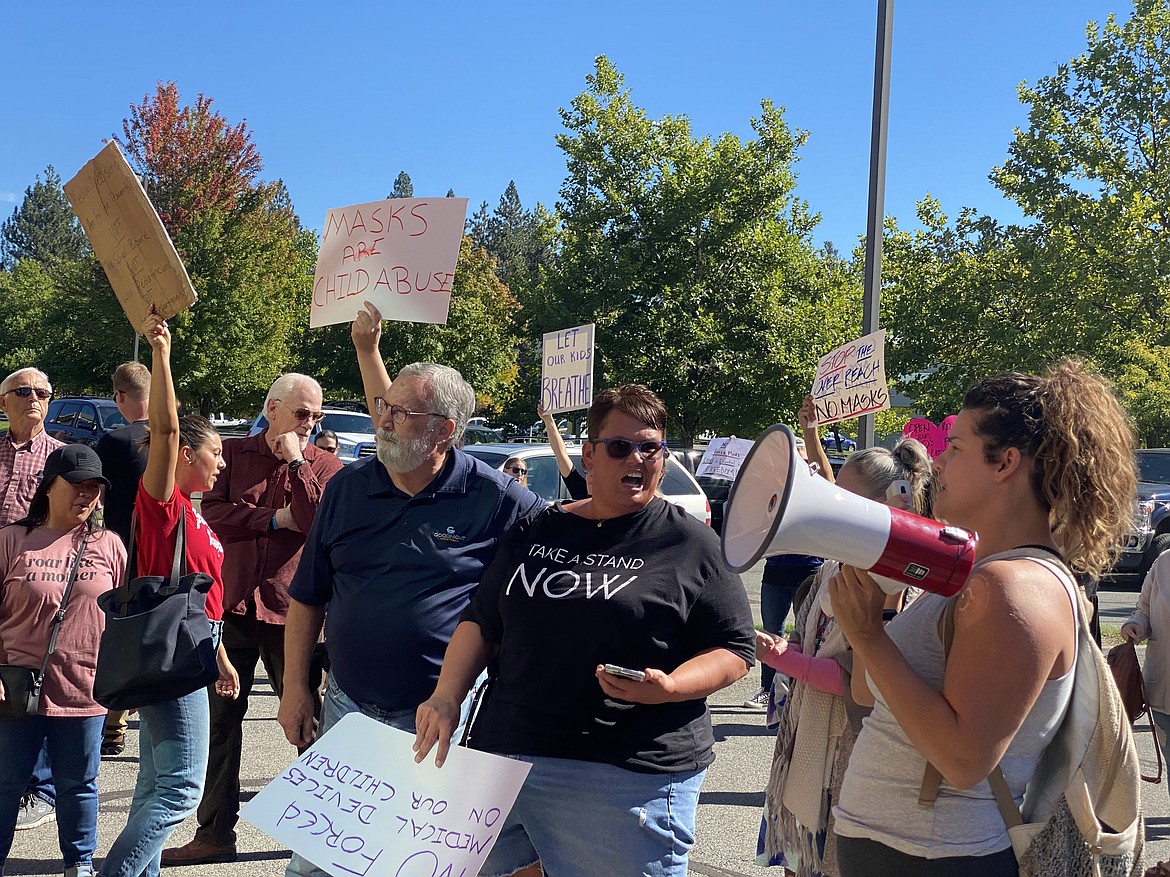 Nearly 200 people protesting a possible mask mandate shut down a special Coeur d'Alene School Board meeting Friday. Here, individuals in the crowd yell their grievances at the district office after moving from the original meeting location. (MADISON HARDY/Press)
Previous
Next
by
MADISON HARDY
Staff Writer
|
September 25, 2021 1:09 AM
COEUR d'ALENE — School board members were ushered out the back door Friday after a shouting mob shut down a special meeting where masking and quarantining were going to be discussed.
A crowd of about 200 people descended on the Coeur d'Alene School District's Midtown Center, crowding the doorway, yelling and reportedly threatening at least one masked woman.
The doors were kept closed by three law enforcement officers as the crowd grew, chanting, holding signs and demanding admission to the special meeting.
"Due to the fact that there is a safety concern for everyone and we don't have enough capacity in here for everyone to sit, we are postponing the meeting today," Board Chair Jennifer Brumley said.
The crowd yelled through Coeur d'Alene Police Department officers, expressing anger toward the cancellation, the trustees and masks.
"We no longer trust the trustees," one woman yelled.
"We won't be leaving. We'll wait by your cars," another member of the crowd said.
Holly Wade, whose daughter attends a Coeur d'Alene school, said she opposes a mask mandate because she "wants our kids to have the freedom to breathe." Wade's daughter has anxiety, making it difficult to wear a mask, she said.
"At the beginning of the school year, I was told they were not going to mandate masks, so I enrolled with that as my guide," Wade said. "Now they're changing their story."
With her was Lisa Rowley, who said she opposes masking and vaccination requirements.
"I don't want to put an experimental drug in my body," Rowley said. "The masks are defacing my children. Where's the trust in God? I don't have my trust in the mask."
Cait Christensen, whose two children attend Skyway, attended the meeting and said she was threatened because she was wearing a mask.
"I was present at the special board of trustees meeting this afternoon, and it was the scariest thing I have ever taken part in," Christensen said. "Terrifying. I was threatened, I was harassed, and I was shown a weapon by a stranger. All because I was wearing a mask."
After learning trustees and staff had left the building, more than 100 individuals in the crowd headed to the Coeur d'Alene School District Office on the corner of Ironwood Drive. Allie Anderton and Glen Campbell, two candidates running for school board, were in attendance, reminding residents to "get out and vote."
"Let's fire the board. Let's get change," Campbell said over a megaphone.
The megaphone was passed around to several individuals. One woman passionately stated that she would not put her children through the "psychological damage" of masking.
"We are done with the bull---- putting our kids through psychological damage," she said. "Wanna wear a muzzle? Do it. My kids f------ won't."
Resident Sarah Coonley has two kids enrolled in Coeur d'Alene schools and another on the way. Coonley said she and her husband have "been living in fear" that their children would be "forced into getting a vaccine, wearing a mask and learning (Critical Race Theory)."
"I'm done. You can't force my kids to go through hell just so they can learn lies," Coonley said. "Down with the trustees, down with the masks, down with the Coeur d'Alene School District."
CDAPD Lt. Brady Reen was on scene at the district office Friday. Reen said officers didn't plan to intervene unless there were safety issues, destruction of property, violence or another criminal activity.
He said the district locked down the building and no one was inside.
"Ultimately, if (the district) wants everyone trespassed, we can trespass them. But as far as us getting involved in First Amendment stuff, we're not going to do anything," Reen said. "We just want to make sure everybody stays safe."
On Monday, Sept. 13, the board voted 3-2 to adopt a COVID-19 mitigation plan that strongly recommended — but did not require — masks to be worn in school. Trustees Brumley, Tambra Pickford and Casey Morrisroe voted to approve the plan, and Rebecca Smith and Lisa May voted against it.
In an email sent to parents by director of communications Scott Maben, reconsideration of a mask mandate stems from:
• "Local pediatricians seeing a surge in children contracting COVID-19 and more serious illness as a result of the Delta variant"
• "The high rate of transmission of the Delta variant in our community"
• "The current crisis that Kootenai Health and other area hospitals confront in providing care to COVID-19 patients and others in need of critical care"
As of Friday at 4:30 p.m., a CDAPD employee said she had not seen any arrests come through the department from the demonstration. She added that any data on arrests wouldn't be available until this morning.
Terran Tulley was "extremely upset" that school officials "got up and left the meeting because they were too scared to talk to the people who pay their salaries."
"This is a free country, and this is me exercising my freedom of speech so that my kids have the freedom to speak," Tulley said.
Father of two children, an 8-year-old and 11-year-old, Tulley said his children would not attend school in a mask.
"Not Monday, not Tuesday, not in December will you find my kids in a muzzle," he said. "Never."
Maben later told The Press that police let protesters inside to see that no personnel were on the property. He added that some individuals "were convinced" trustees were secretly meeting to pass a mask mandate.
Videos of the protest are on the Coeur d'Alene Press Facebook page.
---