Ending on a high note
|
September 18, 2021 1:07 AM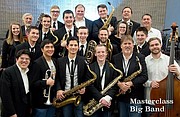 Chris Guggemos is wrapping up his 30th season of putting on summer concerts as the owner of Handshake Productions.
It's been filled with highs and lows.
"Challenging," he said of how things went with the 24 concerts in Coeur d'Alene and Hayden that started in July and will finish this weekend. "It was a challenging summer because of the heat and the smoke."
The season's final concert is set for 1 to 4 p.m. Sunday at City Park in Coeur d'Alene, and heat and smoke won't be an issue. But due to expected rain, it will likely be moved to The Coeur d'Alene Resort Plaza Shops, a short walk away.
The Master Class Big Bang is scheduled to take the main stage. It's made up of talented high school and college musicians, combined with seasoned pros.
They'll be playing big-band hits by stars like Frank Sinatra, Natalie Cole and Count Basie.
"Young people get experience working around older professionals," Guggemos said.
He hopes to end the season on a high note after a series of trials and tribulations.
For the first time, Guggemos was forced to cancel a concert, which was not rescheduled, Aug. 12 when the band Zonky was to perform at McIntire Family Park in Hayden.
The reason? Poor air quality due to smoke from regional wildfires.
"I agreed they should not perform," Guggemos said.
Attendance was down early on, too, because of temperatures topping triple digits. Sometimes, both heat and smoke combined to keep people in the comforts of home rather than venturing outdoors.
But the man who won a battle with cancer was not deterred. As the skies cleared, the crowds came out for the free musical performances at Sherman Square and City Park in Coeur d'Alene, and McIntire Family Park in Hayden. They heard country, rock 'n' roll, blues and classics from the likes of The Hankers, the Rhythm Dawgs and Mojo, The Party Band.
"People had a great time," Guggemos said.
And he was delighted to have a great year of sponsorships despite COVID-19.
Since the concerts are free and there are no onsite liquor sales, and a few donations come in, Handshake Productions relies on sponsorships to pay the bills.
But there is lots of verbal encouragement, as most know of his bout with cancer that began in 2016.
He is cancer-free today and confident about the future.
"It's just amazing the personal support from people in the audience who tell me, 'I'm still praying for you, Chris,'" he said.
Music to his ears.
---