PREP ROUNDUP: Post Falls' Wood, Coeur d'Alene boys run to victories at Farragut meet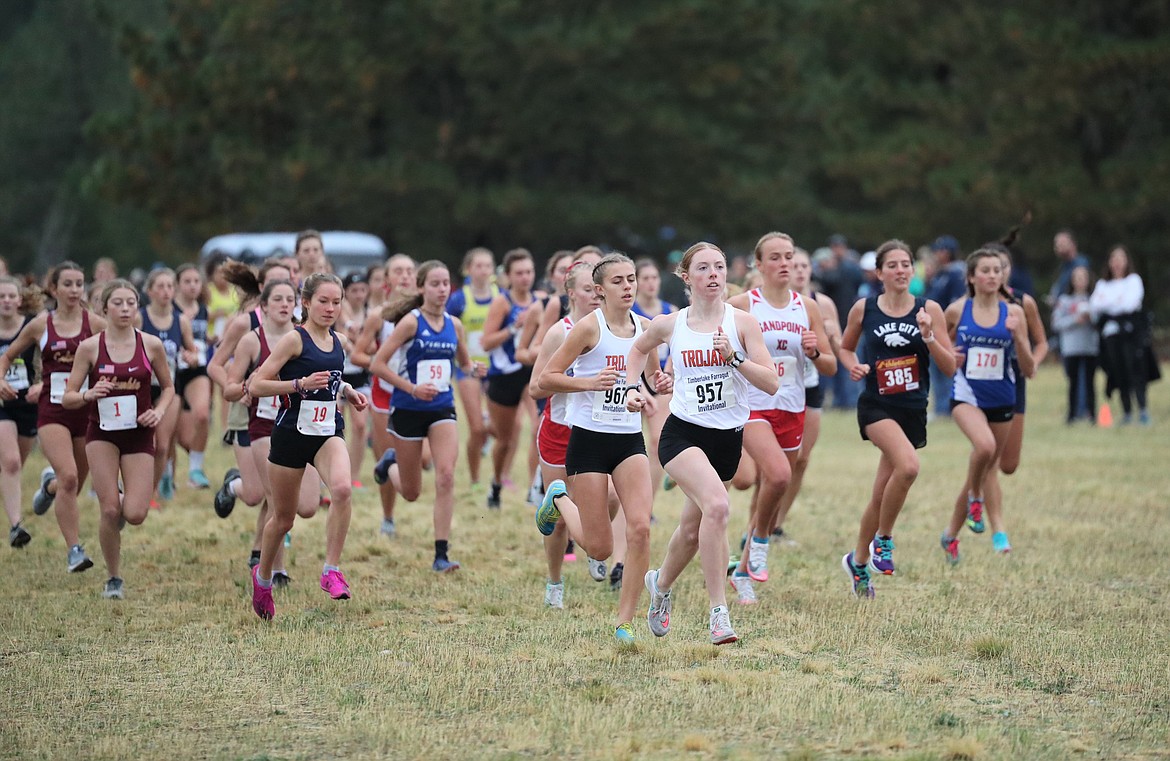 DYLAN GREENE/Bonner County Daily Bee Eventual winner Sammie Wood of Post Falls leads the start of the girls race at Saturday's Timberlake Farragut Invitational at Farragut State Park.
|
September 12, 2021 1:25 AM
• CROSS COUNTRY
By DYLAN GREENE
Bonner County Daily Bee
ATHOL — The Timberlake Farragut Invitational returned to a more familiar form on Saturday as over 20 schools and hundreds of runners descended upon Farragut State Park for the annual event.
In 2020, seven separate races were held on the boys and girls side to comply with social distancing protocols, and only North Idaho teams participated.
This year, several teams from Washington and southern Idaho — Skyview and Columbia, of Nampa — were able to make the trip to Athol, providing a majority of the teams in attendance with their largest regular season meet in nearly two years.
And the conditions were perfect for running. Smoke nearly canceled the event last year, but on Saturday gray skies and early morning rain was a welcomed sight that cleared away any air quality concerns.
It was the first 5K meet of the fall for most area schools and plenty of local athletes shined. The top 20 boys and girls were awarded medals.
Post Falls senior Sammie Wood, one of the top runners in the state, captured first on the girls side to lead the Trojans to the team title by 27 points over second-place Sandpoint.
Teammate Anna Peters crossed the finish line just under 30 seconds behind Wood in second. The duo separated themselves from the rest of the competition and set the pace from the get-go.
"They ran great," Post Falls coach Brian Trefry said of his top two runners. "Not terribly surprising because they know the course and they've ran it well. We were hoping that there was going to be some more southern [Idaho] teams here so there would be someone racing with them the whole time, but … they're used to doing that, they can run the race on their own."
Wood, who finished sixth at state in 5A in 2020, continued to showcase her dominance. She was hoping to break 18 minutes on the course, but she'll have another chance to do that at regionals in late October.
"It wasn't my best day … but it was really exciting," Wood said, "and our team culture is amazing this year so it makes it really fun to come to practice every day.
I don't think we've had a better team culture since I've been here."
Coeur d'Alene had a strong showing, grabbing first on the boys side and third in girls. Freshman Max Cervi-Skinner led the way for the Viking boys, taking second behind Skyview's Clay Shumaker. Sophomore Jacob King (fourth) and freshman Zach Cervi-Skinner (ninth) also finished inside the top 10 for Cd'A.
"I'm just super excited about the upcoming races we're going to have," Coeur d'Alene coach Cathy Compton said about the boys team. "They're just growing as a team, they're all young and … they're really hard-working, good kids."
Sophomore Anne Marie Dance (10th) was the first girl to finish for Coeur d'Alene. Compton said she has lots of promising young runners on both sides and she already sees a bright future for the program.
McKenna Kozeluh from Coeur d'Alene Charter Academy placed third in the girls race, Lake City's Clara Stephens and Hazel Kunkel secured fourth and fifth, and Sandpoint's Ara Clark and Mackenzie Suhy-Gregoire were sixth and eighth. Alahna Lien and Kaylynn Miser also earned ninth and 10th for the Trojans.
Lake City's Maximillian Bazler secured fifth in the boys race. Logan Davis from Coeur d'Alene Charter was seventh and Sandpoint's Ben Ricks took home eighth.
Coeur d'Alene topped Mt. Spokane by 38 points to claim the boys title. Sandpoint captured fourth.
Over the last few days, a number of local events have been canceled or postponed due to COVID-19. The teams Saturday were thankful this meet wasn't on that list.
"We were just happy to race," Sandpoint girls cross country Angie Brass said.
BOYS
TEAM SCORES — 1, Coeur d'Alene 70. 2, Mt. Spokane 108. 3, Moscow 121. 4, Sandpoint 137. 5, Skyview 148. 6, Post Falls 172. 7, Lake City 196. 8, Lincoln County 199. 9, Chewelah 254. 10, Logos 263. 11, Coeur d'Alene 285. 12, Timberlake 292. 13, Columbia 370. 14, Bonners Ferry 372. 15, Immaculate Conception Academy 388. 17, Deer Park 417. 18, Lakeland 439.
TOP 20 — 1, Clay Shumaker, Skyview, 16:26.9. 2, Max Cervi-Skinner, Coeur d'Alene, 16:36.7. 3, Luke Zwieseler, Mt. Spokane, 16:42.2. 4, Jacob King, Coeur d'Alene, 16:51.2. 5, Maximilian Bazler, Lake City, 16:54.1. 6, Isaac Reynolds, Lincoln County, 16:54.4. 7, Logan Davis, Coeur d'Alene Charter, 16:57.0. 8, Ben Ricks, Sandpoint, 17:00.1. 9, Zach Cervi-Skinner, Coeur d'Alene, 17:02.9. 10, Zeke Crockett, Chewelah, 17:03.1. 11, Nathan Roche, Sandpoint, 17:03.4. 12, Trey Clark, Sandpoint, 17:11.8. 13, Connor Alexander, Bonners Ferry, 17:19.1. 14, Ben Smith, Mt. Spokane, 17:25.5. 15, Tristin O'Brien, Moscow, 17:26.7. 16, Lachlan May, Coeur d'Alene, 17:30.3. 17, Luke Roberts, Post Falls, 17:33.7. 18, Gavin Bates, Lincoln County, 17:34.9. 19, Gavin Calkins, Post Falls, 17:35.8. 20, Jacob Barnhart, Timberlake, 17:36.4.
GIRLS
TEAM SCORES — 1, Post Falls 66. 2, Sandpoint 93. 3, Coeur d'Alene 103. 4, Skyview 121. 5, Mt. Spokane 123. 6, Logos 127. 7, Lake City 139. 8, Moscow 158. 9, Deer Park 202. 10, Lincoln County 267. 11, Timberlake 270.
TOP 20 — 1, Sammie Wood, Post Falls, 18:03.1. 2, Anna Peters, Post Falls, 18:31.8. 3, McKenna Zozeluh, Coeur d'Alene Charter, 19:28.0. 4, Clara Stephens, Lake City, 19:47.4. 5, Hazel Kunkel, Lake City, 19:52.8. 6, Ara Clark, Sandpoint, 19:56.4. 7, Layne Lathrop, Deer Park, 20:03.3. 8, Mackenzie Suhy-Gregoire, Sandpoint, 20:06.1. 9, Alahna Lien, Post Falls, 20:08.3. 10, Kaylynn Miser, Post Falls, 20:12.1. 11, Anne Marie Dance, Coeur d'Alene, 20:35.4. 12, Abigail Krzemien, Skyview, 20:37.0. 13, Tabi Koscielski, Mt. Spokane, 20:44.9. 14, Sara Casebolt, Logos, 20:46.2. 15, Kallen Mutchie, Skyview, 20:47.9. 16, Elliana Rietze, Coeur d'Alene, 20:51.0. 17, Grace Rookey, Sandpoint, 20:58.3. 18, Makayla Gardner, Skyview, 20:59.4. 19, Sophie Krzemien, Skyview, 21:11.6. 20, Karly Bowen, Mt. Spokane, 21:13.1.
Highlander
• VOLLEYBALL
Freeman Rip-A-Shot Tournament
FREEMAN, Wash. — Under first-year coach Christel Moores-Winkle, the Coeur d'Alene Charter Academy Panthers opened their season with one win in five matches at the Freeman Rip-A-Shot Tournament.
Cd'A Charter lost to Lewis and Clark 25-14, 25-12, lost to East Valley 25-13, 25-19, lost to Deer Park 25-14, 25-15, beat Newport 25-20, 22-25 and lost to Riverside 25-15, 25-16.
Taylor Peterson had 22 digs, nine kills and nine aces on the day for Coeur d'Alene Charter. Raeana Kendra added 13 digs, nine kills, four aces and three blocks for the Panthers, Leandra Norcini had 10 digs and three kills, and Shaylyn Oxford had 10 digs.
"Overall, it was a successful start to the season," Moores-Winkle said.
Coeur d'Alene Charter returns to action Thursday at Priest River.
Orofino d.
St. Maries
OROFINO — The visiting Lumberjacks won the first set before dropping three tight sets to the Maniacs in the Central Idaho League opener for both teams.
Sofia Holmes had 10 kills for St. Maries (1-2). Lily Daniel had 26 assists, Berkli McGreal 15 digs, Ava Stancil and Kassidi Scott two aces each.
For Orofino, Kaycee Hudson had seven kills and 12 digs, Grace Beardin five kills and five blocks, Riley Schwartz 29 digs.
St. Maries travels to Kellogg on Thursday.
---