Another record-breaking election year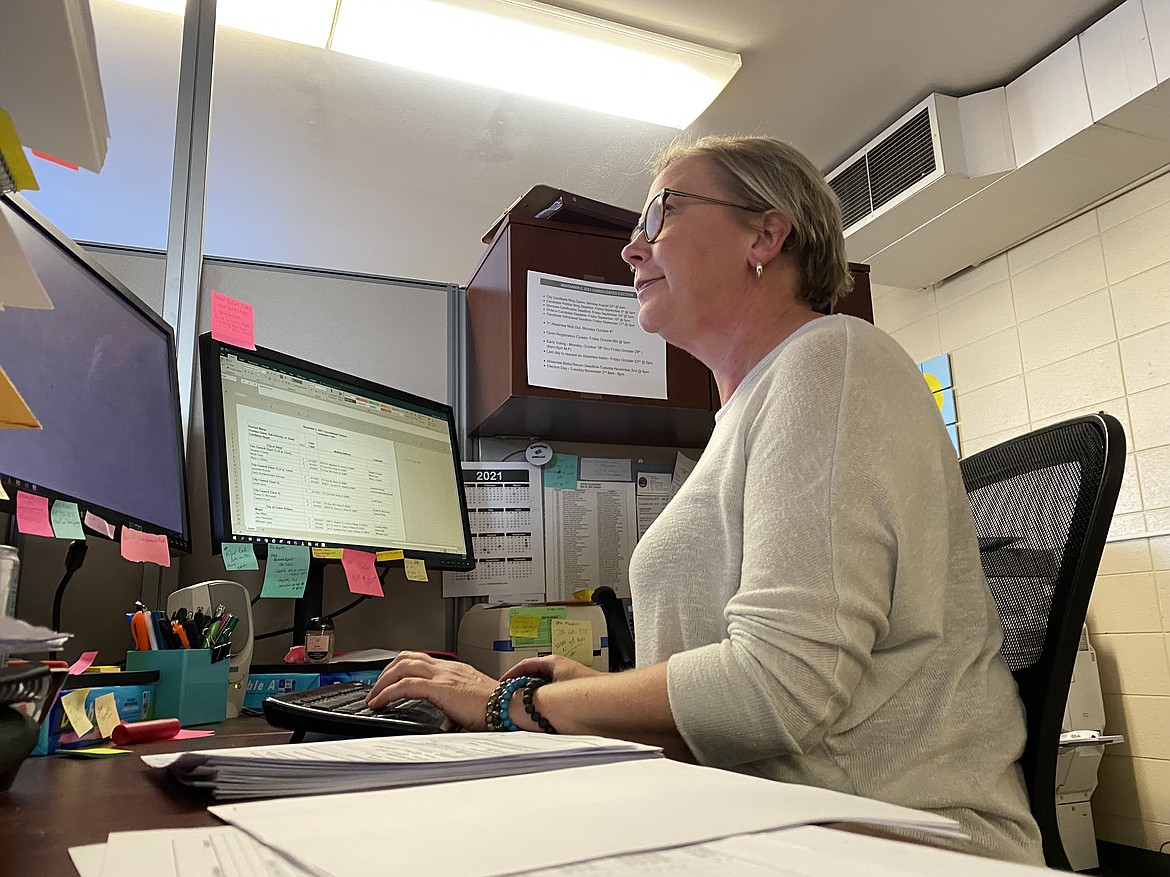 Elections Clerk 3 Christie Olesen plugs in the last candidate names as the filing period for November races pour in Friday evening. (MADISON HARDY/Press)
by
MADISON HARDY
Staff Writer
|
September 4, 2021 1:09 AM
Kootenai County is gearing up for another busy election year as races on the November ballot see a record number of candidates. 
The countdown to the Nov. 2 election has begun as the deadline for candidates to file for office passed Friday at 5 p.m. 
Several city councils, mayoral, school board trustee and fire district commissioner slots are up for grabs. 
This year the office is seeing more applications for the same office than in several years, Clerk Jim Brannon said. He recalled in 2017 when the Coeur d'Alene City Council was entirely uncontested candidates. This year Coeur d'Alene City Council Seat 4 has four names in the running. 
"I think people are taking a more active interest in their local government," Brannon said.
"I'm sure everyone has their reasons. Some people are excited as to what their city is doing and want it to continue," he added. "There are also probably those disgruntled with what their cities are doing and want to attempt to change it."
On Elections Office employee desks Friday afternoon was a stack of applications an inch thick, and more were pouring in from districts around the county. 
"It's going to be a good ol' busy election time," Brannon said. 
Under Idaho Senate Bill 1270, which passed in the 2020 session, city races with only one candidate do not have to be on the ballot. Following the write-in deadline on Sept. 10, Brannon said the county would know what offices are uncontested. 
The last day for a candidate to withdraw is Friday, Sept. 17, at 5 p.m. 
At 5 p.m. on Friday, Kootenai County had 101,972 registered voters — 59,182 Republicans, 11,901 Democrats, and 30,879 unaffiliated.   
"We broke the 100,000 voters threshold for the first time last year," Chief Deputy Clerk Jennifer Locke said. 
While the registered number of voters is higher than ever, Brannon said he doesn't expect the same turnout level as the general election in 2020. 
"Many people vote every four years, and that is it," he said. 
Voters must register by Oct. 8 at 5 p.m. to participate in the November election. Virtual registration is available at voteidaho.gov.   
So far, 6,441 residents have requested an absentee ballot — more than double the 3,211 sent out by the Elections Office in 2019.
Citizens can request an absentee ballot until Oct. 22 at voteidaho.gov or download the form at kcgov.us/301/Absentee-Voting. All mail-in submissions must be returned to the Elections Office by 8 p.m. on Election Day.
"It must be in at 8 p.m. Not 8:01 p.m., not 8:05 p.m., not 8 p.m. and 18 seconds," Brannon said.
Early voting is available from Oct. 18 to Oct. 29 from 8 a.m. to 5 p.m. at the Coeur d'Alene Elections Office. Polling places will be open from 8 a.m. to 8 p.m. on Election Day. To find your polling place, visit kcgov.us/321/Polling-Place-Look-Up.
Same-day registration and voting are available on Election Day at a polling place. 
City candidates as of 5 p.m. Friday: 
Athol City Council
Seat 1 — Mark Dane, Mary J. Zichko, Stephen Cutaiair*
Seat 2 — Darla Knickerbocker Kuhman, Jeanette Kramer* 
Seat 3 — Cindi Denis*
Seat 4 — Shane D. McDaniel*, Tammy Porter 
Coeur d'Alene Mayor 
Jim Hammond
Joe Alfieri 
Michael Lentz 
Coeur d'Alene City Council 
Seat 2 — Amy Evans*, Morgan Dixon, Roger Garlock 
Seat 4 — Grayson L. Cross, JD Calridge, KC Reese, Woody McEvers* 
Seat 6 — Elaine Price, Kiki Miller* 
City of Dalton Gardens Council, two seats 
Carrie Chase, Curt Jernigan, Justin Rupinski, Ray Craft, Scott (Scooter) Jordan, Susan J. Supp, Tyler Drechsel 
City of Fernan Lake Village Council
No applications for the council as of Sept. 3
City of Harrison
No applications for Mayor and council as of Sept. 3 
City of Hauser Council, two seats
Sean Taylor, Tammara McGovern 
City of Hayden Council
Seat 2 — Ed DePriest, Nicole Barnett, Richard 'Dick' Panabaker*
Seat 4 — Jeri DeLange*, Sandy White 
City of Hayden Lake Council 
Seat 2 — Dan Baker*
Seat 4 — Debbie Morris
City of Huetter
No applications for the council as of Sept. 3
City of Post Falls Mayor 
Austin Hildebrand 
Bobby Wilhelm 
Daniel Temple
Ronald G. Jacobson*
City of Post Falls Council 
Seat 2 — Alan Wolfe*, Josh Walker, Louis Reuter 
Seat 4 — Bob Flowers, Nathan L. Ziegler, Steve Anthony* 
Seat 6 — Eric Klinkhammer, Kenny Shove, Linda Wilhelm*, Lori Allen, Tara Polley 
City of Rathdrum Council 
Seat 1 — Darrell Rickard*, Matt Spindler, Neil G. Oliver, Yevgeniy Pinchuk 
Seat 3 — John Hodgkins, Kurt Schwab, Michael Fox 
City of Spirit Lake
No applications for Mayor and council 
City of State Line
No applications for Mayor and council as of Sept. 3
City of Worley
No applications for the council as of Sept. 3 
Fire District candidates as of 5 p.m. Friday:
East Side
Sub District 1 — Fred Fricke*
Sub District 3 — Akos Ador*
Hauser Lake
Sub District 3 — Michael "Shane" Kamps*
Kootenai County Fire and Rescue
Sub District 3 — Andy Boyle*, Shawn Smidt 
Sub District 4 — Keither "Hutch" Hutcheson, Paul R. Wagner* 
Sub District 5 — Gerald Johnson, Michael Hunt* 
Mica Kidd Island 
Sub District 3 — Larry Mundt*
Northern Lakes 
Sub District 1 — John Horn, Michael Pearce* 
Sub District 3 — Dennis L. Amende*, Marc Ghiraduzzi 
Sub District 5 — Doug Duncan, Terry J. Thompson* 
Spirit Lake 
Sub District 2 — Gary A. Pfahler 
St. Maries
Sub District 1 — Kevin M. McHail*
Sub District 2 — No applications as of Sept. 3
Timberlake 
Sub District 2 — M. Melanie Savage*
Sub District 4 — David "Rudy" Rudebaugh*
Sub District 5 — Sam Rick Conner*, Todd Amende 
Worley 
Sub District 2 — Gary Drechsel*
Sub District 3 — Edward M. Joy*
School District candidates as of 5 p.m. Friday:
Coeur d'Alene #271 
Zone 1 — Allie Anderton, Annie Winston Poetker, Lisa May* 
Zone 4 — Jeff Zember, Jennifer K. Brumley*, Lesli Bjerke, Lindsey Swingrover
Zone 5 — Glen Campbell, Rebecca Smith* 
Lakeland Joint #272
Zone 4 — Chrisdee Imthum, David M. Quimby, Mark Worthen 
Zone 5 — Debbie Major*, Robert (Bob) F. Jones
Post Falls #273
Zone 1 — Dave Paul*, Guy McAninch, Lori Wilson, Neil Uhrig, Tana Wrublik
Zone 4 — Bridget Malek*, Chrystal White, Logan Creighton 
Zone 5 — David J. Reilly, Jake Dawson, Lyndon Harriman, Megan Rounds 
Kootenai Joint No. 273
Zone 1 — Heather Wilcox*, Richard Meyer
Zone 4 — Ellie Getchius, Tina McGann, Vicki Haney 
Zone 5 — Cheri Thaut, Thomas Reinhardt*
Plummer-Worley Joint No. 44
Zone 1 — Michelle Grossglauser
Zone 3 — Ida J. Gustin (JR)
*indicates incumbents 
Elections Office Info: 208-446-1030, www.kcgov.us/31/Elections 
Recent Headlines
---