Making research cool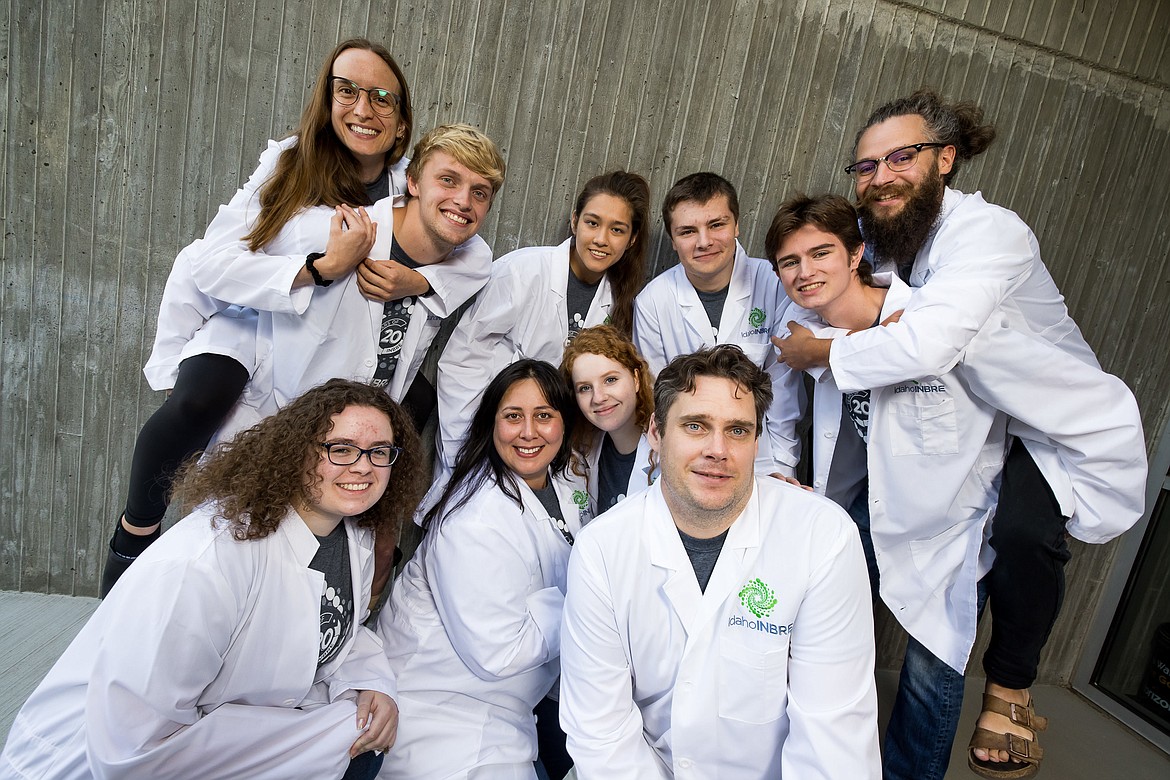 Photo by Jerome Pollos Cody Perez, Molly Murphy, Hannah Griffin (Photos by Jerome Pollos) North Idaho College INBRE students include, front row from left: Elizabeth Garrett, Krystal Saunoa, Dale LeMetterey, Patrick Hayes. Back, from left: Molly Murphy, Tristan Whiting, Hannah Griffin, Will Auten Dylan Eisenbrandt, and Cody Perez.
Cody Perez plans to apply to medical school next spring.
Molly Murphy has her sights set on becoming a trauma surgeon.
Hannah Griffin is working her way toward a medical career specializing in osteopathy.
These aspiring doctors are all North Idaho College students who participated in the Idaho INBRE (IDeA Network of Biomedical Research Excellence) program.
Idaho INBRE is a statewide scientific network of researchers and the state's public higher education institutions, including NIC. The collaboration's goal is to strengthen the capacity of biomedical research and education in Idaho while providing research opportunities for students.
"INBRE played a huge role in my success as a student," said Perez, of Coeur d'Alene, who already has a bachelor's degree in psychology and organizational sciences and is attending NIC to complete his pre-med requirements.
Microbiology Professor and INBRE Coordinator Rhena Cooper helped establish INBRE at NIC in 2003. With a grant from the National Institutes of Health, a summer program was developed that connects NIC students with labs throughout North Idaho.
"NIC specializes in placing students in industry internships and with research professors at the University of Idaho," Cooper said. "Each summer's cohort is unique as they progress in both the skills necessary in science fields and professional development."
Perez's internship was at a local winery where he used chemistry to monitor pH and free sulfur dioxide levels for his project "Inhibiting Biogenic Amine Precursors in Wine." He presented his research at the annual statewide Idaho INBRE conference in July and won first place in the Industry Intern category.
"The importance of this is to prevent the growth of spoilage bacteria as the wine ages," Perez said.
Hannah Griffin, also from Coeur d'Alene, won first place in the Fast Pitch category at the INBRE conference with her research presentation "Retina Martial Arts," which explained how the retina of the eye works.
"I wanted to personify it in an action-packed way that would resonate with the audience," Griffin said. "For each step in the chain reaction of vision, I compared it with a step in a self-defense technique against a knife attack."
Molly Murphy won first place in undergraduate research, faculty choice, with "Quantifying dopaminergic amacrine cells making stray dendritic synapses in the retina."
Working with Dr. Peter Fuerst at the University of Idaho, Murphy assisted in conducting a study examining retina cells in mouse models for effects of two proteins made by genes related to Down syndrome.
"I was quantifying where a specific helper neuron in the retina made its connection in each of the models," Murphy said. "This research is cool because it has huge human health implications for autism spectrum disorder."
Recent Headlines
---