Moving up the street
|
October 31, 2021 1:07 AM
Relocating from 8382 N. Wayne Drive to 8677 N. Wayne Drive (Suite A), Longwell + Trapp Architects will open Monday in the new place.
Providing architectural services throughout Idaho, Washington and Montana since 1982, the company works on residential and commercial projects including new residences, remodels, medical offices, tenant improvements, governmental, fire stations, educational and industrial.
Open 7 a.m. to 5 p.m. Monday through Thursday and 7 a.m. to noon Fridays, the business includes architect and owner Cory Trapp, project manager Eric Fauskin, office manager Sally Reynolds and Juanita Trapp in marketing.
Phone 208-772-0503. Check www.longwelltrapp.com.
Belle Niche boutique opens in Silverlake
Providing customers with "an amazing hands-on shopping experience," Trista Cavallo has opened Belle Niche in Suite 1224 (across from Claire's) in Silverlake Mall, 200 W. Hanley Ave.
The store carries clothes for women of all shapes, sizes and age ranging from small to 5x with an always-changing inventory. Hours are 10 a.m. to 7 p.m. Monday through Saturday and 11 a.m. to 6 p.m. Sundays. Join Belle Niche on Facebook and Instagram.
Construction starts on Cornerstone complex
Ground has been broken for Cornerstone, a four-story commercial and residential building in the southwest corner of Riverstone Drive and Beebe Boulevard across from Red Robin in Riverstone.
The building will comprise office spaces on the first floor, six condo units on both the second and third floors and three penthouses (with Riverstone Pond views) on the fourth floor. The residential units will have underground parking.
Ginno Construction is the builder, and Architects West designed the place. For office space contact Casey Brazil at 208-770-2590, and for condos contact Nicole Cummings at 208-664-9955.
Now the Tidbits
Prairie Xpress gas station and convenience store will be in the northwest corner of Prairie Avenue and Government Way.
SixOne Media will be on Government Way in Hayden.
A sign on Wayne Drive in Hayden says "Future home of Blue Chip Chiropractic."
Northwest Specialty Hospital is expanding at 1551 E. Mullan Ave., in Post Falls.
Open Arms Real Choice Clinic will move from 1800 Lincoln Way to 8056 N. Wayne Drive in Hayden.
Metro Express Car Wash is building a large new place in the northwest corner of Highway 41 and I-90.
Lone Mountain Farms & Brewery will have a new place in the Lancaster Market development at U.S. 95 and Lancaster Road.
Consign Furniture has a "coming soon" sign southwest of the U.S. 95-Lancaster Road intersection.
Renew Aesthetics & IV Hydration Bar will move from 515 Fourth St., to 1101 W. Ironwood Drive in January.
A Board & Brush place will be in Prairie Shopping Center.
Hmm. The "For Sale" sign is gone in the northeast corner of Hanley and Ramsey and surveyors were there. What's happening?

Black Lodge Brewing will open soon on Third Street downtown.
The Rebel Junk Shoppe at 2424 N. Fourth St., will expand to a street-side location.
Bruchi's quick service restaurant is planned for a new building north of the corner of Highway 41 and Mullan Avenue.
The new Dairy Queen at 513 W. Hayden Ave. (just west of Highway 95) will open in late November.
The former Ugly Fish restaurant building will be a Berkshire Hathaway Realty in Riverstone.
Watch for construction of Vantage Point Brewery across from Michael D's Eatery off Cd'A Lake Drive.
Golf Island and Pedego Electric Bikes are coming into Riverstone.
Kaffee Meister will be at 9212 Government Way.
A Sweet Lou's restaurant and a Grease Monkey auto place will be at the Crossings in Athol.
Watch for Rivers Edge Apartments to be built at 3528 W. Seltice Way.
Gathered Restaurant is new on Spokane Street in Post Falls.
The Lucille building under construction at 2605 N. Fourth St., will have five commercial suites.
TownPlace Suites by Marriott Hotel will be built where the Outback Steakhouse was in the southeast corner of I-90 and Northwest Boulevard.
Several steel storage buildings will be built at 3758 W. Hanley Ave., (off Atlas Road) for Hern Ironworks.
New places coming to Silver Lake Mall include See's Candies, Nailed It, Customs Laser Engraving, All Fired Up, Crime Scene Entertainment and American Heritage.
A Sarah Hamilton Face place will be at 2120 Northwest Blvd.
Watch for something coming into the former ShopKo building ... possibly Sportsman's & Ski Haus.
A new commercial and residential building will be built at Government Way and Davidson Avenue.
Watch for major changes with the Burger Bunker and Bunker Bar off Spokane Street in Post Falls.
A new building for Linden Coffee Co. is under construction at 1502 N. Third St.
A new gas station-convenience store will be in the northeast corner of Atlas at Seltice.
We have rumors of new Costcos in Hayden and State Line and a Trader Joe's in Coeur d'Alene. We'll see.
A large storage complex and new corporate office for Steel Structures of America is being built off Highway 41.
The Den will be a new tavern at 761 N. Idaho St., in Post Falls.
My Nails & Spa will be off Canfield Avenue.
The Cd'A Corner Store is adding a kitchen and tables downtown.
Takara restaurant will be downtown.
Schmidty's Burgers will be at 1524 E. Sherman Ave.
Napa Auto & Truck is building a new location in Rathdrum.
Coeur d'Alene Nissan will have a major addition to its building off U.S. 95.
Watch for a new apartment building at 128 W. Neider Ave., across from Safeway.
Mountain Goat Lounge is under construction connected to the Moose Lounge downtown.
The Lake Coeur d'Alene Inn is under construction on Coeur d'Alene Lake Drive between Mullan Avenue and Michael D's Eatery.
Too many Facebook items spell the decades like "80's," but they're simply plural such as '80s with the century in front with the single (').
Contact Nils Rosdahl at nrosdahl@cdapress.com.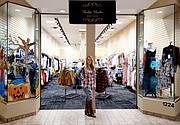 Recent Headlines
---