Silverwood to Dollywood?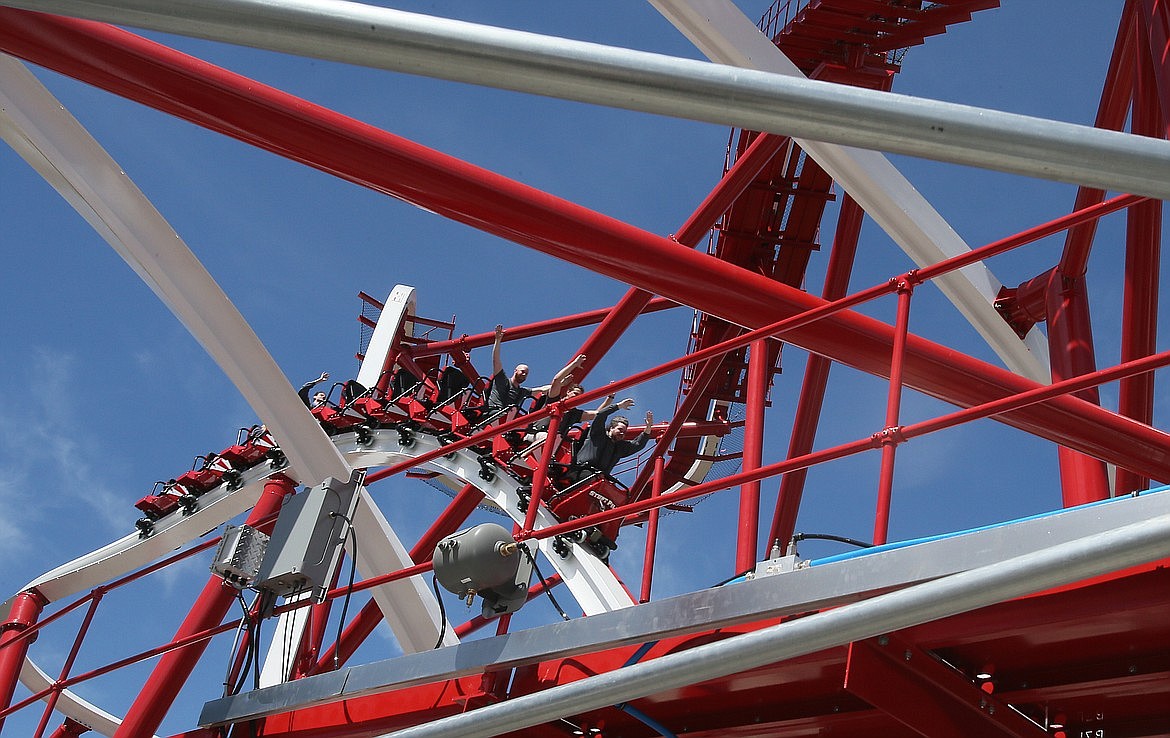 Passengers aboard Silverwood Theme Park's newest roller coaster, Stunt Pilot, stretch their arms to the sky as they enjoy the aerial adventure during a media event in May.
by
BILL BULEY
Staff Writer
|
October 30, 2021 1:09 AM
COEUR d'ALENE — Gary Norton made one thing clear: Silverwood Theme Park is not for sale.
The owner of the North Idaho fun park that opened in 1988 and has grown dramatically since confirmed this week that he was contacted recently by representatives with Herschend Family Entertainment. That company owns Dollywood in Pigeon Forge, Ten., Kentucky Kingdom and Hurricane Bay in Kentucky, and Silver Dollar City in Branson, Mo.
"I told them we're not for sale and had no intention of selling," Norton said. "We enjoy what we do and want to keep doing it."
Norton told The Press he was also approached about a partnership in areas that could benefit both parties in regarding to theme park operations.
"They like what we're doing," he said.
Rumors of the sale of Silverwood have been making the rounds lately.
An anonymous note to The Press said the paper "should do a front page" story on Norton selling Silverwood to the Herschend family.
A former employee said they, too, had heard rumors of an offer to buy Silverwood, but Norton decided against it.
A phone call and email to Herschend Family Entertainment, founded by Pete and Jack Herschend, were not returned.
Their website states: "Today, we are considered the nation's largest family-owned themed attractions corporation. As a part of the family of entertainment companies within the Herschend Enterprises portfolio, our team of more than 10,000 employees creates, develops and operates entertainment, tourism and hospitality properties that currently span 23 locations in six states."
Silverwood Theme Park is located about 20 miles north of Coeur d'Alene just off U.S. 95. It employs about 1,300 in the summer and has attracted more than 650,000 annual visitors.
It is transformed into Scarywood Theme Park in October, employs about 200 ghouls and monsters, and attracts thousands of guests throughout the month.
Today, Silverwood includes Boulder Beach Water Park, has more than 75 rides, attractions and shows. At more than 400 acres, it's the largest theme and water park in the Northwest.
This summer, it opened its newest roller coaster, Stunt Pilot, and enjoyed strong visitor numbers.
Silverwood is considered one of Idaho's premier attractions.
Norton said that while he's not selling Silverwood, he is interested in talking more with Herschend Family Entertainment about ways they can collaborate and help each other enhance operations.
Preliminary discussions included working together on software, for instance.
He expects to hear more on that possibility soon.
"There are internal things we do that they like,' he said.
Norton added that continued talks will include "nothing in terms of any ownership changes whatsoever."
Recent Headlines
---