Be their guest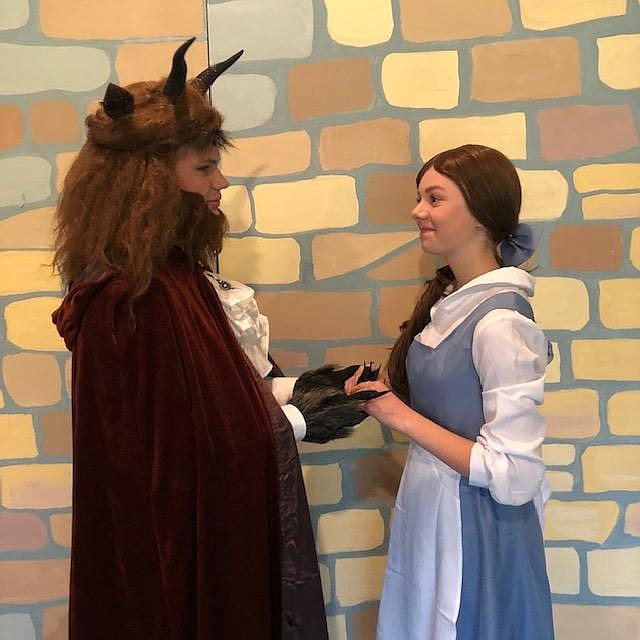 Lincoln C. Mellick and Alyenna Dow play the Beast and Beauty for Out of the Woods Family Theater's Beauty and The Beast JR, opening Nov. 12 at 7 p.m. at the Blanchard Community Center. Courtesy photo
by
Press Staff
|
October 29, 2021 1:00 AM
Out of the Woods Family Theater presents Beauty and The Beast JR, opening Nov. 12 at 7 p.m. at the Blanchard Community Center.

"I think little kids are going to love this show. If they've seen the movie, they'll love to see it in real life," said Alyenna Dow, who is playing Belle. "We've had to learn to sing and spent about ten hours a week at the community center for rehearsals."
Out of the Woods Family Theater is a program of the Blanchard Community Arts Program through Blanchard Area Seniors InCorporated. The cast includes 48 of local young actors ranging from ages 10 to 19.
"Out of the Woods is a treasure," said Kira McKee, mom of two of the actors. "DeeAnn Boydston (the director) volunteers her time and talent to give these kids an opportunity to learn theater and participate in putting on high quality shows the whole family can enjoy. This is one of the best things we've ever been a part of."
Beauty and the Beast JR. tells the story of a selfish prince who is cursed to live as a hideous beast until he can learn to love, and earn the love of another in return, before time runs out. His opportunity comes through the beautiful and intelligent Belle, his unexpected captive.
"It's fun to help people leave the real world behind for a couple of hours," said Isabelle Epps, who plays Mrs. Potts. "I love the people, how everyone supports and loves each other, being on stage and making the audience in our small town laugh."
Show times are Nov. 12 and 19 at 7:00 p.m., and Nov. 13, 14, 20 and 21 at 3:00 p.m. Doors open 30 minutes before curtain.
Sunday shows are usually standing-room-only.
Tickets are $5.00 for ages 13 and up, $3.00 for children 12 and under.
For a guaranteed seat, purchase tickets online at ootw.ticketleap.com. A small processing fee will be applied to all online sales.
Tickets are also available at the door on a first-come, first-served basis.
Recent Headlines
---