Sheryl Ann Choate Wallace, 58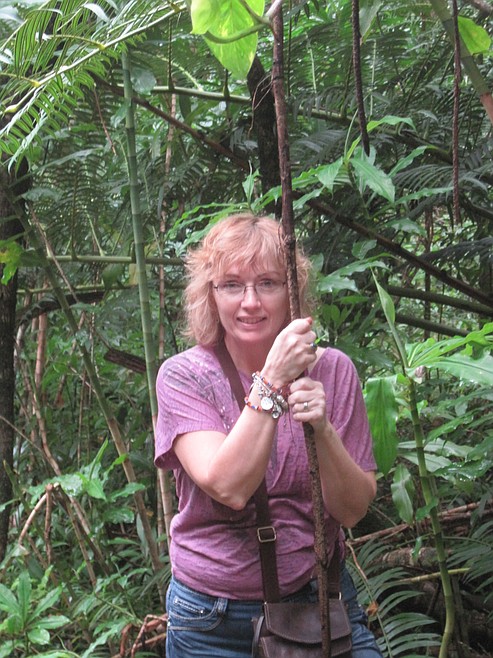 |
October 28, 2021 1:00 AM
Sheryl Ann Choate Wallace was born on Feb. 15, 1963, to Garold and Carol Choate in Boise, Idaho, where her father was stationed at Mountain Home Air Force Base. She was joined by sister Korene in Boise, and later, after the family moved to Lewiston, Idaho, sister Gail joined the family.
Following graduation from Lewiston High School in 1981, Sheryl attended Big Sky Bible College in Lewistown, Mont., from 1982 to 1983. After that year of school, she was offered a job working for the Wilcox family during the harvest season on their farm outside of Cheney, Wash. It was here she met her future husband, Scott Wallace, and the two of them were later married on April 7, 1984. Sheryl worked briefly for Lincoln Mutual as a teller before the birth of her first son, Jonathan. Following their son's birth, Sheryl became a stay-at-home mom full-time until she rejoined the workforce working for Silverwood Theme Park years later. The family moved to the Newman Lake area in the summer of 1987, just prior to the birth of their second son, Jordan. It was here, following the birth of their daughter, Rebekah, in 1990, that Sheryl started helping in the Awana Ministry at Otis Orchards Community Church.
In the spring of 1995 Sheryl and her husband Scott, after much discussion and encouragement by others, decided to remove their children from the public school system; and so, Sheryl began homeschooling their children and continued to do so for more than 20 years, educating eventually all five of their children through their high school years.
In 1997 the family had a home built outside of Athol, Idaho, where they moved in September of that year and reside to this day. Sons, Jacobalan and Jeremicah, were born and joined the family in 1998, and 2000, completing the family. Sheryl continued serving in the Awana Ministry with her husband Scott, and also the children, at Coeur d'Alene Bible, serving for 10 years; then when the family moved to attend Candlelight Christian Fellowship of Coeur d'Alene, she continued to serve there as well. During this time, she and her husband also helped with the local Awana Missionary for the region at events throughout eastern Washington for 18 years. Sheryl served in the Awana Ministry for a total of 30 years, during which she earned the Citation Award, the highest award given by Awana Clubs for completion of Bible study and memory materials, while meeting and making friends and impacting young lives for Christ in the past and even into the future for years to come. In all this, Sheryl found and shared great joy and will be sorely missed, for it has been said that she was the heart and matriarch of Awana in the Coeur d'Alene area.
In the spring of 2008, Sheryl and her daughter Rebekah were involved in a head-on collision on Highway 95 just south of Garwood, in which Sheryl was severely injured. Later at the hospital, when the surgeon commented on how many victims of the injuries she suffered did not survive, Sheryl commented how the reason she did, was because God still had things for her to do, her work wasn't completed yet.
When their son, Jeremicah, started working at Silverwood Theme Park, Sheryl also went to work there as well, working in landscaping, where she could be raking leaves, pruning trees and bushes, watering flowers and many other tasks that at times would leave her exhausted at the end of the day, and looking forward to a lighter task the next day. The following year she worked in retail in the general store, where she could meet and visit with people exploring and enjoying the park. This was something that she enjoyed doing, and she worked for Silverwood for two years in this capacity. But after her second year in the store, she doffed her apron to start the task she wanted to explore even more, that of being Nana to her grandchildren.
She loved to travel to see the many sites of the Northwest and did so with her sister, Gail, and our younger children, from Yellowstone to the Oregon Coast, and visited these places and many others, but in the later years, she started to take some of her grandchildren on these adventures. She also, when asked, spent time caring for the grandchildren of her son and daughter-in-law in Hawaii while they attended mandatory training as required by the military. Time was also spent with her parents and family camping with our children and traveling in the Northwest. Sheryl and her husband celebrated their 36th anniversary on a road trip, which culminated with exploring the tulip fields of northwest Washington in April of 2020.
As was said before, of her time working at Silverwood, Sheryl wasn't one to shirk hard work, and so in the spring of 2020 following the anniversary road trip, she and her husband commenced with a large project on their home, replacing the siding and roof. It was during this that she started to experience discomfort and it was after several trips to the doctor that it was discovered she had cancer. In the spring of 2021 she and her husband celebrated their 37th anniversary by again going to wander the tulip fields of northwest Washington.
After a yearlong battle, Sheryl entered the rest of her Lord and Savior peacefully at home on Oct. 21, 2021, with her sister Korene and her husband, Scott at her side. She is survived by her husband, Scott; sons: Jonathan and daughter-in-law, Tiara, Jordan and daughter-in-law, Courtney; daughter, Rebekah and son-in-law, Joel Varney; sons: Jacobalan and Jeremicah; parents, Garold and Carol Choate; sister, Korene and husband, Paul; and sister, Gail; grandchildren: Andy, Henry, David, Esabella, and Josephine, Rocco, Roweyn, Casie and Gage, and William and Finn.
A celebration of life will be held at 10 a.m., Saturday, Nov. 6, 2021, at Candlelight Christian Fellowship of Coeur d'Alene, Idaho, 5725 North Pioneer Drive. Because this is a celebration of life, black attire is not required, but rather joyful colors. If you are or have been in Awana, please wear your Awana club shirt or uniform. If you have a kilt you are encouraged to wear it as well.
Please visit Sheryl's online memorial and sign her guestbook at yatesfuneralhome.com.
Recent Headlines
---