Friendly front-door campaigning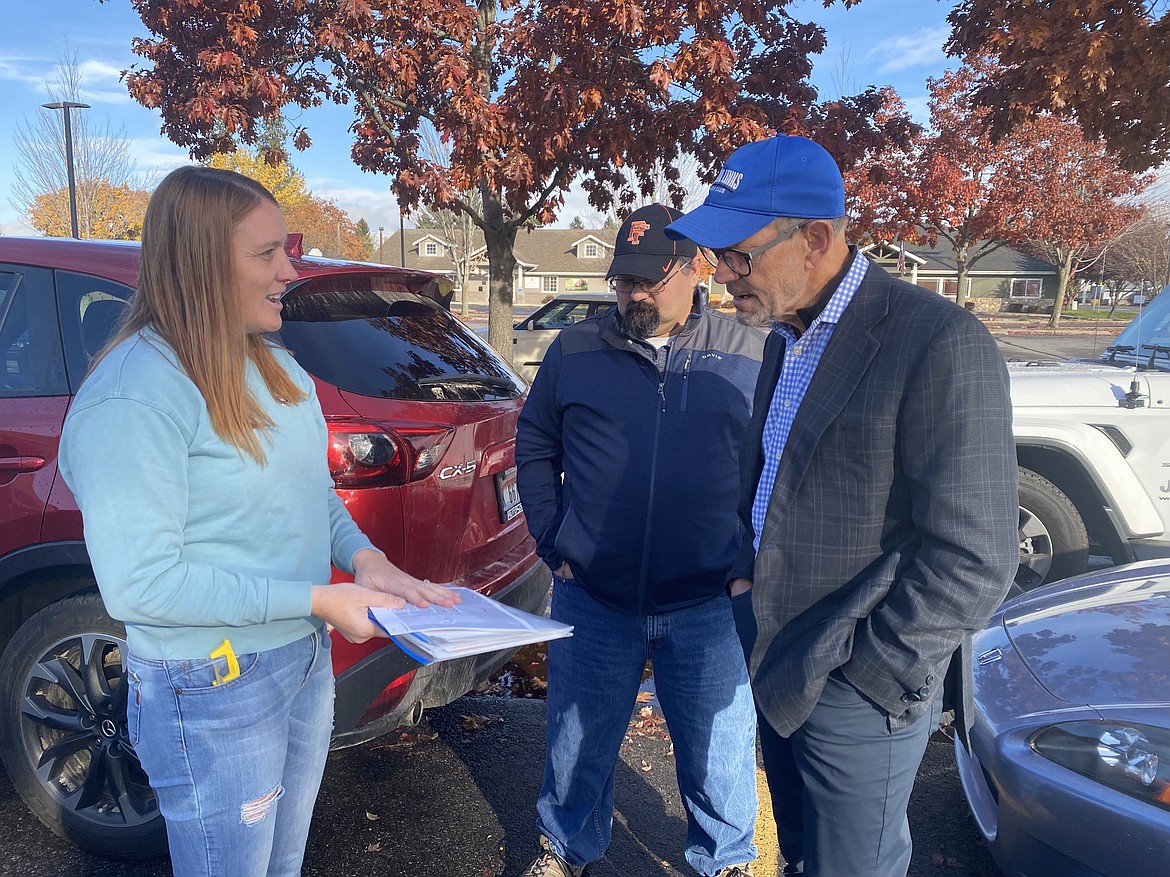 Meeting at the Post Falls library, (from left) Teresa Borrenpohl, school board candidate Neil Uhrig and Greg Helbling talk strategy Saturday prior to the kick-off of a door-knocking campaign coordinated by Citizens for Post Falls Schools.
ELLI GOLDMAN HILBERT/Press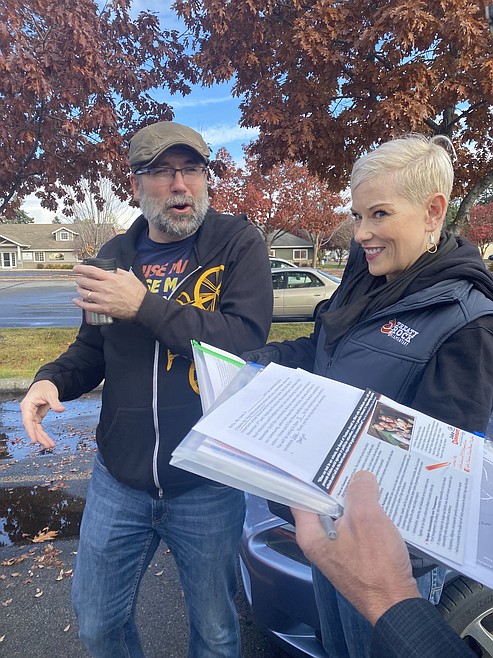 Jason and Karen Lauritzen gear-up for a day of door-knocking, hoping to inspire voters to visit the polls on November 2.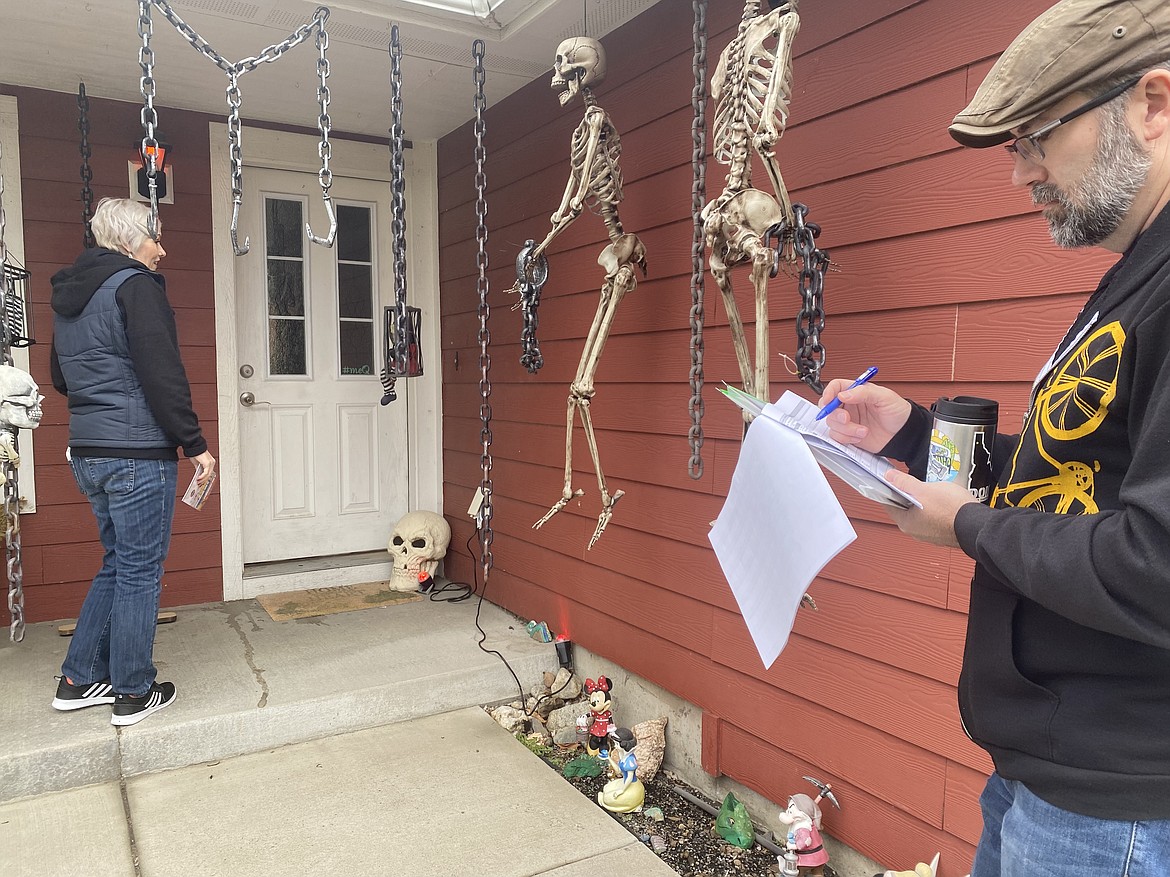 Karen and Jason Lauritzen stand outside a residence Saturday, ready to spread the word about trusted school board and fire commission candidates.
Previous
Next
by
ELLI GOLDMAN HILBERT
Staff Writer
|
October 27, 2021 1:00 AM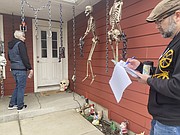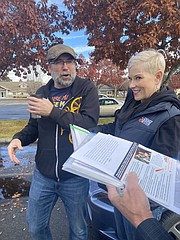 POST FALLS — Volunteers from both sides of the aisle surprised households Saturday and Sunday with a little friendly front-door campaigning.
About 15 volunteers with Citizens for Post Falls Schools canvassed chosen residents between the ages of 25 and 55 because it is more likely they have children of school age, said Teresa Borrenpohl, an organizer of the event.
Specific neighborhoods were targeted in advance of the Nov. 2 election.
"We've really strategically picked the areas that we're going to be knocking in," Borrenpohl said. "They are areas that have supported education in the past through levies."
Armed with maps, address lists and pamphlets highlighting endorsed school board trustee and fire commission candidates, groups went door-to-door.
Neil Uhrig, running for school board trustee in zone 1, was there in person.
"Obviously the best thing for candidates to do is to knock on the door and say 'the candidate is at your door,'" Borrenpohl said. "People love to know that they're talking with the person."
Greg Helbling showed up to support candidate Jake Dawson for school board zone 5.
Helbling and his wife, Natalie, know Dawson through their work as Young Life home-group leaders for the past four years. Dawson has worked with local youth alongside them during that time.
"Jake helps us out on occasion still," Helbling said. "I've heard him talk to the kids, he's a wonderful guy."
Karen Lauritzen, a third-grade teacher at Treaty Rock Elementary and president of the Education Association, ventured out with her husband, Jason.
The Lauritzens started going door-to-door during the levy vote in March.
"It really mobilized a lot of us to connect with the community in ways like this," Lauritzen said.
Lauritzen said only about 20% of parents voted during their last opportunity. She said her main goal is to remind residents to vote.
Many residents were not home, in which case a pamphlet was left behind. Some residents didn't mind the knock but others didn't take it so kindly.
Tara Carrick said she was upset about the interruption and could get the same information online in her own time. She said she had concerns about possibly being exposed to COVID-19.
The effort coincided with the Republican Party's "Super Saturday" literature drop, Borrenpohl said.
Citizens for Post Falls Schools will mobilize for a second round of door-knocking this weekend.
Recent Headlines
---