Cemetery makeover moving forward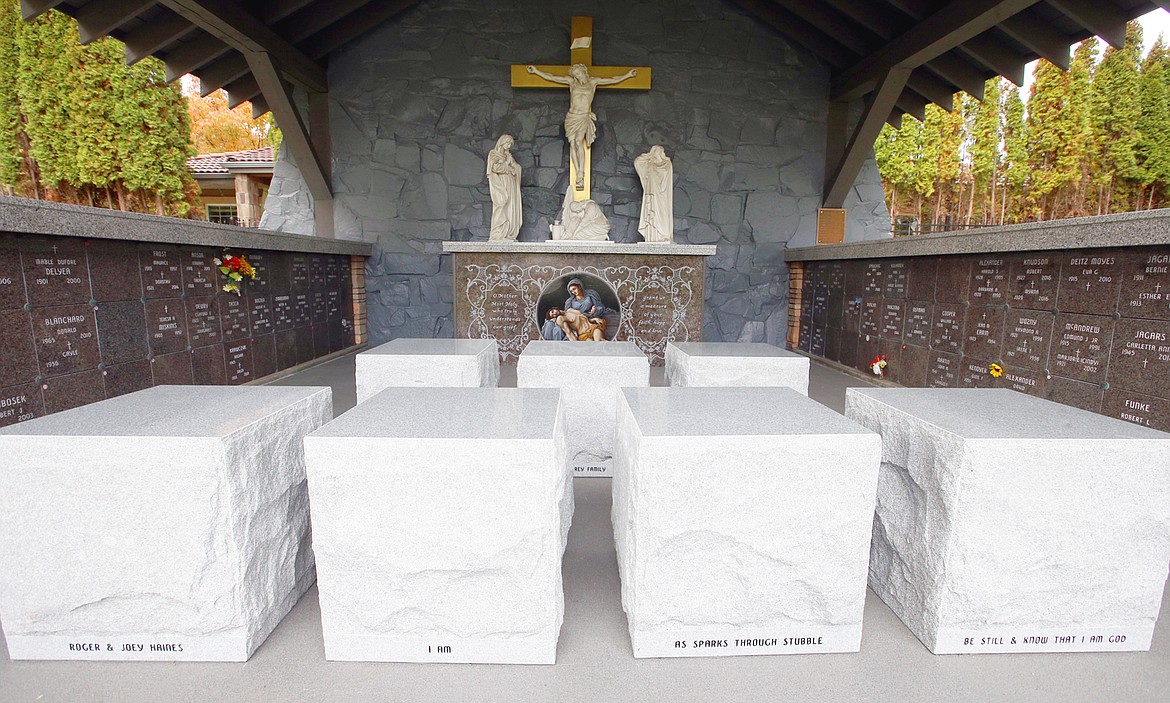 The shrine renovation was recently completed at St. Thomas Cemetery.
BILL BULEY/Press
by
BILL BULEY
Staff Writer
|
October 27, 2021 1:00 AM
COEUR d'ALENE — When Tina Johnson started the cemetery committee at St. Thomas Catholic Church, there was one thing she was adamant about.
"I don't want to be on a committee that doesn't do anything," she said.
The group of nine felt the same way. They got things done — and they're not finished.
"See how far we've come," Johnson said during a recent visit to the cemetery to look over the renovation of the 1991 shrine at St. Thomas Cemetery.
Seven granite blocks for seats were the final, emphatic touches on the shrine project that began earlier this year and is part of an overall makeover of the 3-acre cemetery at the east end of Sherman Avenue.
The shrine received new paint, altar artwork, a chandelier and granite coverings. The seven granite cubes are about 18 inches by 19 inches and weigh about 700 pounds each.
The $40,000 project was funded by donors and sponsors.
In the past year, the cemetery has been improved with a new fence, 7-foot granite statues of Virgin Mary and Baby Jesus and one of the risen Jesus, QR codes to make it easier to find the burial sites of loved ones, granite benches, and signs at the southeast corner and northwest corner.
A statue of Jesus is planned to go on top of the north sign and one of Our Lady of Fatima is planned by the south road. New benches will be added near the south road, too.
Before it's all done, the committee will have raised about $200,000.
"We are very happy with how this has all turned out," Johnson said.
The Stars and Stripes Ministry at St. Thomas Catholic Church is leading a drive to raise $25,000 for a veterans monument at the cemetery.
It will consist of a 4-foot high granite hexagon with a lighted 20-foot steel flag pole in the middle. The insignias of all six branches of the military will be etched on each of six panels with a short scripture.
St. Thomas Catholic Church will have a mass at St. Thomas Cemetery on All Souls Day, Nov. 2, 7 p.m.
Recent Headlines
---