5A IEL FOOTBALL TIEBREAKER: Coeur d'Alene earns first-round playoff bye; Post Falls' season ends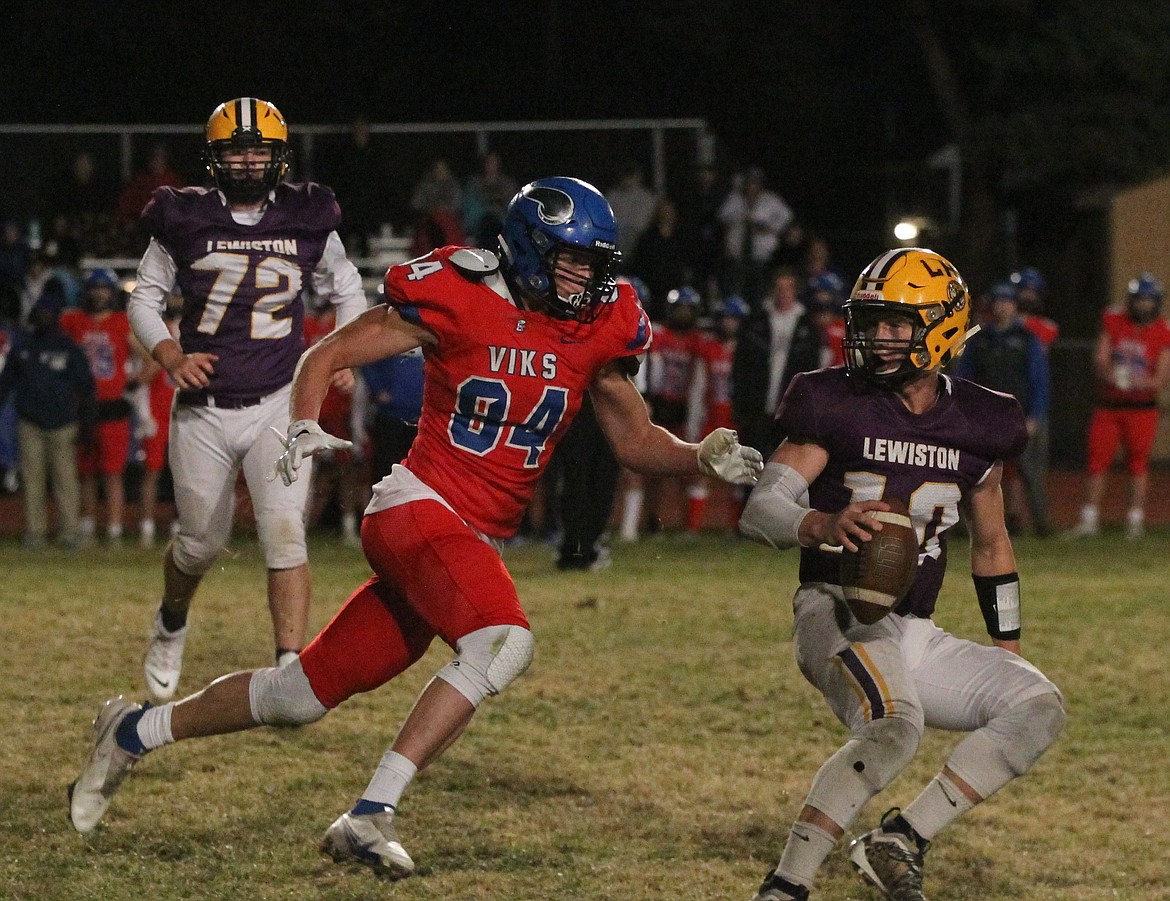 MARK NELKE/Press Cameren Cope (84) of Coeur d'Alene closes in on a sack of Lewiston quarterback Jace McKarcher at the 5A Inland Empire League's modified Kansas tiebreaker Monday night at Bear Field in Moscow.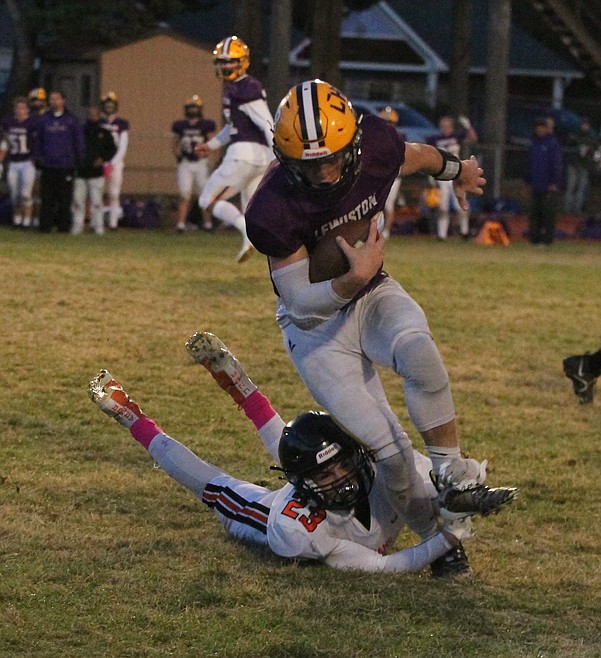 MARK NELKE/Press Jack Sciortino (23) of Post Falls trips up Lewiston quarterback Jace McKarcher during a 5A Inland Empire League modified Kansas tiebreaker Monday night at Bear Field in Moscow.
Previous
Next
|
October 26, 2021 1:30 AM
By MARK NELKE
Sports editor
MOSCOW — After slightly less than an hour of Monday Night Football drama, North Idaho tiebreaker style, Coeur d'Alene has a first-round bye to the state 5A playoffs, Lewiston is also in the playoffs, and Post Falls' season is over.
Coeur d'Alene beat Lewiston two "games" to one in the matchup to determine the No. 1 and 2 seeds from the 5A Inland Empire League to the state playoffs, with Gunner Giulio running 25 yards for the winning score on the Vikings' first play of the deciding game of the modified Kansas tiebreaker.
That came after Lewiston beat Post Falls in the first game, and Coeur d'Alene beat Post Falls in the second game to eliminate the Trojans from the double-elimination event.
Since Post Falls finished third, Borah of Boise claimed the at-large berth to state in 5A, based on a better winning percentage vs. "big schools" than Post Falls. Borah (5-4) will play at Eagle (7-2) in the first round.
Coeur d'Alene and Lewiston were in the playoffs regardless; if either of those teams had finished third Monday night, they would have been the at-large team to state.
Lewiston (7-2) will play host to Capital (6-3) of Boise in the first round Friday night. Coeur d'Alene (6-2) will play host to the Borah-Eagle next weekend in the quarterfinals.
"It was as crazy as I thought it was going to be," Coeur d'Alene coach Shawn Amos said.
"First of all, impressed with how our kids responded," added Amos, whose team bounced back from a loss to Post Falls at home on Oct. 15, then routed Lewiston 38-7 last Friday after the Bengals beat Post Falls two weeks earlier. "That's a tense situation, to turn around from Friday to Monday. And I'll tell you what, we were impressed with Lewiston, to bounce back from Friday night to Monday. It was a battle, man. That first-round bye (in the state playoffs) is pretty big. At this point of the season, everybody is banged up. A week off is helpful."
In each game, each team got one drive from the other's 25-yard line, and if it was still tied, they started at the 10 until a winner was determined. Teams had to go for two from the second possession on.
In the first game, Lewiston beat Post Falls 3-0 on a 35-yard field goal by Thor Kessinger — the Bengals' first field goal of the year.
Post Falls then had to turn around and play Coeur d'Alene. The Trojans scored on the first possession, but went for two and missed. Coeur d'Alene then scored, and kicked the point after to win 7-6 and send the Trojans home.
In the first game of the "championship round", Lewiston scored on Jace McKarcher's 23-yard pass to a wide-open Jared Jelinek on third and 8.
Coeur d'Alene answered in two plays, Giulio taking a swing pass from Brayden Bengston for 23 yards, then running it in from the wildcat on the next play.
Starting at the 10 in the second round, Giulio scored from 2 yards out, but the pass for two points was dropped.
Lewiston answered with a 4-yard pass from McKarcher to Jelinek on fourth down, then won it on a pass to a wide-open Elliott Taylor for two.
The Bengals completed just one pass in Friday night's game.
"That was a good changeup for them," Amos said. "I'm just glad we were able to find an answer."
In the second game, Coeur d'Alene had the ball first and scored on Bengston's 9-yard pass to Jake Wuolle on a cross to the left.
Lewiston moved the ball to the 13, but Cameren Cope sacked McKarcher for 13 yards back to the 25 on third down, and a prayer into the end zone on fourth and 22 fell incomplete, giving the Vikings the win.
In the deciding game, Coeur d'Alene's pass rush came up big again. Wyatt Sanford and Cade Prado each had sacks, Jackson Berger snuffed out a screen pass, and a short dump-off pass on fourth and 25 from the 40 didn't come close to a first down.
On Coeur d'Alene's first play, Giulio swept to the right and dashed down the sideline into the end zone to win the tiebreaker.
"With the D-linemen that we have, we don't have to send a lot of pressure, because they're pretty good pass rush guys," Amos said. "Down the road, this tense environment will help us. We're battle tested, and we'll see what we can do in the playoffs."
"We did the things we needed to do to take Coeur d'Alene to the wire," said Lewiston coach Matt Pancheri, whose Bengals are headed to the playoffs for the first time since 2016. "Man, that Cope kid is a difficult player to block, and you saw that here at the end of this."
Post Falls (5-4) started slowly against Lewiston in the first game, gaining just 6 yards and throwing three incomplete passes in turning the ball over on downs.
Against Coeur d'Alene, the Trojans put together a better first drive, scoring in six plays on a 2-yard pass from Jaxon Anderson to Devin Myers. Post Falls opted to go for two, but the pass was off the mark.
Coeur d'Alene scored in three plays, Giulio running around right end for the final 14 yards. Bengston's PAT kick won it for the Vikings, and ended Post Falls' string of four straight appearances in the state playoffs.
"We wanted to be aggressive, so we thought going in, we were going to go for two (after every TD)," Post Falls coach Blaine Bennett said. "Obviously we didn't like our first series against Lewiston … I thought we played a lot better that second series (against Coeur d'Alene). Being on offense first both times (in each series), obviously not quite what you want to start with (because the other team knows what kind of score it needs), but that's how the coin flips."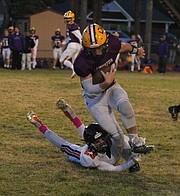 Recent Headlines
---