Hagadone Marine Group, foundation donate $45K to Boys & Girls Club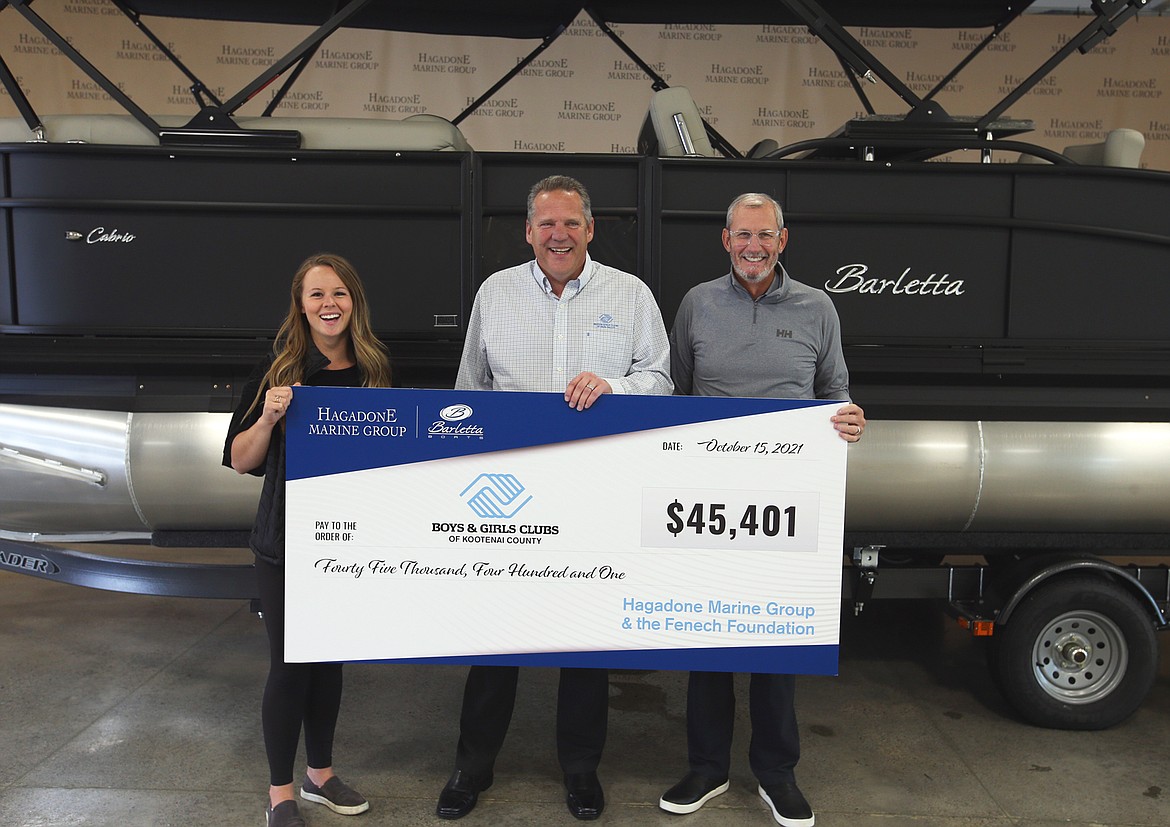 Mark Kuhnhausen, executive director of the Kootenai County Boys & Girls Club, center, accepts a check from Craig Brosenne, president of the Hagadone Marine Group, and Taylor Petticolas, Hagadone Marine Group sales consultant, on Thursday.
BILL BULEY/Press
by
BILL BULEY
Staff Writer
|
October 22, 2021 1:07 AM
COEUR d'ALENE — As far as Mark Kuhnhausen is concerned, Christmas came early this year.
The executive director of the Boys & Girls Club of Kootenai County accepted a donation of $45,401 from the Hagadone Marine Group and Barletta Pontoon Boats through its Fenech Foundation on Thursday, with one of those imposing pontoons as the backdrop.
"We weren't expecting anything like this," Kuhnhausen said.
The contribution is a boost to the nonprofit that helps about 140 kids ages 6 to 18 through its after-school programs at the Coeur d'Alene site on 15th Street named the Lola & Duane Hagadone Boys & Girls Club of Kootenai County.
The Hagadones donated $2 million in the early planning stages of the center years ago to help make it reality.
Craig Brosenne, president of the Hagadone Marine Group, said the Hagadone Corporation has long been a big fan of the Boys & Girls Club and a believer in its positive influence on youth.
"It's always been near and dear to the family," he said.
Barletta pontoons are popular. Hagadone Marine Group already sold about 100 for 2022 and nearly the many in the past year.
"One of our best partnerships," Brosenne said.
The Bill & Kristin Fenech Foundation was established by Barletta Pontoon Boat owner Bill Fenech.
Barletta donated $41,274 and Hagadone Marine donated $4,127.
Kuhnhausen said the Boys & Girls Club of Kootenai County serves another 100 kids at its Post Falls site. Come summer, it serves some 500 kids a day at both sites. Last year, when schools were closed due to COVID-19, Boys & Girls Club of Kootenai County extended its hours to meet demand.
"It really took a toll on us," he said.
Lately, it's been ramping back up to pre-coronavirus numbers.
The Coeur d'Alene site includes a tech center, gym, games, arts and crafts and just started a ukulele club.
The donation will go toward general operations and have a tremendous impact on youth, Kuhnhausen said. Its programs focus on character, education, career development, health lifestyles, arts, fitness and recreation.
"We're just thrilled. It's huge for us," he said. "Especially as we're trying to serve more kids."
Recent Headlines
---