Citizens unite against Huetter Corridor project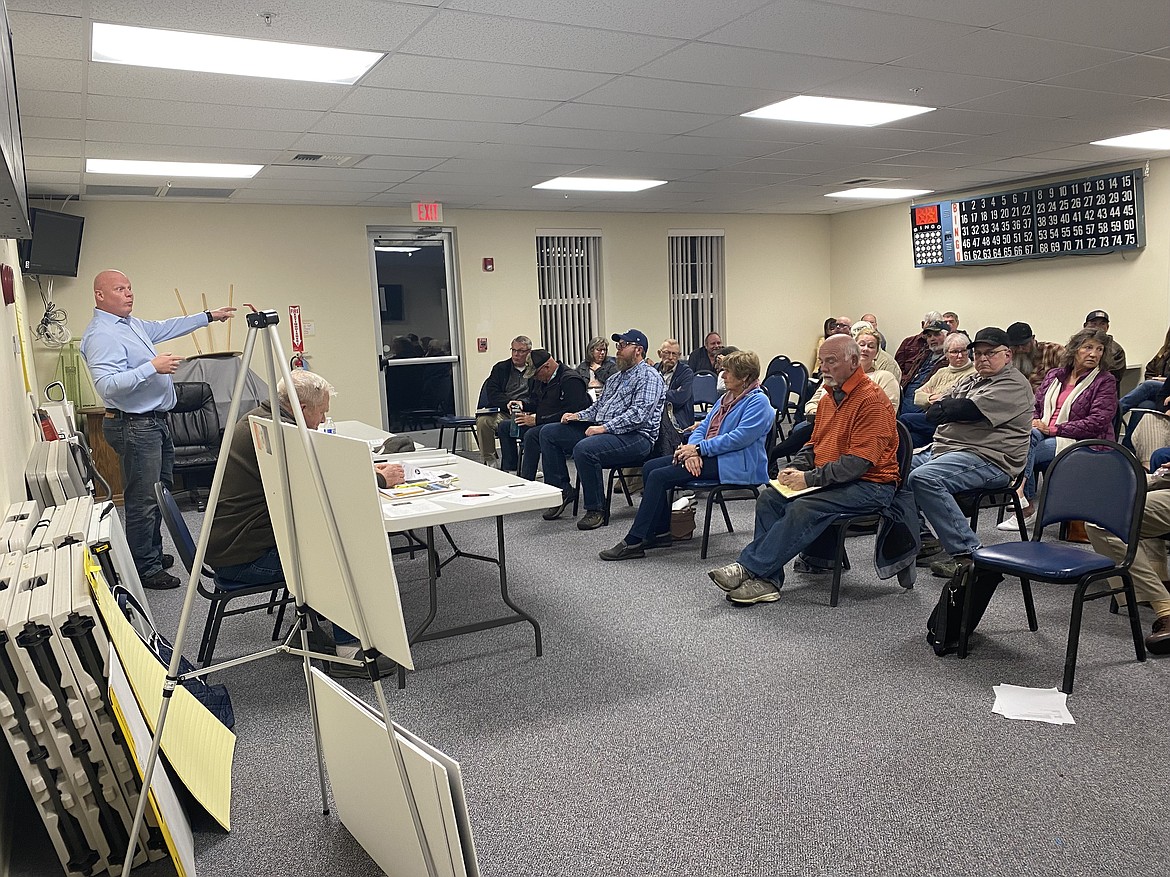 A grassroots community effort led by Brian Rogers and Ron McGhie to educate residents about the Huetter Corridor project took place Thursday night. About 40 people showed up to learn and to voice concerns.
ELLI GOLDMAN HILBERT/Press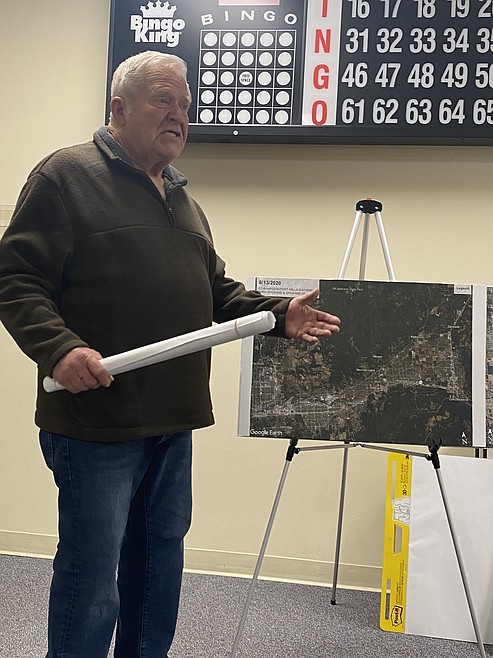 Ron McGhie, a Big Sky neighborhood resident, spoke to the crowd at the No Huetter Bypass community action group Thursday night. McGhie lived in Los Angeles for 30 years, working for the LA Department of Water and Power. He presented maps showing different options the city could utilize other than constructing the Huetter Corridor.
Previous
Next
POST FALLS — Brian Rogers knows the city plans to take his Brickert Estates home when construction on the Huetter Corridor begins, but he isn't about to stop fighting.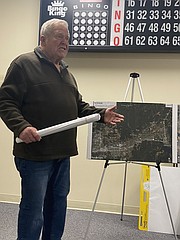 In a grassroots movement, Rogers teamed up with neighbor Ron McGhie to host a community meeting attended by about 40 people last Thursday night at American Legion Post 143.
The project will construct a four-lane highway connecting I-90 to U.S. 53, just south of Garwood. The project will also expand the two-lane Huetter Road into a three-lane frontage road that runs alongside it. At least 16 homes identified to be within the project's footprint will be demolished. Owners will be compensated, but establishing fair market value and other concerns have left many feeling run over.

A recent Press article was the first time several attendees had heard about the issue. Each person had the opportunity to introduce themselves and voice their concerns. Loss of property was a glaring issue, among many.
Gene Gertson lives on Huetter and is frustrated about the access to information on the project.
"I've met with Glenn Miles (the Kootenai Metropolitan Planning Organization executive director); I feel like I've gotten a little bit of information," Gertson said. "But then I hear other information and there's a lot of contradictions."
Other residents simply don't approve of the design or understand the need for the project. Concerns like noise pollution and safety hazards that come along with high-speed traffic and semi-truck travel were mentioned repeatedly.
Gary Nystrom, a Big Sky neighborhood resident, brought concerns about climate change and the environmental impact that will occur as a result of the bypass.
"One of the things we need to focus on is the climate part," Nystrom said. "On that map there is a place where every winter you see hundreds of geese. There is a federal feeding area where the geese travel back and forth."
Brian Adams lives on Poleline Avenue, three houses in from Huetter.
"The noise pollution is a big concern. You've got (U.S.) 95, you've got (Highway) 41 and now they want to put Huetter all flowing into (I-) 90 from within 5 miles of one another," Adams said. "That's going to be a nightmare — it doesn't make sense. Everything they want to do on Huetter they should have done on 41."
Other residents have issues with how the project is being funded. Some expressed a belief that federal COVID-19 funds are being used to pay for the environmental study, which is the phase the project is currently entering.
Miles said there's no truth to that statement, but did explain where that impression may have come from.
The Idaho Transportation Department had set aside some funds in anticipation of reduced gas taxes as a result of diminished travel due to COVID.
"It wasn't federal COVID money," Miles said.
Internally, ITD labeled it as COVID-related. As it turned out, those impacts did not occur, there was no reduction in gas tax and no adverse loss as people were still traveling, Miles said.
So those funds were released and applied to the environmental study portion of the project.
Other residents are concerned about the integrity of the KMPO and possible ulterior motives for creating new roads.
"They're saying (Miles) is actively engaged with Canada to bring down transportation through here," said Rogers.
Miles, who has been with KMPO since its inception in 2003, said the organization does not work with Canada.
They did work on a project called Bridging the Valley that went from Spokane to the Canadian border. The project was a consolidation that addressed safety and traffic issues at over 75 railway crossings across 42 miles of roadway, Miles said.
Idaho has two Canadian border crossings and the Canadian Pacific lines do run on Union Pacific tracks, Miles said. "But KMPO does not extend into Canada," he said.
Miles said environmental impacts like the health of the aquifer will be addressed by the environmental study. A consulting firm is being sought to begin that process.
IDT is responsible for conducting the study and will be posting notices for public input, Miles said.
KMPO is a planning organization required by U.S. code for areas that reach over 50,000 population. KMPO's focus is on transportation planning. It's 95 percent funded by the federal government. The rest is contributed locally.
Miles not only welcomes public comment, he also urges people to speak out.
"At this stage in a long-range plan, people really should get their voices heard," he said.
Recent Headlines
---