THE CHEAP SEATS with STEVE CAMERON: Media's duty: Wield pens, not pom poms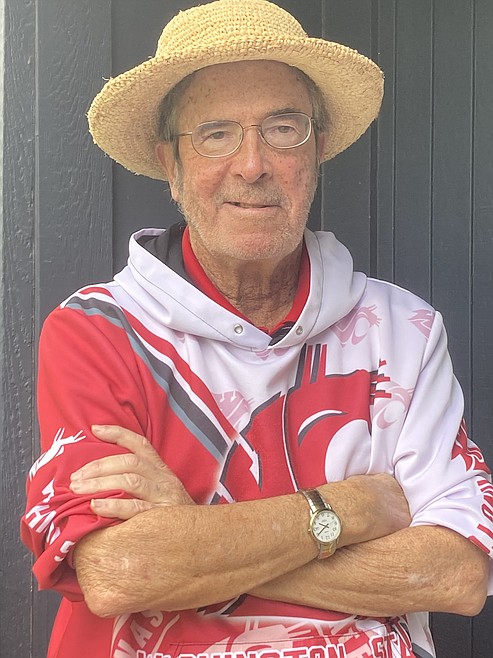 |
October 18, 2021 1:10 AM
This message is for everyone.
Specifically, though, I hope somebody reads it to Washington State quarterback Jayden de Laura.
Or pastes it on his locker.
The kid is mistaking leadership with blabbering about something he doesn't understand.
Maybe some of you don't quite grasp it, either, so it's time for a lesson in Journalism 101.
You might recall that de Laura, an exciting young face in the Cougar program, teed up the media recently — jumping all over writers and broadcasters who cover Wazzu for trying "to take our head man down."
Obviously, de Laura was referring to stories about Nick Rolovich's refusal to get vaccinated against COVID-19 – thus pitting himself against the state of Washington, which pays him $3.2 million per year.
Rolo is challenging the edict of Gov. Jay Inslee, who made it law that all state employees must be vaccinated by Oct. 18 unless they have legitimate health or religious reasons for avoiding the injection.
RECALL, please, that Rolovich took his stand against the vaccine "for private reasons" in July — so it's not as though we've unearthed big news in the past few days, just because the coach finally filed for a religious exemption.
There's no way any media outlet that follows Washington State could ignore the tale of a coach thumbing his nose at his own university.
So…
You've seen stories here, there, the New York Times, the Wall Street Journal and everywhere else.
In most of the country, Wazzu is known more for Rolo's stubbornness than for anything else.
That's the backstory.
Then…
Last week, after the Cougs won a 31-24 thriller over Oregon State, de Laura decided to pop off.
No coincidence here: It was his first truly excellent performance in two years at WSU.
Given this new platform (unlike the one he declined to take after a DUI arrest last summer), de Laura accused reporters of "digging a hole" for his team and, even more seriously, failing to support the program.
You know, as though we're all supposed to be Cougar cheerleaders.
That's not how it works.
WE ARE not "homers" who will write rosy things about Wazzu, Gonzaga, the Seahawks or anyone else just because our readers want them to win.
We have to be honest.
If de Laura fumbles a snap on the 1-yard line, I'm not going to ignore his role entirely and insist that the other team made a great goal-line stand.
Now having said that…
We DO understand that most of our readers have team preferences, and in fact, that's why we're covering the Cougs, Zags and all the others in the first place.
Message to de Laura: It's entirely possible to see a game or a season through Washington State glasses (like a lot of our readers) and still tell the truth about what happened.
We can even tilt it toward bad news if the local team loses and good news if they win — as long as we stick with honesty throughout.
Sometimes that means asking tough questions about a game gone wrong (or a vaccination snubbed).
So be it.
Wouldn't you rather have an honest account of things, whether it's Gonzaga storming to 31 wins, or getting steamrolled by Baylor in the 32nd one?
That second story might have been sad, but it was truthfully told.
We owe you that.
Email: scameron@cdapress.com
Steve Cameron's "Cheap Seats" columns appear in The Press on Mondays, Wednesdays and Fridays.
He also writes Zags Tracker, a commentary on Gonzaga basketball which is published monthly during the offseason, and weekly beginning later this month.
Recent Headlines
---