A burger to die for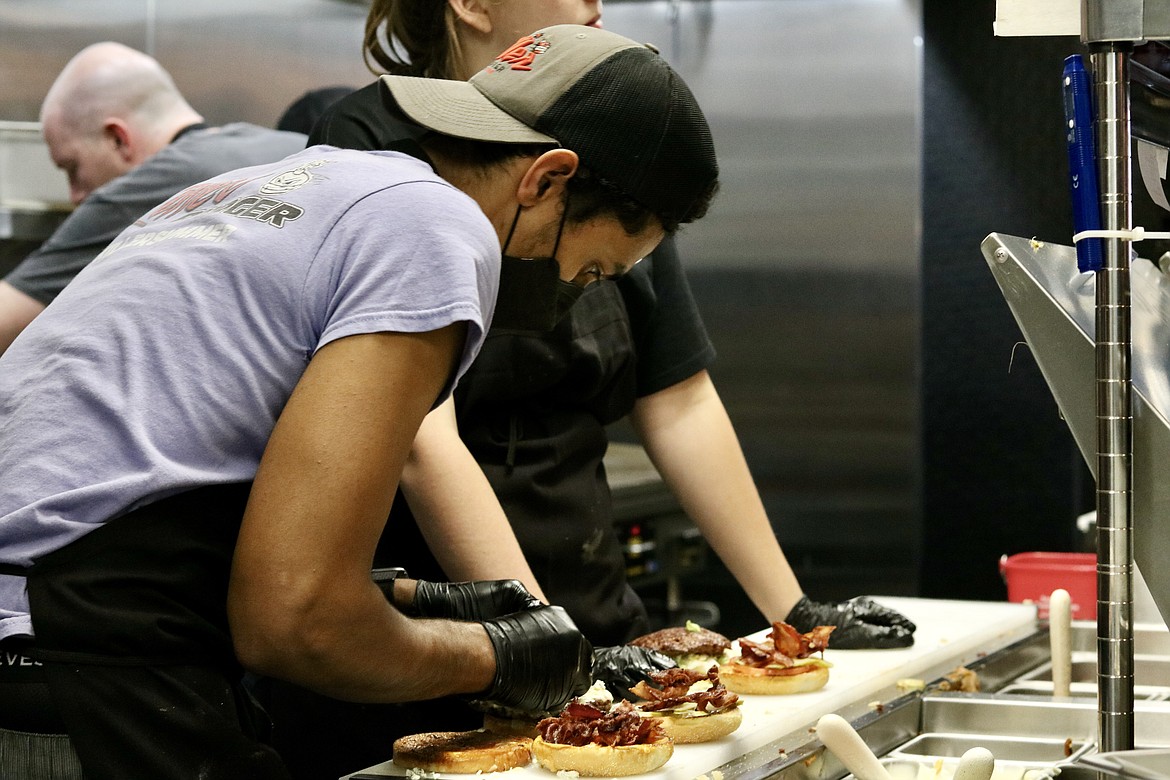 Yamil Maldonado dresses up burgers on the prep line at the new Killer Burger in the Prairie Shopping Center in Hayden, opening today at 11 a.m. HANNAH NEFF/Press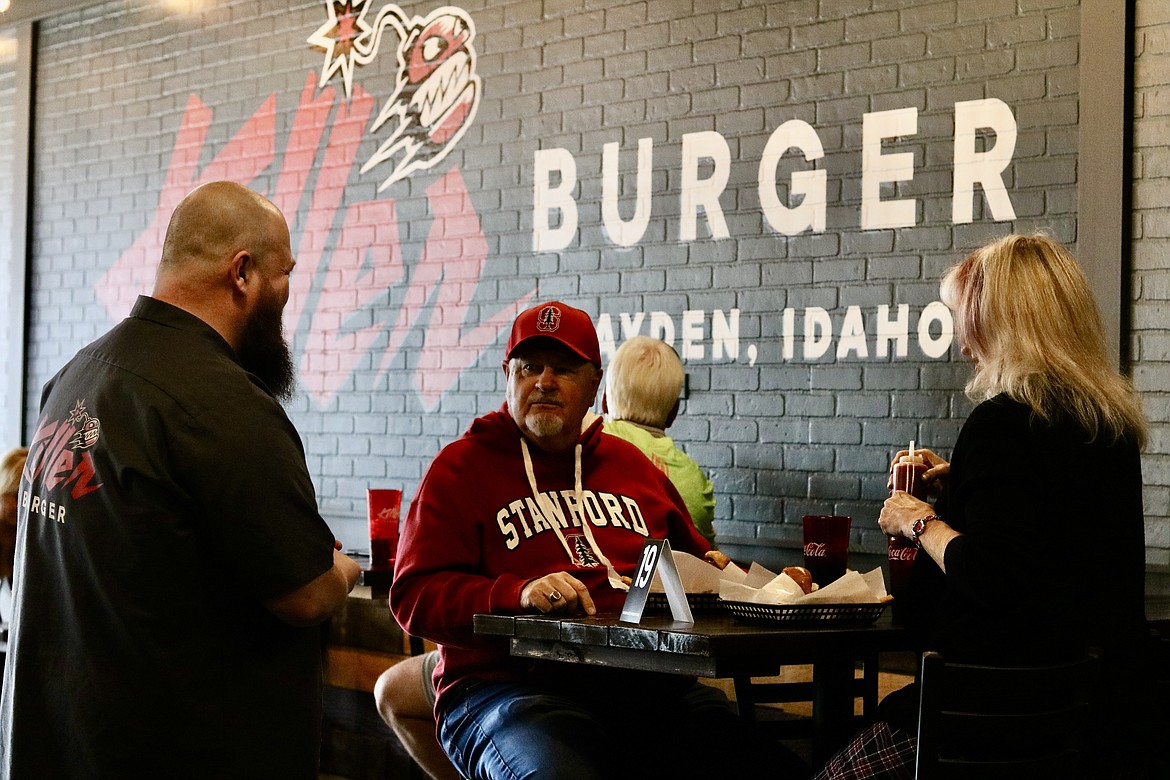 Chad Rouse serves Dan and Connie Brandel of Hayden at the soft opening of new Killer Burger in Hayden, where all burgers are served with bacon, fries and rock 'n' roll. HANNAH NEFF/Press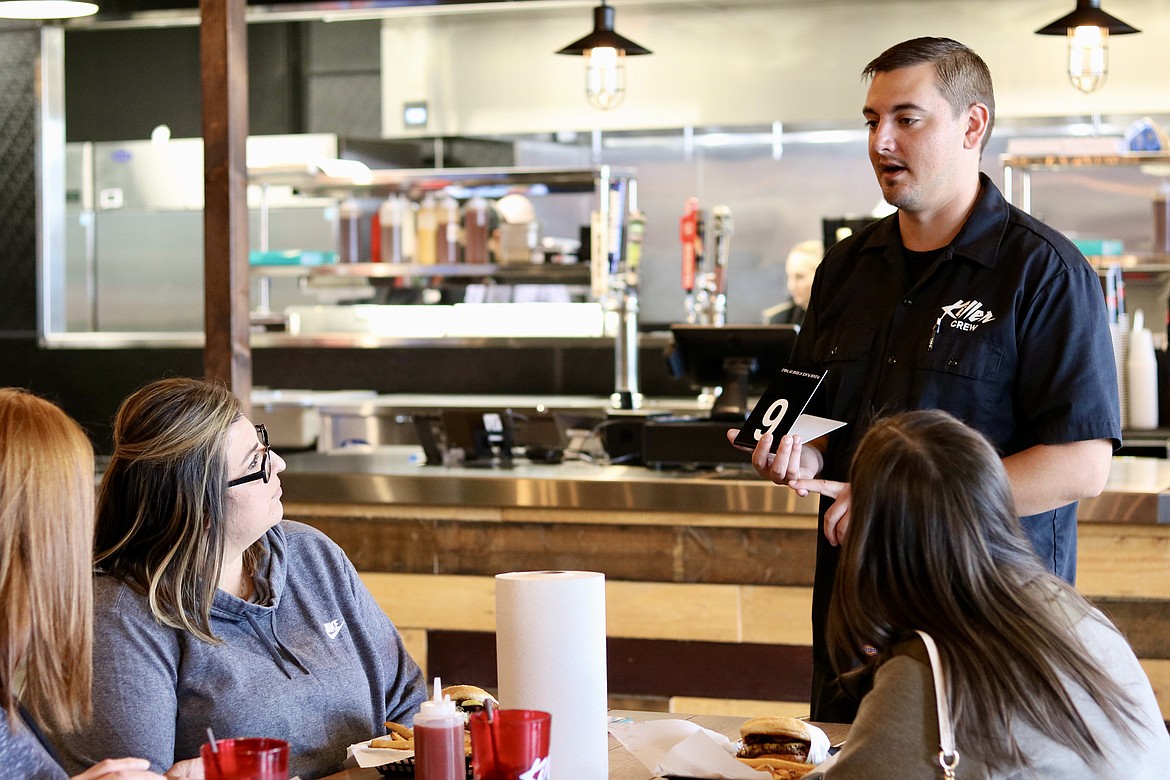 Mr. Corombes, assistant manager of the new Killer Burger location, who declined to give his first name, serves a group during Friday's soft opening. HANNAH NEFF/Press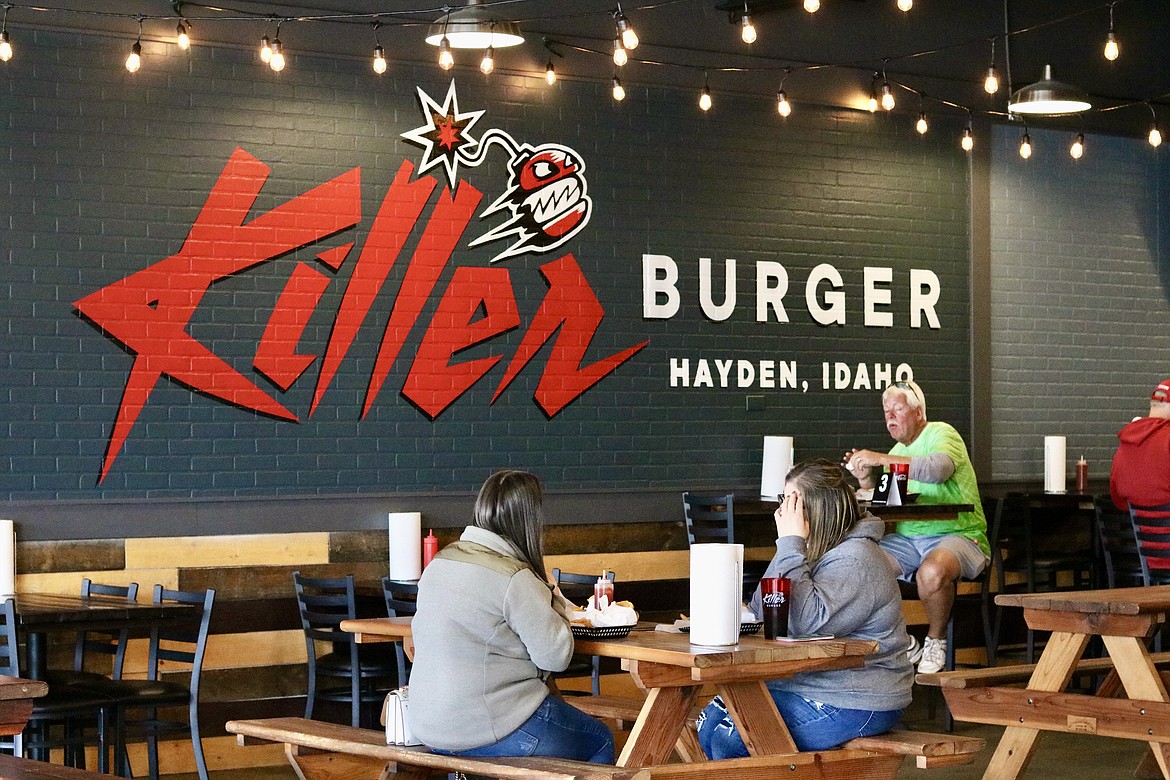 Killer Burger, a chain from Portland, opens its 16th location today in Hayden, marking the furthest inland the burger chain has gone. HANNAH NEFF/Press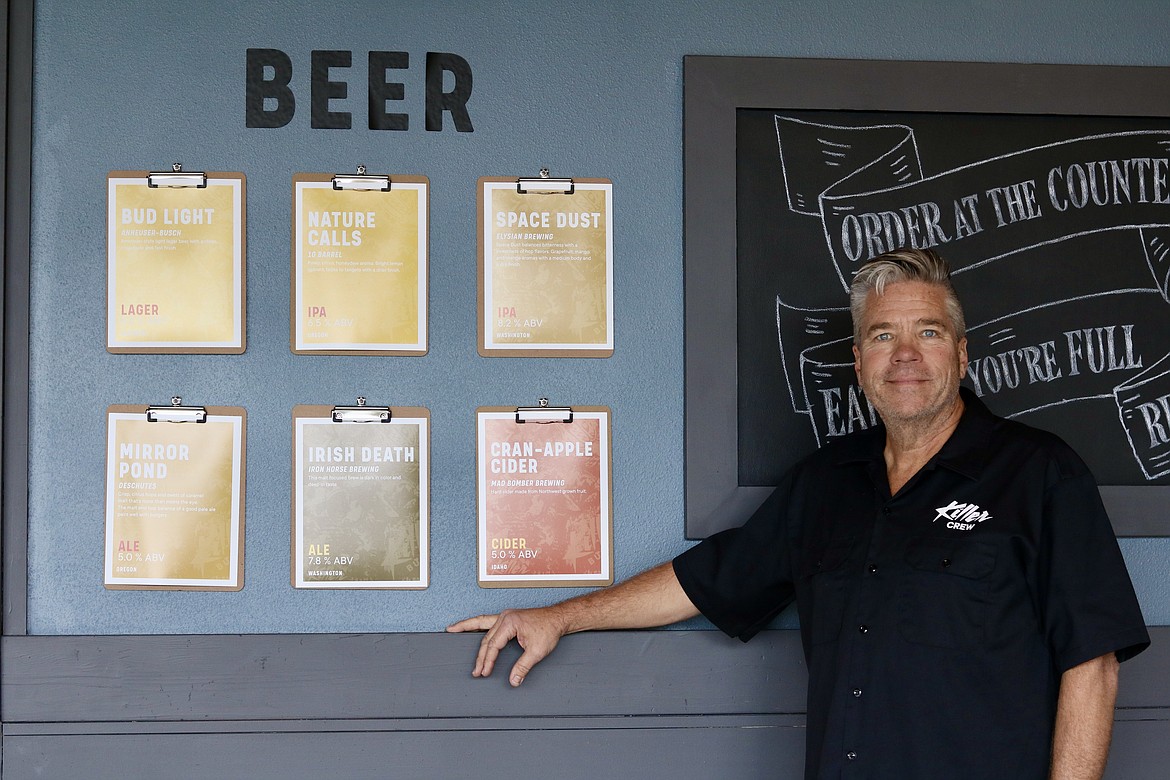 Wes Walterman, a Coeur d'Alene High graduate, opens his third Killer Burger location today, bringing Portland and Vancouver's "best" burger to Hayden. The restaurant is open from 11 a.m. to 9 p.m. Monday through Sunday in the Prairie Shopping Center. HANNAH NEFF/Press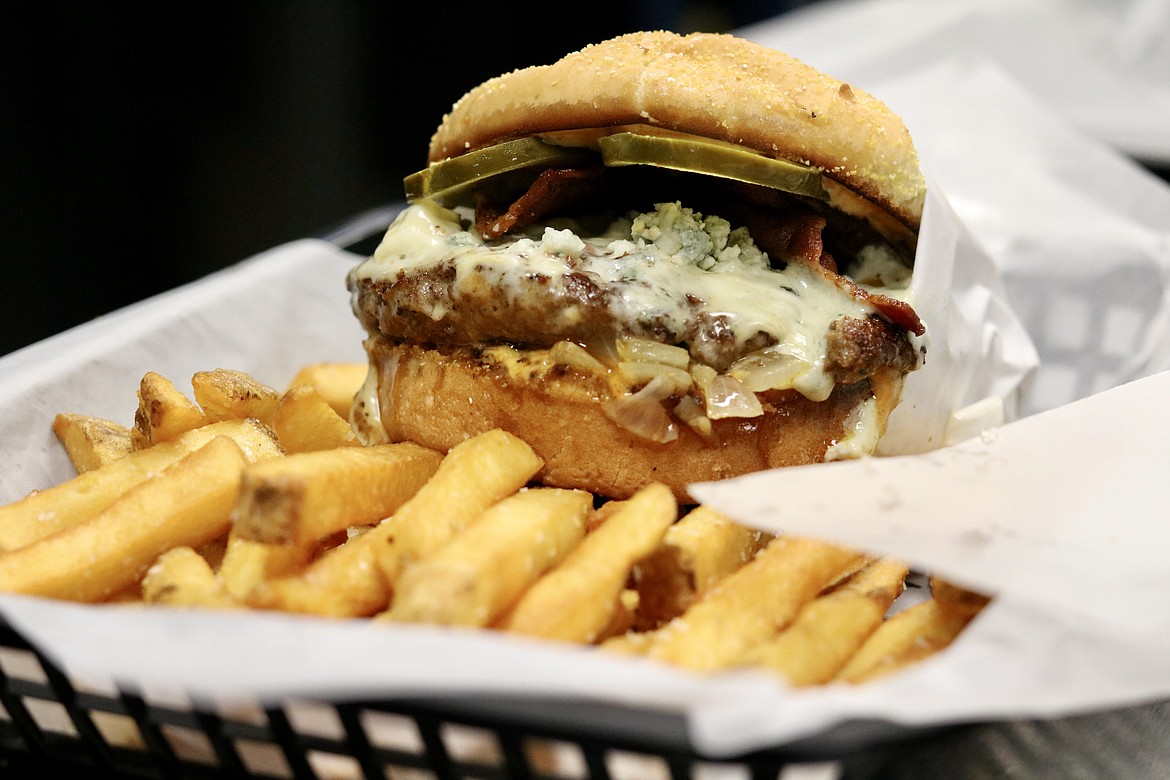 The Teemah burger has bacon, blue cheese fondu and crumbles, house sauce grilled onions and pickles joining a patty at Killer Burger, opening today in the Prairie Shopping Center in Hayden. HANNAH NEFF/Press
Previous
Next
by
HANNAH NEFF/Press
|
October 18, 2021 1:09 AM
HAYDEN — It all started with a plane ride to Portland.
Wes Walterman, a graduate of Coeur d'Alene High School, just happened to be sitting by TJ Southard.
"By the time we landed we became pretty good friends," Walterman said. "And he had our family over for dinner one night and said, 'Wes, I'm going make some burgers for you.'"
From there, Walterman and his wife Coral taste-tested the first nine hamburgers for Southard's joint, Killer Burger.
"I was so stuffed and he said, 'I have a peanut butter burger,'" Walterman said. "I took a bite and was like, 'Wow, that is one of the best burgers I ever tasted.'"
After watching his son Caleb devour the controversial item, Walterman said Southard was sold and put it on the menu of the first burger spot, which he opened in 2010 in Portland.
After taking his employees for a weekly burger and seeing how much they enjoyed it, Walterman reached out to Southard about starting a franchise.
The first opened in Happy Valley, Ore. From there, Walterman opened a food truck, and then decided to move and bring the burgers back to his roots in Hayden.
Opening today in the Prairie Shopping Center, Killer Burger has 10 choices on the menu. Each one comes with bacon and unlimited fries.
"What kept me going to Killer Burger is just the quality of the burger and the vibe," Walterman said. "You got that rock 'n' roll music coming out of the house — it's just the atmosphere you have to come and experience."
The burger business also carries signature dipping sauces as well as locally sourced beers and ciders on tap.
"We love it here," said Jackqui Leonard of Athol. "It's easily as good as what people were recommending."
Leonard said she and Michael Leonard heard about the place through Facebook, and came to the soft opening.
"I'm a peanut butter snob and I have no business going to a burger joint if they don't have peanut butter," Jackqui Leonard said. "It's very, very good."
Jon Strickland of Coeur d'Alene said he was sold on the price and quality.
"The way it tastes is unique from all the other burger places," Strickland said. "It has everything on it and bacon for one price."
Killer Burger is open from 11 a.m. to 9 p.m. daily. The restaurant also offers online ordering for pick-up and third-party app delivery options, as well as catering.
Miles away from the other 16 locations in Oregon and Vancouver, Wash., the new Hayden franchise brings the burger voted "best" in Portland and Vancouver the furthest from home it's ever been.
"This is a tentpole moment for us. Heading east into the Inland is such a fantastic growth move, especially when you consider the energy that is enveloping the Coeur d'Alene housing market and business community," Southard said. "There's nobody more than Wes and Coral that I trust to carry on the Killer Burger spirit in Hayden."
Recent Headlines
---