3A DISTRICT 1-2 SOCCER CHAMPIONSHIPS: Cd'A Charter boys win on PKs; Charter girls make it six straight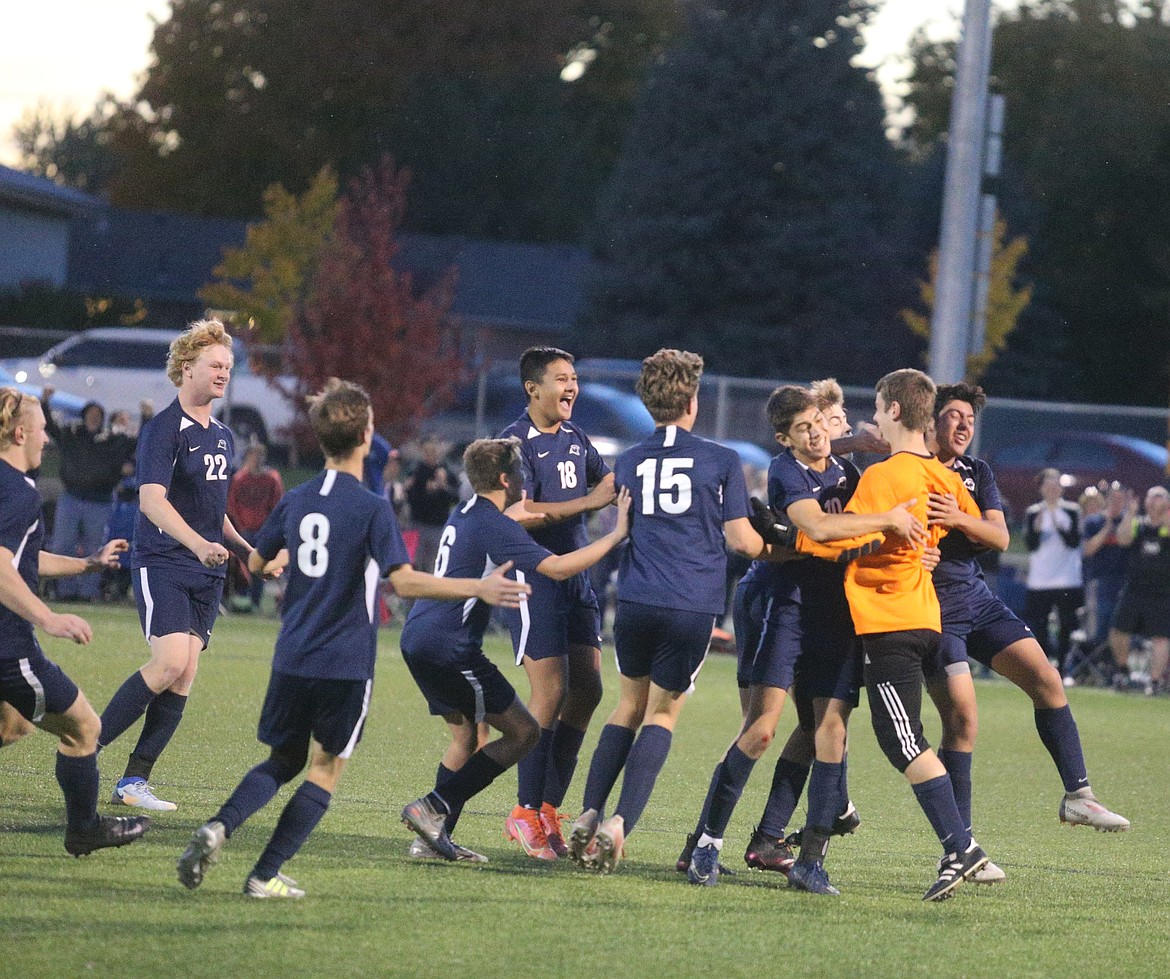 JASON ELLIOTT/Press Coeur d'Alene Charter midfielder Brandon Chavez (10) hugs goalkeeper Miles Taylor after his save in the fourth round of a penalty kick shootout clinched the 3A District 1-2 boys soccer championship on Saturday at The Fields at Real Life in Post Falls.
|
October 17, 2021 1:20 AM
By JASON ELLIOTT
Sports writer
POST FALLS — As Coeur d'Alene junior goalkeeper Miles Taylor describes it, when it comes down to penalty kicks, it's the job of the offense to make something happen, not the other way around.
"The pressure's not on me, it's on the shooter," Taylor said. "As much as I can talk to them and get in their head, I'm going to do all that. And they hit it soft and had plenty of time to react."
Taylor saved a shot in the fourth round, preserving a 3-1 advatage in a shootout for the Panthers in a 2-1 win over the third-seeded Bonners Ferry Badgers in the 3A District 1-2 boys soccer championship match at The Fields at Real Life.
"We've seemed to have had great players all three years, but we had to develop a lot of basic skills," Taylor said. "This year, a lot of of those players are getting to that level where they can play really good soccer. And it just showed tonight."
In the girls championship, Coeur d'Alene Charter's Rebekah Hines scored two goals to lead the Panthers to a 4-0 win over the Timberlake Tigers for the Panthers sixth-straight district title.
"Tonight, we know where we're seeded and where we're going," sixth-year Coeur d'Alene Charter coach Stacy Smith said. "So you've got to find that motivation, and it's always a little motivating when you've got a chance to win a trophy. We were a little flatter and off than we'd like, but sometimes you've got to do just enough and that's what we did."
BOYS: Oskar Hepworth and Treffen McCord scored in the first two rounds for Coeur d'Alene Charter. Bonners Ferry's Ke'ahi Robles scored in the first round, but Taylor saved the next three shots for the win.
"There's no hesitation or anything with Miles," first-year Coeur d'Alene Charter coach Craig Daigle said. "He's the league's No. 1 keeper, and he's just incredible back there. With that being said, our back line of Sebastian, Baker and Brandon Chavez did an incredible job. Bonners Ferry has some kids that are just incredible in No. 16 and 22, and they did a fantastic job of bottling them up the entire game and keeping an eye on them."
Coeur d'Alene Charter (13-2-2) will be the fourth seed at state, and will face fifth seeded McCall-Donnelly on Thursday at Vallivue High in Caldwell at 11 a.m.
"I'm so excited," Taylor said. "We've got such good chemistry. It's going to be a blast."
Bonners Ferry (11-3-4) opens with Sugar-Salem on Thursday at 1:30 p.m.
"Oh my gosh, what else do you want for a district championship," first-year Bonners Ferry coach Paul Bonnell said. "It would have been nice to have the win, but somebody's going to win, and somebody's not. I was so proud of how awesome we played, they played. It was a great match. Heading into state, this is exactly what we want. This kind of intensity and teamwork and a sense of commitment all the way through."
Charter, which started its program three years ago, has qualified for state each year, finishing third in 2020.
"To be honest, this whole process started three years ago with Coach (Justin) Nitti starting the program," Daigle said. "He built a foundation and it's our job to keep building upon that. We'll keep getting better each year. We've got a great group of kids that just don't want to lose."
First half — 1, Charter, David Leahy (Cooper Hancock), 4:00. 2, BF, Ke'ahi Robles (Nick Easton), 21:00. Second half — none. First overtime — none. Second overtime — none.
Shots on goal — BF 14, Charter 12.
Saves — BF, Trey Bateman 12; Charter, Miles Taylor 10.
GIRLS: Maddie Daigle and Cadence Wilson also scored first half goals for Coeur d'Alene Charter, which led 3-0 at halftime.
Timberlake (11-5-0) opens at state against top seeded Fruitland. Coeur d'Alene Charter (16-1-0), which has won the previous five titles, will be the second seed and open with Teton on Thursday.
"This was a good night for Timberlake," Timberlake coach Steve Michael said. "We're not upset with the outcome. It's good to compete with Charter again, and Stacy knows that we're a good program. It was good to compete well against them. I hope we don't have to compete against them at state."
First half — 1, Charter, Rebekah HInes (unassisted), 33:00. 2, Charter, Maddie Daigle (Cadence Wilson), 37:00. 3, Charter, Wilson (Isabella Lucky), 39:00. Second half — 4, Charter, Hines (penalty kick), 75:00.
Shots on goal — TL 1, Charter 19.
Saves — TL, Topanga Rojas 8, Natalie Beauving 5; Charter, Danica Nowak 1.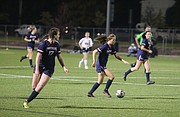 Recent Headlines
---