Show time
|
October 15, 2021 1:00 AM
North Idaho College Theatre Department is opening their doors for their fall production, "This Random World: The Myth of Serendipity," at 7:30 p.m. on Oct. 21 in the Schuler Performing Arts Center, Boswell Hall on NIC's main campus in Coeur d'Alene.
The comedy mixed with drama is directed by Joe Jacoby, director and NIC theater professor, and written by Steven Dietz.
"The play is fun, surprising and has a lot of heart," Jacoby said. "Along with all of that, it's highly original, and if we do our job, will be a beautiful experience."
"This Random World" takes a deep look at how often humans travel parallel paths through the world without noticing.
Jacoby said the play examines how people connect and fail to connect with each other through its comedic and moving moments.
"I haven't read any play quite like it," Jacoby said. "It's been a great challenge for our students, and I'm proud of what they've accomplished."
The play includes mature language.
Show dates are Oct. 21 to 23, and 28 to 30 at 7:30 p.m.
Admission is free. Seating is limited.
The show is presented by special arrangement with Dramatists Play Service, Inc., New York.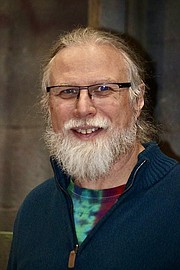 Recent Headlines
---