THE CHEAP SEATS with STEVE CAMERON: Neophyte Kraken fans, predictions and ailing fingers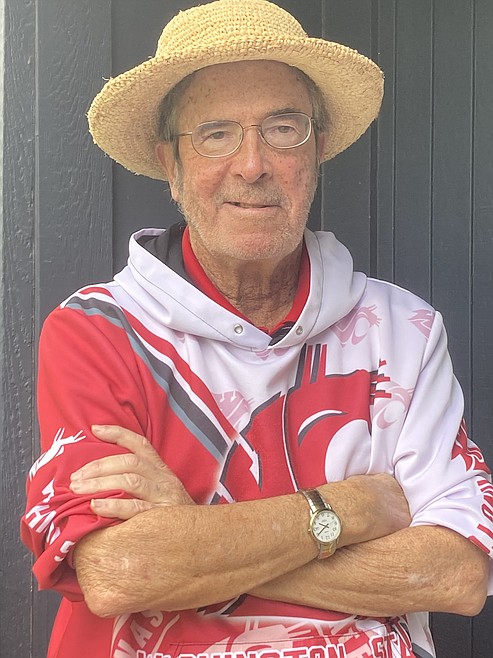 |
October 15, 2021 1:25 AM
Notes and quotes day, kids, and wow …
There's a lot going on.
For our opening act today, it's mandatory to answer all those emails — the ones asking for some explanation about that goal that beat the Kraken in their historic opener at Vegas on Tuesday night.
With the score tied 3-3 in the third period and the Kraken seemingly having grabbed momentum on a sniper's goal by Morgan Geekie that wiped out a 3-0 deficit, the Golden Knights got a "score" right back when the puck deflected into the net off the skate of Vegas center Chandler Stephenson.
Seattle coach Dave Hakstol challenged the call, since kicking the puck into the net has been illegal in the NHL for almost a century.
But replay officials in Toronto allowed the goal, ruling that Stephenson simply angled his skate to steer the puck home — rather than actually kicking it.
However …
There were a couple of replay angles that showed Stephenson lifting his toe off the ice, which is normally a tip-off that you're trying to shove the puck in a certain direction.
Or kicking it, basically.
It was tough on the Kraken, who played an energetic, ferocious opener at one of the league's toughest venues, against a team fancied to lift the Stanley Cup.
But that's hockey, and — along with goalie interference — kicking the puck is infamous for being a difficult call to make.
Players at the NHL level are clever characters.
They can make their skates and sticks do everything but sing and dance.
ITEM: So, the Pac-12 media think Washington State will finish eighth in this year's men's basketball conference race.
Hah!
If you're inclined to bet, take the over on that one.
I'm going out on a limb here (given the Cougs' hoop history), but I truly believe Wazzu will finish in the top half of the Pac-12 standings and …
Wait for it …
I'm also picking them to startle everyone by grabbing a berth in the NCAA tournament.
The Cougs beat five tourney teams last year and lost heartbreakers to a few more.
They return every key contributor except point guard Isaac Bonton, and if you're worried about who will man that position, please note that boss Kyle Smith took 5-10 transfer Tyrell Roberts with him (along with forward Efe Abogidi) to that media event in San Francisco earlier this week.
Now …
As a rule, coaches bring seniors and superstars to these shindigs — not transfers from Division II UC San Diego like Roberts.
That tells you plenty about what Smith has seen from the ball-handling wizard who has flown under many people's radar.
"(Roberts) has got the DNA to win," Smith said. "He brings a lot of the same skill sets that Isaac did as far as an ability to play-make, run point.
"He can score (19.2 points per game last season) and obviously there's going to be a transition, I'm sure, but we've had a wonderful summer together."
No doubt.
ITEM: You want the definition of tough?
Russell Wilson was back at practice just five days after surgery to repair a dislocation and torn tendon in the middle finger of his throwing hand.
The rest of us would be whimpering and asking a nurse for more lime Jell-O.
Wilson wasn't heaving passes — though it's a cinch he'll be trying it soon — but he ran through all the team drills with the rest of the quarterbacks.
Russ has started 149 straight games despite an assortment of ills and injuries, but damage to his right hand might be the only thing that can keep him sidelined.
Despite the seriousness of the finger damage, the Seahawks so far have not placed him on injured reserve. A stint on IR means you can be replaced on the 53-man roster, but must miss at least three games.
To be fair, Seattle has until Saturday (the Hawks play Sunday at Pittsburgh) to make such roster moves, but still…
You know that Wilson will play sooner than expected.
He's probably off somewhere secret right now, throwing passes left-handed.
ITEM: I'm guessing that plenty of Zags fans held their breath when muscular freshman Kaden Perry went up for a dunk in the scrimmage that concluded Kraziness in the Kennel — and was met by all-world 7-footer Chet Holmgren.
Big Chet made a clean and spectacular block, but the Gonzaga staff might now be asking him to make his challenges a little more judiciously.
Perry is a beast whose signature move might become the spin, slam and tear-down-everything.
Watching to see if Holmgren came out of the collision intact, I remembered an interview with Bill Russell from a few years ago.
I asked Russell if he ever blocked one of Wilt Chamberlain's monstrous dunk attempts.
"Are you joking?" Russell said.
"I wouldn't get my arm or anything else between that man and the hoop. He would have broken every bone, right up to my shoulder."
Wise words.
Are you listening, Chet?
Email: scameron@cdapress.com
Steve Cameron's "Cheap Seats" columns appear in The Press on Mondays, Wednesdays and Fridays.
He also writes Zags Tracker, a commentary on Gonzaga basketball which is published monthly during the offseason, and weekly beginning later this month.
Recent Headlines
---