Griz alert — and we don't mean the football team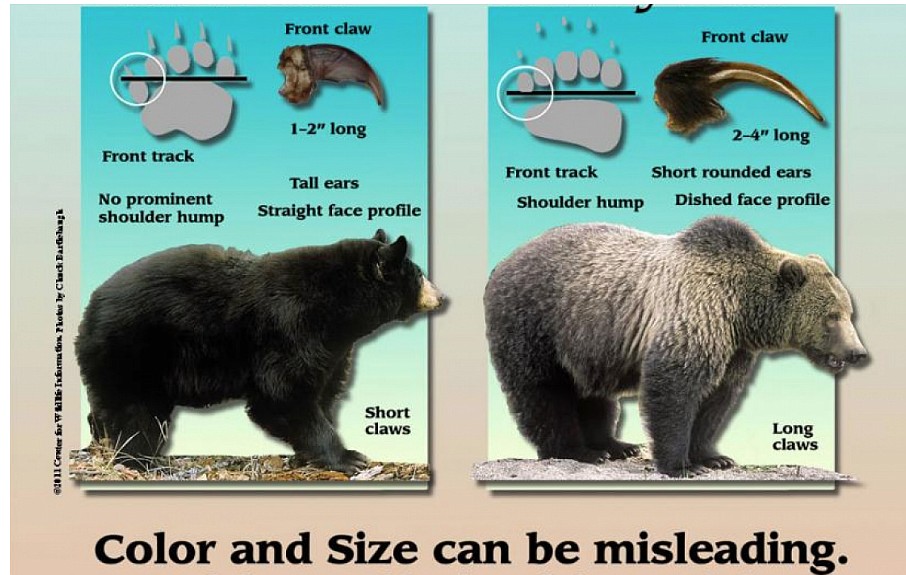 This chart shows the difference between a black bear and a grizzly bear.
(Courtesy CENTER FOR WILDLIFE INFORMATION)
by
BILL BULEY
Staff Writer
|
October 14, 2021 1:06 AM
Wildlife officials issued a grizzly bear alert this week after one was recently reported in the Coeur d'Alene National Forest.
Barb McCall Moore, Idaho Fish and Game regional wildlife biologist, wrote that the bear was confirmed northeast of Magee on Oct 6. It was not seen.
"The presence of the bear was confirmed by a GPS collar on the bear that was installed and monitored by the U.S. Fish and Wildlife Service," wrote T.J. Ross, Fish and Game Panhandle Region spokesman. "The Service notified us of the bear's location."
It's estimated there are 40-50 grizzly bears in North Idaho.
"Keep in mind these bears can be wide ranging and they move between state and country borders frequently," Ross wrote in an email.
This is the time of year when bears are most active, trying to consume calories to prepare for winter. McCall Moore said that means bears can be active throughout the day and night and can often cover large areas of ground in search of food.
Most attacks occur by surprising a bear at close range, and hunting increases the chances of encountering a grizzly.
"Big game hunters should take note of recent grizzly activity in upper Game Management Unit 4," McCall Moore wrote in a press release.
While black bears are common throughout the Panhandle, grizzlies are most often observed in the Cabinet and Selkirk mountain ranges.
"In most Panhandle units, it is quite rare to encounter a grizzly bear," Ross wrote. "However, Unit 1 is home to an established population of grizzly bears in the Panhandle, so grizzly bear encounters are more common in the Selkirk and Cabinet mountains than elsewhere in the Panhandle."
Grizzly bears are federally protected in North Idaho and there is no hunting season.
Intentionally shooting a grizzly bear is a felony and may include up to $10,000 in civil penalties.
McCall Moore wrote that hunters are encouraged to be "bear aware while afield and review their bear identification skills to avoid mistaken identity."
Recent Headlines
---