Reilly rocked — again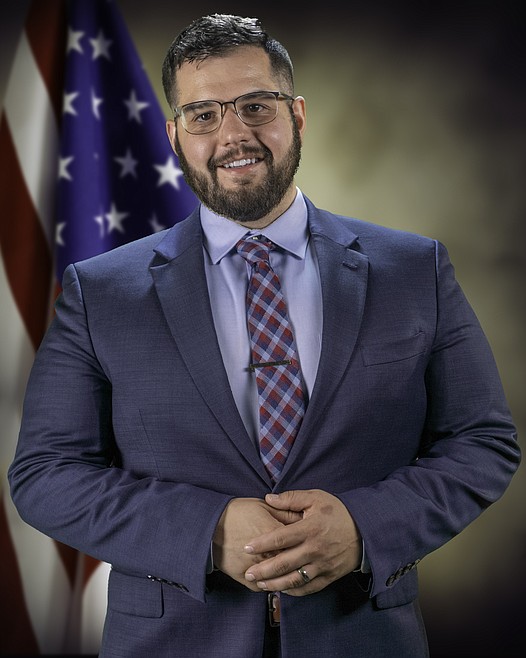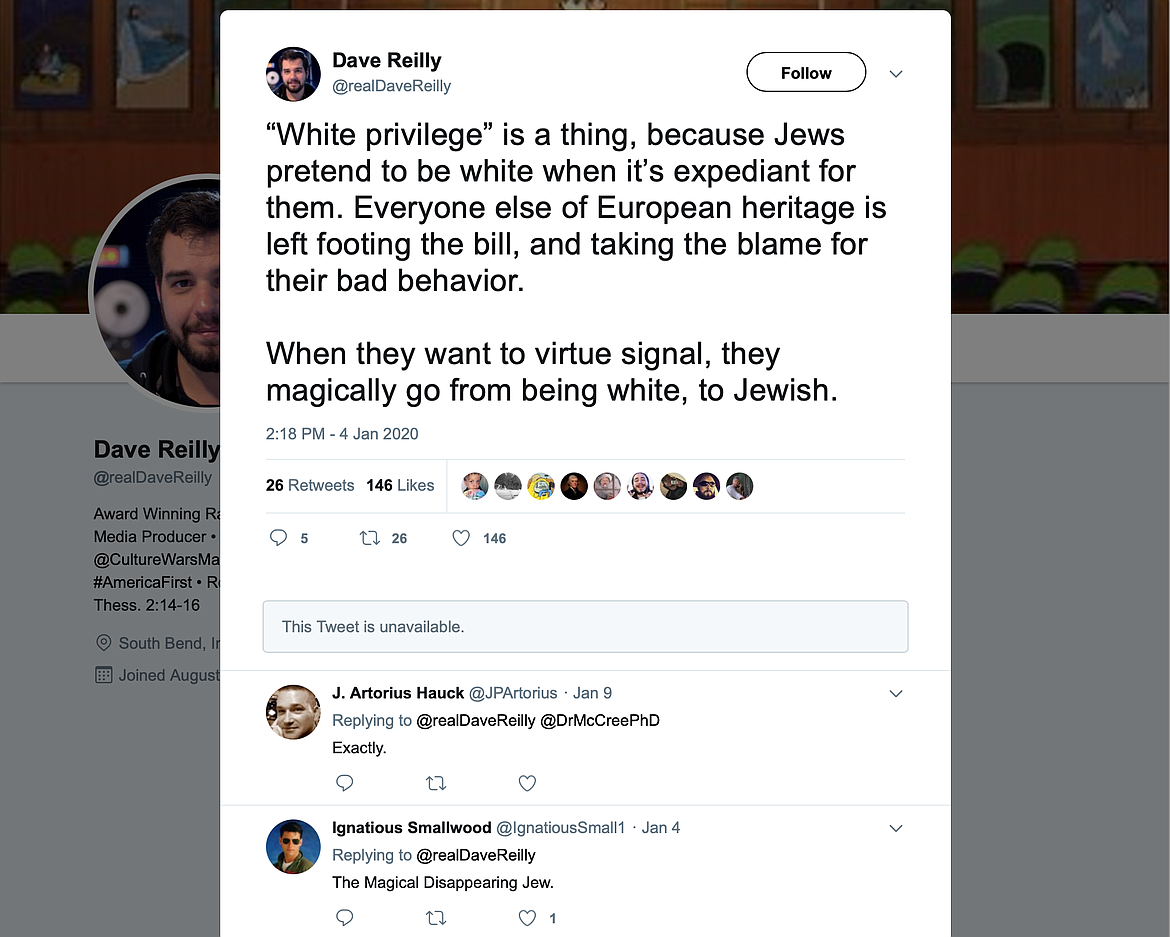 Twitter posts linked by StandWithUs were described as "dangerous" and "anti-semitic." Photo courtesy StandWithUs.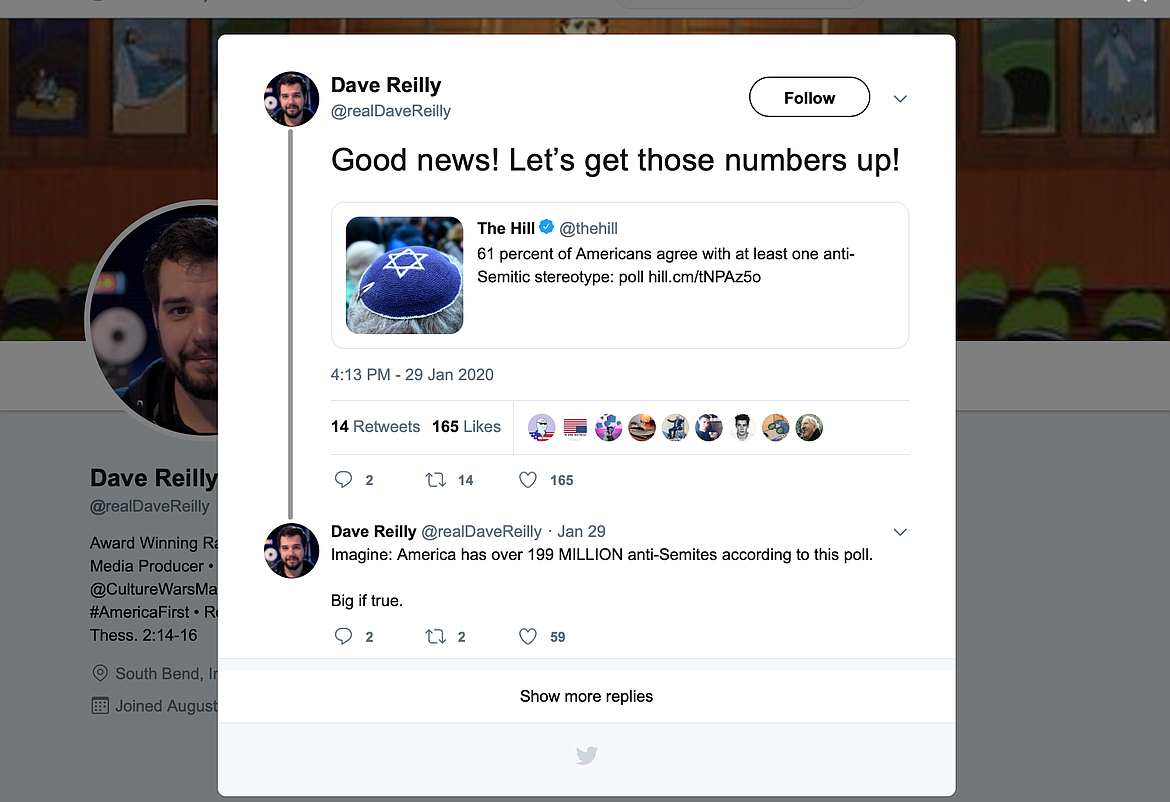 Pro-Israel organization condemned candidate for commentary on religion, namely regarding the Jewish faith. Photo courtesy StandWithUs.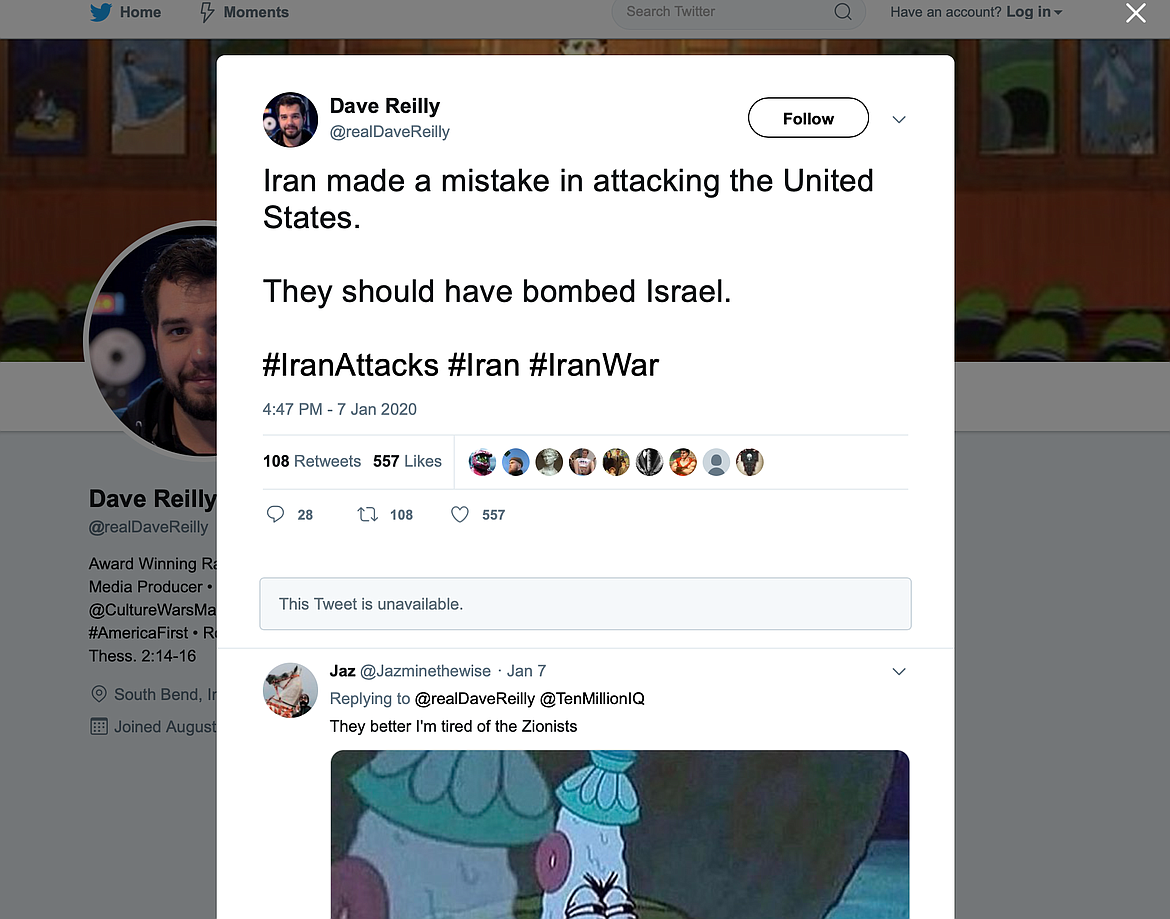 StandWithUs is the second pro-Israel organization to release statements opposing Reilly's campaign. Photo courtesy StandWithUs.
Previous
Next
Another pro-Israel organization has condemned a Post Falls School Board candidate for hate speech posted on his personal Twitter account.
StandWithUs, an international nonprofit, nonpartisan educational organization, "strongly" condemned David Reilly Tuesday afternoon for "numerous antisemitic social media posts."
A candidate for Trustee Zone 5, Reilly's documented commentaries on race, religion, homosexuality and politics have landed him in several local and national news stories.
The Press wrote about Reilly on Oct. 2. On Oct. 5, The Daily Beast published a scalding piece on Reilly headlined "Antisemitic troll tries to infiltrate Idaho school board."
Two days later, the Idaho chapter of Christians United for Israel, the nation's largest pro-Israel organization with 10 million members, also released a statement condemning Reilly's candidacy. The Press published that story on Oct. 8.
Founded in 2001 and headquartered in Los Angeles, StandWithUs works to "educate people of all ages about Israel, as well as challenge misinformation and fight against antisemitism." The organization has chapters across five continents.
On Tuesday, StandWithUs cited three posts from the @realDavidReilly Twitter account that they described as "dangerous." The account includes a bio of Reilly's professional background and photo.
The posts, all published in January of 2020 but since deleted, stated:
"Iran made a mistake in attacking the United States. They should have bombed Israel."
"'White privilege' is a thing, because Jews pretend to be white when it's expediant for them. Everyone else of European heritage is left footing the bill, and taking blame for their bad behavior."
Another post includes a link to an article that found "61 percent of Americans agree with at least one anti-Semitic stereotype," to which the @realDavidReilly account states: "Good news! Let's get those numbers up!"
"These statements typify the dangerous, age-old approach of scapegoating the Jews and blatantly encourage others to adopt anti-Jewish bigotry and even engage in outright violence," a release published by StandWithUs said Tuesday afternoon.
"It is unthinkable that someone harboring these hateful views would hold any position of government authority, as he would hardly be expected to treat Jewish constituents as equal members of the District community," it continued.
Randy Kessler, Northwest Executive Director for StandWithUs, also urged the Kootenai County Republican Central Committee and Idaho Republican Party to condemn Reilly's comments.
The Kootenai County Republican Central Committee has endorsed Reilly and affirmed its continued support last Thursday in a Facebook post by chairman Brent Regan.
"I believe Dave is a good man who will make an excellent Trustee and will resist the Progressive / Marxist indoctrination of our children," Regan wrote. "I encourage you to ignore the false accusations and continue your support of ALL of our recommended candidates."
On Tuesday afternoon, Reilly denounced the "accusations" by StandWithUs as false in a statement to The Press.
Regarding the nonprofit's headquarters, Reilly said the assertions "levied against (him) by this California-based, progressive organization should serve as proof that there is out-of-state influence and interests in Post Falls schools."
"These same types of organizations support Critical Race Theory, Social Emotional Learning, and the sexualization of our children, all of which are things that I'm fighting against in our school district," Reilly told The Press. "As far as I'm concerned, California-based organizations are irrelevant. What truly matters is giving parents their voice back in our school district."
But Kessler told The Press that StandWithUs seldom comments on political campaigns. He said the organization concluded that Reilly's tweets "were so egregious" and "out of line with American mainstream views" that it warranted a response.
"Whenever someone in a public position makes comments like that, we think it's very important to speak out with a forceful moral voice because we know those comments lead to actions," he said. "What we find is that people don't murder Jews without demonizing them first, and people don't demonize them without spreading rumors that aren't true."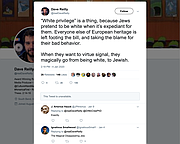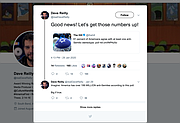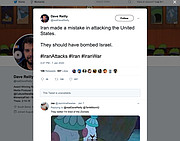 Recent Headlines
---