A spotlight unlike any other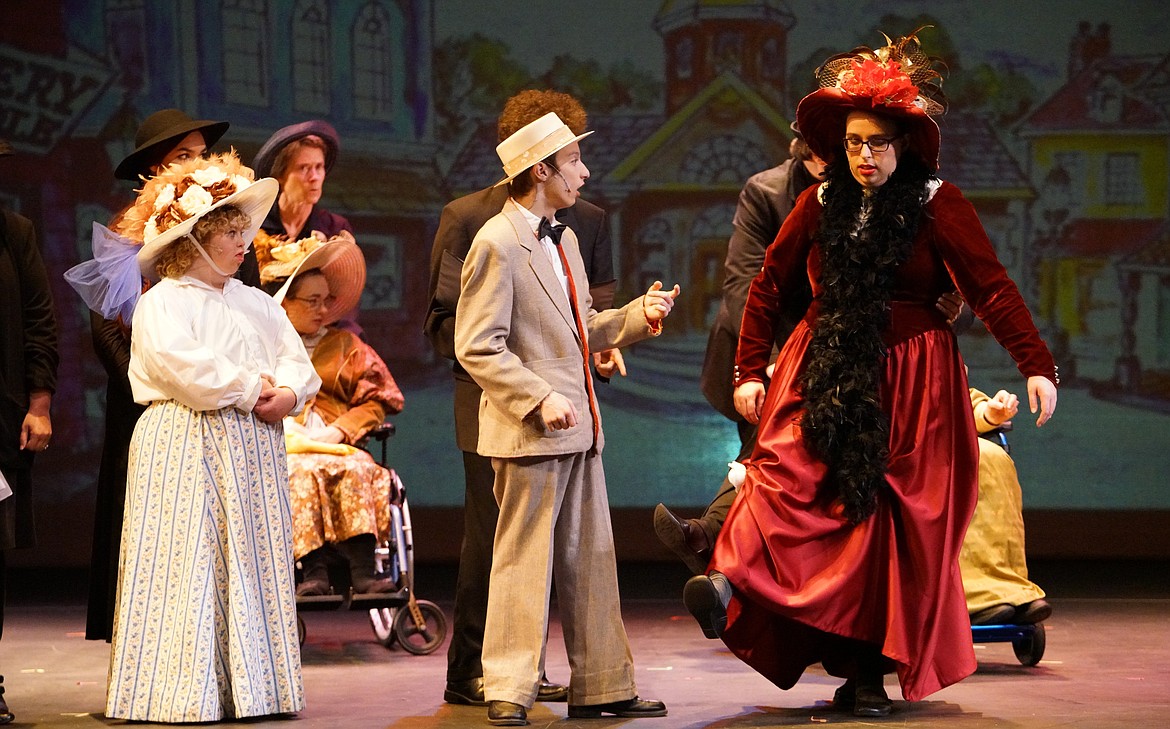 From left, Crystal Teeters, Logan Basta and Abbey Waterdown perform in Out of the Shadows Theater's last show, "The Music Man Jr." in 2019 at the Salvation Army Kroc Center theater before COVID-19 closed down performances. Photo courtesy of Out of the Shadows Theater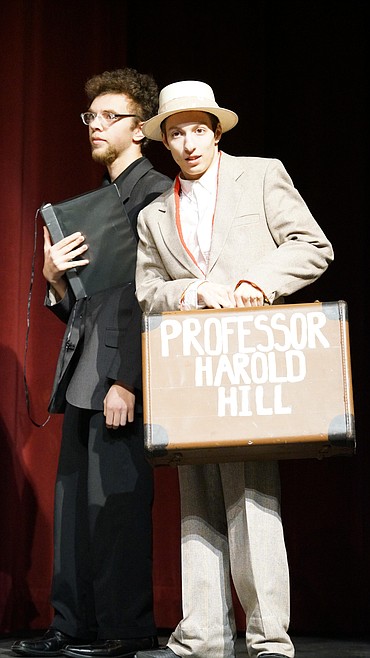 From left, shadow Paul Sciarrio supports actor Logan Basta as Professor Harold Hill in Out of the Shadows Theater's 2019 performance of "The Music Man Jr." at the Salvation Army Kroc Center theater. Photo courtesy of Out of the Shadows Theater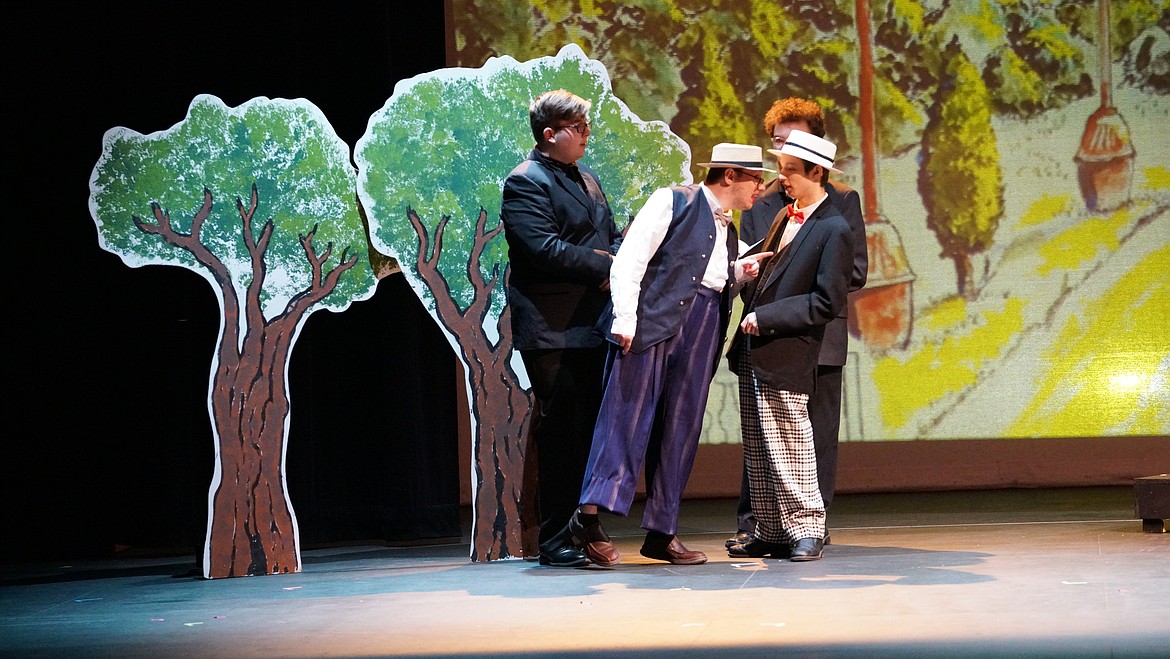 From left, actors Kevin Metzner and Logan Basta are supported by shadows Chandler Carey and Paul Sciarrio, from left in back, wearing black. This 2019 photo was taken at Out of the Shadows Theater's show, "The Music Man Jr." at the Salvation Army Kroc Center theater. Photo courtesy of Out of the Shadows Theater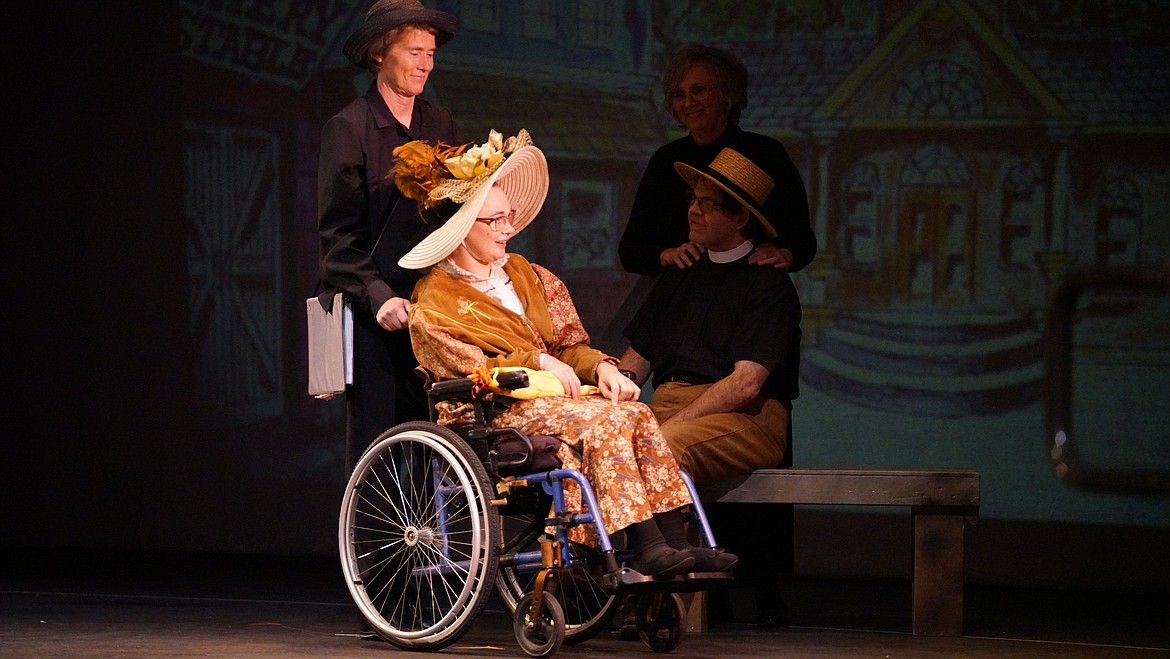 In this 2019 photo, actress Anette Enger, in wheelchair, is supported by shadow Laurie Akins. To the left actor Ron Hebert is supported by shadow Nicola Hebert. Out of the Shadows Theater is a theater group for people with special needs. This photo was taken at their last show, "The Music Man Jr." at the Salvation Army Kroc Center theater before COVID-19 closed down performances. Photo courtesy of Out of the Shadows Theater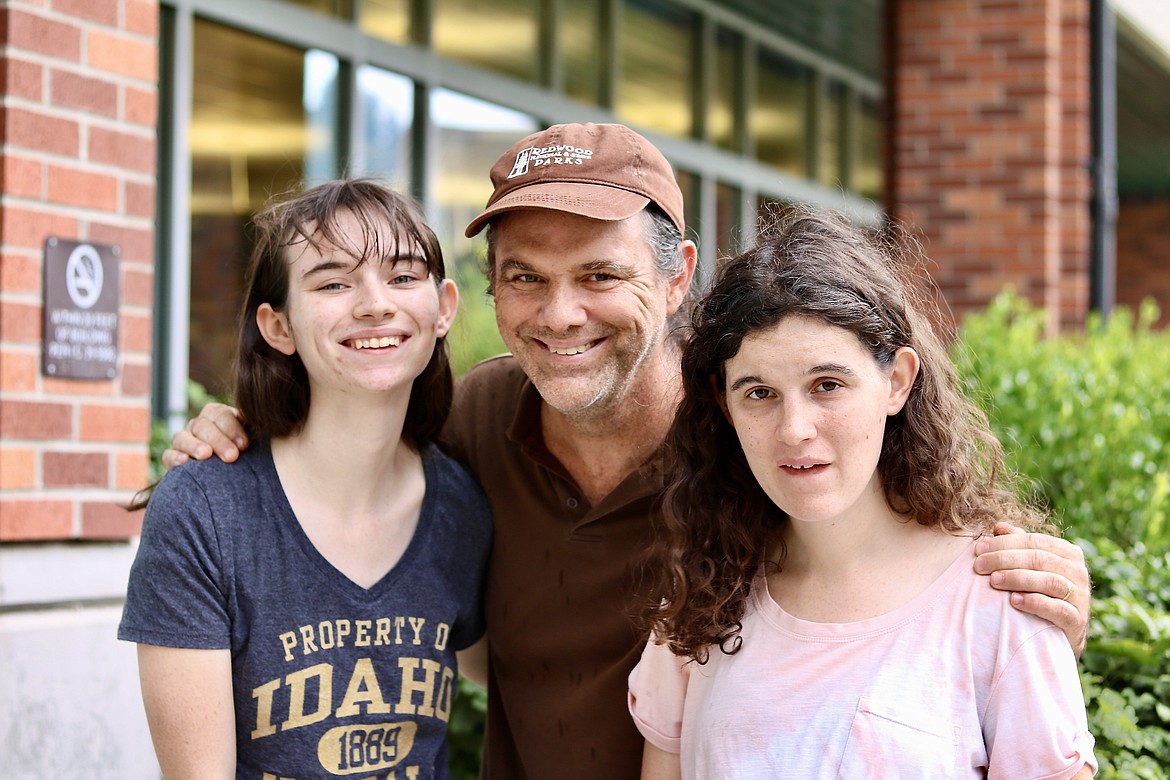 Tim Neary with daughters Emma Neary, 20, on left, and Megan Neary, 24. Megan Neary will be performing in Out of the Shadows theater's fifth production, "Bye Bye Birdie - Young Performers Edition," at the end of October and first weekend of November with her dad as her shadow actor. HANNAH NEFF/Press
Previous
Next
by
HANNAH NEFF/Press
|
October 12, 2021 1:09 AM
It's not just a theater. It's a chance for people to shine in the spotlight.
Out of the Shadows Theater is opening its doors for their fifth production, "Bye Bye Birdie -Young Performers' Edition," with a cast made up entirely of performers with special needs.
"It's a different theater," said Tim Neary, a shadow actor. "It's theater where the audience is rooting for the actors and you're there to see something special."
To support the needs of the performers, each cast member is accompanied by a "shadow actor" like Neary, a person who supports and encourages the actor in their role.
The goal of Celebrate Incorporated, a non-profit organization presenting Out of the Shadows Theater, is to provide adults with intellectual, developmental and physical disabilities the opportunity and support to experience and participate in performing arts.
"You're going to see a very inspiring show because it's amazing with just a little help what these guys can do and the things they can overcome is just phenomenal," said Neary, who is also the father of three former or current actresses for the theater.
At the group's debut show in 2016, Neary said they had to turn around 200 people away because the theater was full, and the performers received a standing ovation about halfway through the first verse of the last song because the audience was so excited to applaud.
"I don't think there was a dry eye in the house," Neary said. "And that's the magic of it, these people don't get a chance to show what they can do. Hardly ever, and they can do some pretty cool stuff."
Neary's daughters Megan, 24, and Michaela Neary, 14, have been in every show since the theater group began and daughter Emma Neary, 20, acted in the first two shows.
"(Emma) caught the acting bug big time," Neary said.
Neary said following that first performance he became a theater dad for about three years as Emma Neary moved on to do around 20 different performances with theater groups in the area.
"I think (Out of the Shadows Theater) really helped me to come out of my shell a lot and gain more confidence in myself," said Emma Neary, now a student at University of Idaho. "It's taught me that I have something that I'm really good at and passionate about."
Emma Neary said from a young age she had always enjoyed all forms of storytelling and entertaining people.
"It's fun to try to do different roles, it's a bit of a unique challenge," Emma said. "Because of my Asperger's, it's hard to relate to people, so it's kind of fun to try to build this character from scratch and then embody that character."
Tim said he watched as his daughter grew in confidence through performing.
"The change we saw in her from doing Out of the Shadows, turned her life around. It's just incredible," Tim said. "She walked into that theater and was like, 'Well, here's what I'm good at.'"
Emma said she was really motivated to pursue her passion after the theater founder, Wendy Carrol, pulled her aside and told her she was gifted and could act on a professional level.
"Hearing that from somebody who's not going to tell you that because they're your dad or something, that's really special," Emma said.
Tim said what helps the production work is the relationships between the actors and their shadows.
Every actor is supported by a shadow that they get connected with as early in the rehearsal process as possible. The shadows carry a script with them and encourage the actors through whispers, nudges, or whatever works best for that particular actor.
"By the time the show goes, you know your actor well enough to know what they need," Tim said. "You know when they need encouragement, or whatever it is. It works really well."
Tim said a lot of shadows are just community members who come out to volunteer.
"In our case, I'm (Megan's) dad and full-time caregiver. I'm the one who understands her best so we work together," Tim said. "I think there's a lot of people who work in this community who will go shadow for somebody just because they love being around these people."
In the second show, Michaela was cast as the fiddler for "Fiddler on the Roof."
"She was 9 at that point, and kind of stole the show," Tim said. "But she was afraid to even hold the violin or even walk around in rehearsals."
Tim said that because of Michaela's relationship with her amazing shadow, she was able to overcome her fear and actually get out on stage.
The following year, Tim said, Michaela decided she wasn't going to sing at auditions, which disappointed the directors who wanted her for a major part.
He said the directors pulled him aside to get help but he wasn't able to do anything.
Then last year's shadow stepped in.
"(Michaela) just took off," Tim said. "She totally owned that part once somebody other than her parents told her that she could sing and she did a good job."
For the upcoming show, Michaela is in a new role helping others as a shadow actor. She said she's enjoying the experience.
Tim said the relationship with the shadows is amazing in the way they inspire the actors.
He said he's watched the theater work with a girl in a wheelchair who loved the show so much, she decided she was going to walk on stage.
"By the time the show came around, she didn't need her wheelchair," Tim said. "She was able to walk with a walker. It was just amazing."
Tim said he also watched a young boy with a speech impediment be able to nail his part by the end of the show because of the relationship with his shadow and the whole process.
"His mother was just crying by the end of the show, because (she'd) never seen her son do that before," Tim said. "There's dozens of stories like that of the incredible positive effect this whole theater has."
"Bye Bye Birdie - Young Performers Edition," a 1960s rock and roll satire, will run Oct. 29-31 and Nov. 4 and 5 at the Salvation Army Kroc Center theater. There will be ASL interpretation for Friday night shows.
Show times are 7:30 p.m. for all performances except Sunday, when the show is a 2 p.m. matinee.
Tickets are $14 or $10 each for groups of 10 or more.
Tickets: https://app.arts-people.com
https://outoftheshadowstheater.com
Recent Headlines
---