Is The Landing ready to take off?
by
ELLI GOLDMAN HILBERT
Staff Writer
|
October 11, 2021 1:09 AM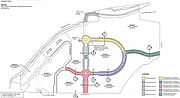 POST FALLS — The Landing is back on the radar.
A 34-acre, multi-use development along the eastern side of the Spokane River is slowly beginning to see development after almost 20 years of talks.
Post Falls City Council members voted recently to incorporate McReynolds Drive into the public roadway within the development. Formerly a short stretch of private road, incorporating it will improve traffic flow, allow for the creation of a central parking area on a different block and possibly increase the square footage for some buildings, said City Planning manager Jon Manley.
"I think what's bringing it to the forefront is the influx of people and the investment opportunities," Manley said. "People are seeing improvements and development throughout the city. They see that there are more possibilities in Post Falls."
According to a plan prepared by Verdis, a Coeur d'Alene landscape, architecture and planning firm, The Landing will be a "thriving center of commerce, relaxation and entertainment with a Main Street design concept."
The plan states that great care will be taken to integrate the design with the "natural beauty" of the local area and to use "local materials whenever possible."
The development will include commercial, office and residential facilities and feature a "waterfront promenade," extending into a public space to be used for fairs, markets and community events. Construction on the promenade is in process, Manley said.
Pocket parks and playgrounds will be incorporated, according to Verdis.
Dallas-based Liberty Bankers Life Insurance Company owns the site. Developers are expected to obtain space around the water tower to develop into a public park, according to documentation provided by the city council. A public transit stop will be installed and marina parking will be provided along certain portions of the river.
The rate of construction will depend on individual buyer interest, said Manley. He confirmed that a two-story, 12,000-square-foot urology building is planned for the northwest corner of Third and Spokane streets and an application has been submitted.
A four-story, 15,000-square-foot commercial building is planned on Spokane Street with a 110-unit apartment complex behind it.
There's no definite time frame for completion of the project.
The prime corridors along Spokane Street and Idaho Street will focus on commercial development in keeping with city planning requirements. However, there has been some interest in residential units, said Manley.
The maximum height a building can reach will be 85 feet, or about seven stories, according to The SmartCode Master Development Agreement presented to the council.
Unlike prior developments designed with automobile use in mind, the Landing will be decidedly "pedestrian-friendly," Manley said. Once completed, pathways will allow ample pedestrian access to business and resident spaces throughout.
The development will maximize views of the Spokane River, Q'emiln and Falls parks, according to the Verdis plan included in the City Council agenda packet for Oct. 5.
Originally approved by the council in 2003, the project was publicly recorded in 2007 and was updated to reflect guidelines required by the Post Falls Landing SmartCode Infill Neighborhood Plan in 2014.
City water and wastewater infrastructure are in place, though an extension of these services may be needed while electrical service and internet installation are still in process, Manley said.
Recent Headlines
---