THE CHEAP SEATS with STEVE CAMERON: 'Unicorn' Holmgren a symbol of Zags' potential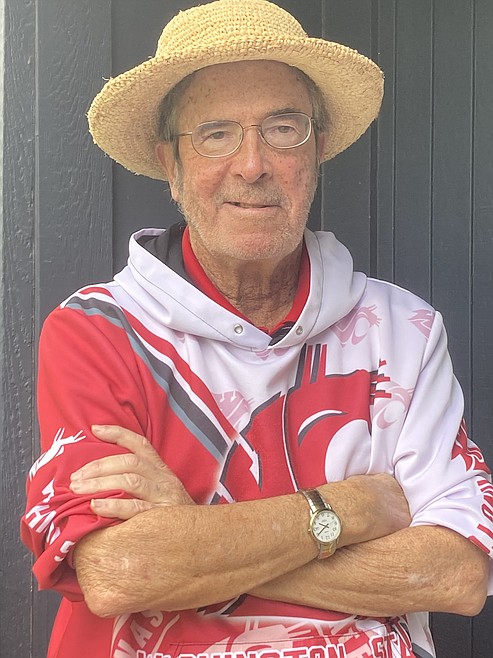 |
October 11, 2021 1:10 AM
SPOKANE — It's a shame Randy Johnson landed the nickname all those years ago, because …
Chet Holmgren really IS a big unit.
Like most of the screaming crowd at The Kennel on Saturday — and thousands more watching on TV — I was fascinated to see Gonzaga's latest batch of talent.
As usual, the Zags are considered national title contenders, and I get paid to know what they're all about.
So, I was prepared to check out the plusses and minuses, that sort of thing.
The truth, though, is that it was hard to take my eyes off Holmgren, who has been called a "unicorn" by college coaches and pro scouts.
That unique handle comes from his combination of size (he looks 7-1 when standing next to the 6-10 Drew Timme), and the incredible athleticism that allows him to play like a guard.
Honestly, it's hard not to gawk at the kid.
TO BE honest, it's difficult to know exactly what kind of impact Holmgren will have with these Zags.
And if we'll have to wait for it.
He's going to be every shooter's nightmare on defense, flashing a wing span that looks like a 747 in flight when he fully unwinds.
At the other end of the floor…
Well, that's a question mark.
Chet is painfully thin, and he got pushed around a bit during the scrimmage that finished Kraziness in the Kennel.
He also had the ball snatched or tapped away a couple of times, suggesting that he'll need to adjust to the rough and tumble of top-flight college hoops.
Holmgren doesn't look like a natural rebounder, unlike 6-9 sophomore Ben Gregg (who seems like he's gained weight and muscle) or monster 6-9 freshman Kaden Perry.
Judge for yourself, but Perry appears to me like a bulkier, angrier version of former Zags leaper Brandon Clarke — which is no bad thing.
Having said all that, Holmgren did go up to meet Perry high, high above the rim and completely stuff a dunk attempt (which Perry also did to Timme, of all people).
I suspect Zags fans will have to get used to some bumps and stumbles early in the season, as this army of newcomers finds a comfortable fit with vets Timme, Andrew Nembhard and Anton Watson.
But make no mistake …
Mark Few and his staff landed serious talent with this recruiting class (which would also include Gregg, if he hadn't enrolled at Gonzaga a semester early).
THE ZAGS once again will be running teams to death.
Freshmen Nolan Hickman and Hunter Sallis — along with Iowa State transfer Rasir Bolton — can all fly the length of the court in barely a heartbeat.
Sallis plays like his hair is on fire, and defenders who take their eyes off him for a nanosecond are going to get lost.
And there's more …
Guard Dominick Harris is currently out with a foot injury, but teammates and staff all expect him to have a breakthrough season.
Soph Julian Strawther looked all grown up and dominant in the scrimmage, and figures to get a lot of playing time.
In fact, at 6-7, Strawther can simply overpower most guards — so if Few decides to go big, Gonzaga will be VERY big.
Point guard Nembhard is 6-5, so if you put him on the floor with Strawther (or the 6-9 Gregg, an emerging outside shooter), along with the 6-5 Sallis, Timme and Holmgren in the middle — that's a huge team to play over or through.
HERE'S MY advice to Zags junkies …
Don't get nervous if these guys aren't imitating an NBA team right out of the gate — they've never played a game together.
Wait until Holmgren's role is clearly defined, and his relationship with Timme on offense becomes second nature.
Cross your fingers that someone on this roster shows they can relentlessly drill 3-pointers.
There isn't a proven long-distance sniper just yet — no Corey Kispert to bail out a possession, in other words — so Few must find some shooters to space the floor.
But no matter what …
Enjoy the spectacle, even if there's a rocky beginning, because this team will be incredibly fun.
Besides, Timme told the crowd at Kraziness that they're going to win it all.
That WOULD be fun — and then some.
Email: scameron@cdapress.com
Steve Cameron's "Cheap Seats" columns appear in The Press on Mondays, Wednesdays and Fridays.
He also writes Zags Tracker, a commentary on Gonzaga basketball which is published monthly during the offseason, and weekly beginning late this month.
Recent Headlines
---