PREP FOOTBALL: Post Falls loses heartbreaker; Lakeland romps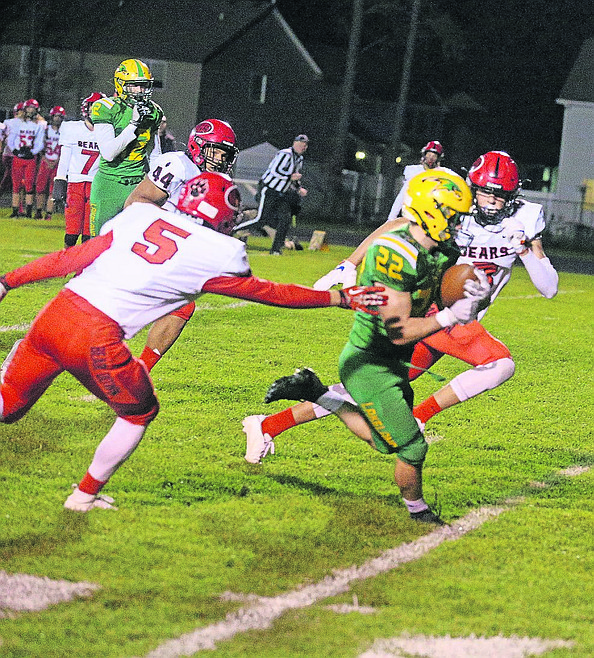 JASON ELLIOTT/Press Lakeland junior running back John Cornish breaks a long run for a touchdown in the first quarter of Friday's game against Moscow at Corbit Field in Rathdrum.
|
October 9, 2021 1:15 AM
• FOOTBALL
LEWISTON — The last five games between the Post Falls Trojans and Lewiston Bengals had gone the Trojans' way — three of them one-possession games.
Friday night's back-and-forth Inland Empire League opener at Bengal Field nearly went Post Falls' way again.
But Lewiston took the lead on Cruz Hepburn's 9-yard run with a couple minutes ago, and Post Falls missed a short field goal in the closing seconds that allowed the Bengals to escape with a 30-29 victory.
"We've had close games with them the last five years," Post Falls coach Blaine Bennett said. "It felt like we were going to go down and beat them again at the end, but it didn't happen that way."
With the score tied at 21 early in the fourth quarter, Lewiston (6-1) took a 23-21 lead on a safety when Post Falls (3-4) was called for holding in the end zone. The Bengals took the free kick and drove again, but Zach Clark picked off a Bengal pass and returned it 99 yards for a touchdown. The two-point conversion made it 29-23 Post Falls.
Lewiston answered with a touchdown drive, and the PAT gave the hosts a one-point lead.
Clark also caught a 66-yard touchdown pass from Jaxon Anderson, who also ran for two scores.
"We showed a lot of character," Bennett said. "We had a big goal-line stand in the second quarter, and our offense turned around and went on a 96-yard drive to tie it at 14."
Post Falls plays at Coeur d'Alene next Friday.
Post Falls 0 14 7 8 — 29
Lewiston 7 7 7 9 — 30
First quarter
Lew — Cruz Hepburn 12 run (kick good)
Second quarter
PF — Jaxon Anderson 6 run (PAT failed)
Lew — Hepburn 4 pass from Jace McKarcher (kick good)
PF — Anderson 1 run (Anderson run)
Third quarter
Lew — Hepburn 20 run (kick good)
PF — Zach Clark 66 pass from Anderson (Alex Luna kick)
Fourth quarter
Lew — safety
PF — Clark 99 interception return (Devin Myers pass from Anderson)
Lew — Hepburn 9 run (kick good)
Lakeland 59
Moscow 0
RATHDRUM — Junior tailback John Cornish ran for 141 yards and three touchdowns — all in the first half — as the Hawks pummeled the Bears in a 4A Inland Empire League game at Corbit Field.
Hutton Hegbloom returned a fumble 50 yards for a touchdown to start the second quarter for Lakeland, which scored 35 points in the quarter to break the game open.
Devon Suko threw for 87 yards and three touchdowns for Lakeland (5-3), which has a bye week next Friday. The Hawks conclude the regular season at Sandpoint on Oct. 22.
Moscow (3-3) hosts Sandpoint next Friday.
Moscow 0 0 0 0 — 0
Lakeland 14 35 10 0 — 59
First quarter
LL — John Cornish 23 run (Owen Forsman kick)
LL — Cornish 42 run (Forsman kick)
Second quarter
LL — Hutton Hegbloom 50 fumble return (Forsman kick)
LL — Devon Suko 52 run (Forsman kick)
LL — Richie Thomas 34 interception return (Forsman kick)
LL — Alden Waddington 18 pass from Suko (Forsman kick)
LL — Cornish 47 run (Forsman kick)
Third quarter
LL — Thomas 11 pass from Suko (Forsman kick)
LL — FG, Forsman, 47
LAKELAND STATISTICS
RUSHING — Cornish 11-141, Suko 2-50, Calder 2-44, Sindt 4-29.
PASSING — Suko, 6-8-0-87, Loutzenhiser, 1-3-0-2.
RECEIVING — Waddington 5-76, Thomas 2-9, Williams 1-2.
Timberlake 61
Priest River 0
SPIRIT LAKE — After losing offensive guard Trevor Cady last week with a broken hand, Tiger coach Kelly Amos was looking to spark the running game.
Enter senior James Billingsley.
Billingsley, who has started the team's previous five games at fullback, moved to guard and helped the Tigers pile up 267 yards rushing in an Intermountain League opening win at Van Tuinstra Memorial Field.
"We had some real struggles running the ball against Lakeland," Amos said. "I asked James if he'd like to play guard, and he really stepped in and helped us a ton."
Billingsley switched back to fullback in the third quarter, and ran for touchdowns of 14- and 54-yards for Timberlake (4-2), which hosts Kellogg next Friday.
Timberlake limited Priest River to 111 total yards.
"Priest River wants to run the football, and our linebackers and front seven, they just played fantastic," Amos said. "They played hard and ran to the ball. They did a great job and cut those lanes off, and anytime they got into space, our guys were able to chase them down."
Priest River (1-5) hosts Bonners Ferry next Friday.
Priest River 0 0 0 0 — 0
Timberlake 22 20 12 7 — 61
First quarter
TL — Kale Paslay 16 run (Paslay run)
TL — Wyatt MacArthur 2 run (Joseph Borges kick)
TL — Zach Yetter 5 pass from Ashton Peightal (Borges kick)
Second quarter
TL — Grady Woodworth 5 run (Borges kick)
TL — Paslay 9 run (kick failed)
TL — Zetter 2 pass from Peightal (Borges kick)
Third quarter
TL — James Billingsley 14 run (kick failed)
TL — Billingsley 54 run (kick failed)
Fourth quarter
TL — Stryker Houston 5 run (Vaughn W. Higgins kick)
TIMBERLAKE STATISTICS
RUSHING — Billingsley 2-68, MacArthur 3-55, Huston 3-37, Paslay 3-33, Woodworth 4-31, Peightal 2-18, Higgins 4-18, Borges 1-6, Higgins 4-1.
PASSING — Peightal, 7-7-0-105.
RECEIVING — Zetter 3-38, Olivieri 1-35, Woodworth 1-15, MacArthur 1-10, Paslay 1-7.
Lakeside 62
Kootenai 34
HARRISON FLATS — Tucker Sanchez threw for six touchdowns, three to Vander Brown as the Knights beat the Warriors in a nonleague game at Kootenai High.
"Lakeside's a real shifty team and did a good job of getting their players to the outside," Kootenai coach Jake Pfeiffer said. "They had some good plays and threw the ball really well."
Carter McGann returned a kickoff 70 yards for a touchdown and his brother Brady McGann scored on an 80 yard kickoff return in the first quarter for Kootenai (0-5), which played its first game since Sept. 10 due to a double-bye and a forfeit on Oct. 1 due to low numbers.
"We started out a little slow and were able to put some stuff together in the second half," Pfeiffer said. "We played a lot better and have plenty to build on from the second half."
Lakeside 36 18 8 0 — 62
Kootenai 14 0 6 14 — 34
First quarter
LS — Vander Brown 5 run (Brown run)
LS — Brown 40 pass from Sanchez (run failed)
Koot — Carter McGann 70 kickoff return (run failed)
LS — Qwincy Hall 30 pass from Sanchez (Brown pass from Sanchez)
LS — Sanchez 27 interception return (Brown pass from Sanchez)
LS — Brown 10 pass from Sanchez (run failed)
Koot — Brady McGann 80 kickoff return (Rueben Rivenvenria run)
Second quarter
LS — Hall 43 pass from Sanchez (pass failed)
LS — Jemari Peone 27 pass from Sanchez (pass failed)
LS — Brown 6 run (run failed)
Third quarter
LS — Brown 47 pass from Sanchez (Devin Bebee pass from Peone)
Koot — B. McGann 36 run (pass failed
Fourth quarter
Koot — Charlie Orford 3 run (Orford run)
Koot — Orford 62 interception return (pass failed)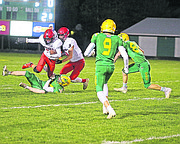 Recent Headlines
---