Northwest Notes Oct. 8, 2021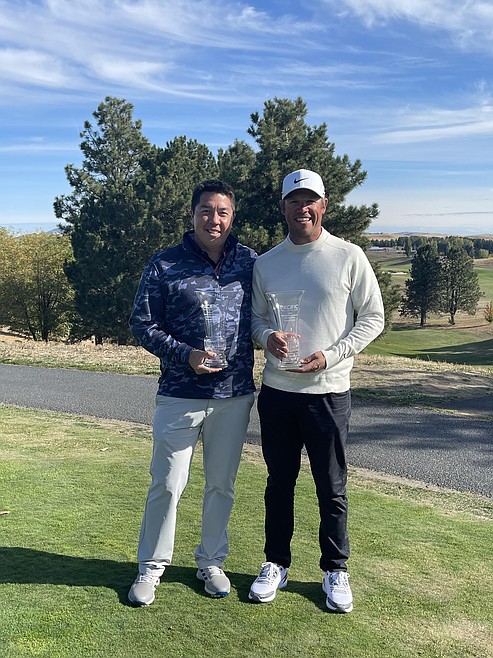 Courtesy photo Reid Hatley, left, and Corey Prugh after winning the Pacific Northwest Pro-Am on Thursday at Palouse Ridge Golf Course in Pullman.
|
October 8, 2021 1:00 AM
Hatley, Prugh win Pacific Northwest Pro-Am
PULLMAN — Amateur Reid Hatley of Hayden Lake and his professional partner, Community Colleges of Spokane golf coach Corey Prugh, won the Pacific Northwest Pro-Amateur Championship on Thursday at Palouse Ridge Golf Club.
Hatley and Prugh, who also won the event in 2013, carded rounds of 61-61—122, 22-under par for the four-ball competition.
PGA Professional Craig Crandall of Rock Creek Country Club in Portland, and his amateur Hunter Westcott (also of Rock Creek CC) placed second, two strokes back.
Pro Billy Bomar, former co-owner of Prairie Falls Golf Club in Post Falls, and amateur Andrew Von Lossow of Indian Canyon in Spokane tied for 11th, shooting 63-66—129, 15 under par.
Indians Bush, Collins, Kilkenny, Toglia honored
Four Spokane Indians were named High-A West All-Stars for the 2021 season. Left-handed starter Nick Bush, outfielder Isaac Collins, right-handed starter Mitch Kilkenny, and first baseman Michael Toglia all earned spots on the all-star team. Kilkenny was also named Pitcher of the Year for the league.
Kilkenny joined the Indians from Fresno on June 15, and in 15 games, finished 9-1 with a 3.95 ERA and 71 strikeouts.
Bush started the year in the bullpen but quickly emerged as a consistent lefty in the Indians' rotation. In 10 games for Spokane, Bush went 4-2 with a 2.58 ERA and 60 strikeouts. Bush was promoted to the Hartford Yard Goats on July 61.
Collins joined the Spokane roster from Fresno on June 1, and finished the year with nine homers and 48 RBI. His .312 batting average and .399 on-base percentage ranked third in the league. His .895 OPS was second best in all the High-A West.
Toglia, a 2019 first-round pick of the Colorado Rockies from Gig Harbor, Wash., hit 17 home runs and drove in 66 runs in 74 games before being promoted to promoted to Hartford on Aug. 3.
The four Indians named to the High-A West All-Star Team were the most by any team in the league. The Eugene Emeralds had the second-most with three representatives.
Everett's Cade Marlowe was awarded the league's most valuable player, while Vancouver's Spencer Horwitz was selected as the Top MLB Prospect in the High-A West. Eugene skipper Dennis Pelfrey earned Manager of the Year honors.
Votes were cast by league broadcasters, Minor League Baseball executives and select members of the media.
Indoor pickleball underway at Boys and Girls Club
COEUR d'ALENE — Pickleball for adults is now underway at the Lola and Duane Hagadone Boys and Girls Club of Kootenai County, 925 N. 15th St., Coeur d'Alene.
Regular hours for play are Monday through Friday from 7:30 to 10:30 a.m., and Sundays from 2 to 5 p.m.
The $3 charge for play goes directly to the Boys and Girls Club.
Recent Headlines
---