Connie (Lien) Nearents Palmer, 77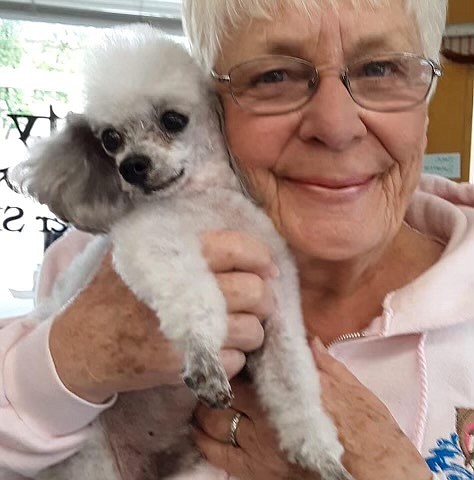 |
October 6, 2021 1:00 AM
Connie Mae (Lien) Nearents Palmer, age 77, of Omak, Wash., passed away on Sept. 23, 2021, at the Holy Family Hospital in Spokane, Wash. She was born on March 12, 1944, to Ingward and Ruby (LeBow) Lien in Coeur d'Alene, Idaho.
Connie attended school in Coeur d'Alene, where her love for music grew. In junior high, she played in the accordion band. Then, a few years later, went to the World Fair in Calgary with the high school band. She also played in the junior college band and orchestra as well.
After graduating from then Central Washington State College (now Central Washington University), she began teaching third grade at Sunnyslope Elementary School in Wenatchee in 1969.
In 1973, she moved to Conconully with her new husband, Dick Nearents, and began teaching at Omak High School. Then, in 1974, she was offered a music position at the Okanogan Elementary School, where she taught for 28 years. From Crocodile Rock to Yellow Submarine (and everything in between), she was an inspirational teacher who saw each child as the amazing individuals they are.
Connie was on the Project Proud Committee, where she shared her musical talents, love for the students and staff and creative ideas for many years. She even created her own song that the kids and staff sang to thank all the performers for putting on a show for them.
During the school year, Connie taught piano and guitar lessons in her little music room beyond the stage in the old Virginia Grainger building. Her beloved fur-baby sidekick, Sweetie, even got to join in on the musical fun, as she went everywhere with her. Then, during summer vacation, she would have the lessons at her home. She continued to do this even after she retired and has had such a big impact on countless lives. In our community it is actually difficult to find someone whose life or children's life was not touched in some positive way by Connie. Literally generations of children as well as adults were affected by her endearing positive attitude and loving kindness to all those she met.
Connie was also a member of the Okanogan County School Retirees' Association. While she was still teaching, she would often bring her chorus kids to the meetings to sing and entertain the retirees. Other times, she would bring song books, a musical instrument and lead the group in a fun sing-a-long.
After retiring in 2002, Connie spent her time taking such loving care of her husband, Dick, right by his side every moment until his passing in 2003.
A few years later, she met her last love, Les Palmer, and they were married in 2006. Together they enjoyed camping, and became members of the Caribou Trail Good Sams. They traveled to many places around Washington and made many friends and lots of great memories. One of the group's favorite places to camp was in Conconully, next to Connie's property. She would build a big fire in her fireplace, bake beans over the fire, roast hot dogs, and of course, make s'mores. She loved to entertain, and many times would come up with projects (making birdhouses with whatever material could be found) or a fun game that would leave everyone laughing for days!
One of Connie's favorite hobbies after retirement was making beautiful cards. A friend of hers got her interested, and she took off from there. She became a member of a group called the Cardiologists. She would meet with a few other friends and learn different card making techniques and create wonderful cards. And Connie being Connie, after each card would say, "This is my favorite one." It gave her so much pleasure to go down in her "card room" and make a special card for her family and friends.
Besides making cards, she so enjoyed playing cards, especially a game called Hand and Foot. She would play often while out camping with the Good Sams. She decided that was not enough, so many times she would have a group of friends come to her home and have a game or two. The conversations around her dining room table would always bring lots of laughter. She had a servant's heart full of love to all she knew and met, and blessed us all.
She also loved to spend time in her big, beautiful garden, with her constant companion (Sammie) always by her side. She loved fishing, going on snowy adventurous drives, traveling with friends, her weekly lessons with her kiddos, Taco Tuesdays, Wine Down Wednesdays, and playing the piano on Sundays at the Conconully United Methodist Church (her little church up on the hill).
Big fuzzy keychains, sweet smelling perfume, Sweetie and Sammie, music, laughter, and all children playing, these are a few of her favorite things.
She is survived by her children, Bill Nearents of Okanogan, Michael Nearents of Okanogan, Steve Nearents of Omak, Traci Clark of Omak, Kevin Palmer of Chelan; grandchildren, Amanda (Glenn) Graves, Matt (Tara) Nearents, Kevin (Maia) Nearents, Jay Nearents, Kristopher Nearents, and Bradley Nearents, Jazmyn Clark, Mikaela Clark, Katie Capka, and Michael Palmer; great-grandchildren, Declan and Delilah Graves, Kyra, Brock, Paige, and Ty Nearents, Reuben and Dylan Ray Fish, and Kameron Clark; sisters, Bernita (Kenneth) Carlson of Post Falls, Idaho, and Teresa Linerud of Ephrata, Wash.; brother, Tom (Mary) Lien of Rathdrum, Idaho; nephews and nieces, Erik, Brandon, Chad, Aaron, Don, Candy, and Bryce; and her constant companion, Sammie.
She was preceded in death by her parents, Ingward and Ruby (LeBow) Lien; brother-in-law, Dave Linerud; her first husband, Dick Nearents; her second husband, Les Palmer; and her fur-baby sidekick, Sweetie.
Funeral services will be held at 1 p.m. Saturday, Oct. 9 at the Okanogan High School Football Field. Visitation will be held from 3-8 p.m. Thursday and Friday at the Precht-Harrison-Nearents Chapel.
"I feel music is so important for kids. It gives them an outlet for a lot of their innermost thoughts and movements." — Connie Mae (Lien) Nearents Palmer
Recent Headlines
---