COVID chaos linked to widespread school board resignations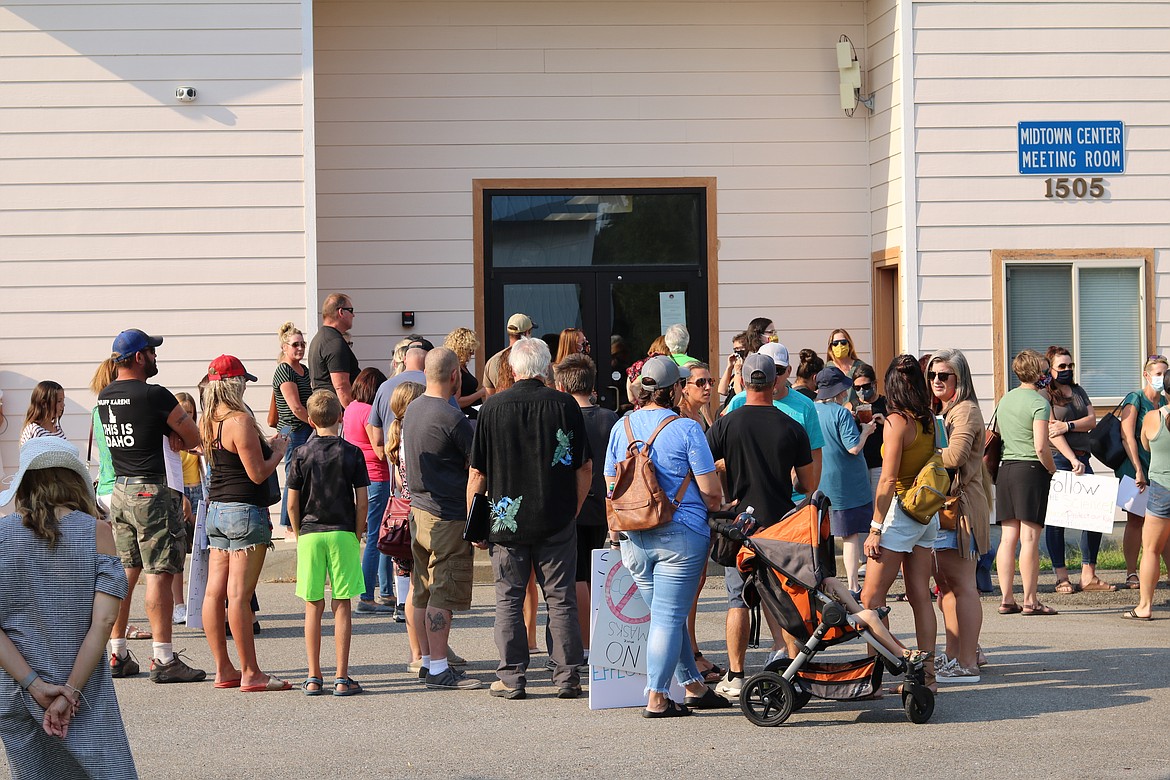 A crowd of parents, students and community members, some carrying signs stating their view on mask mandating, gathered outside the Midtown Center Meeting Room to attend the special meeting of the Coeur d'Alene School District Board of Trustees on Monday evening. HANNAH NEFF/Press
by
KAYE THORNBRUGH
Staff Writer
|
October 5, 2021 1:09 AM
Throughout Idaho and across the country, school board members are resigning — and some are citing concerns for their safety following their support for measures to slow the spread of COVID-19 in schools.
A group representing school board members around the country has asked for federal assistance to stop threats and acts of violence made over policies including mask mandates.
In a letter to President Biden published last week, the National School Boards Association (NSBA) likened the "heinous actions" to a form of domestic terrorism.
"America's public schools and its education leaders are under immediate threat," the letter said.
The association documented more than 20 instances of threats, harassment and acts of intimidation in school districts across the country, including the arrest of an Illinois man who allegedly hit a school official at a board meeting and a Michigan man who performed a Nazi salute while a Jewish woman addressed the board.
"We are coming after you," a letter mailed to an Ohio school board member reportedly said. "You are forcing them to wear mask—for no reason in this world other than control. And for that you will pay dearly."
The association is asking for help from the Justice, Education and Homeland Security departments, as well as the FBI.
White House press secretary Jen Psaki said in a Thursday briefing that responsibility for protecting school boards falls largely on local law enforcement, but the Biden administration is exploring if more can be done.
The association noted that outside groups are collecting and sharing information, as well as misinformation, about school boards.
Turning Point USA, an organization that advocates for conservative values on high school and college campuses, maintains a website with a "watchlist" that includes the names and photos of members of school boards who have adopted mask mandates or anti-racist curricula.
Two Idaho school boards are on the list.
Most of the school board protests described in the letter were over mask mandates, though others had to do with policies toward LGBTQ students and the way race and history are taught in schools.
A Wisconsin school board member who voted twice in favor of a mask mandate for Beaver Dam Unified School District described strangers taking photos of his house and swirling talk of protests staged outside his home.
In Nevada, a former trustee for the Washoe County School Board wrote that he had suicidal thoughts before he resigned from his position in June.
School board members had reportedly faced increasing harassment and threats from people who didn't live in the county or have children in local schools.
Michigan news site MLive.com reported last month that a West Michigan school board president stepped down following months of hostility that he said affected his physical, emotional and mental health. He had served on the board for 22 years.
Some board members who do not resign are facing recall efforts.
Multiple Idaho Falls School District trustees survived recall efforts earlier this year over their support for a hybrid learning model.
A group of parents in the West Ada School District — the largest school district in Idaho — launched an effort last week to recall Board Chair Amy Johnson.
The Idaho Statesman reports that the argument for the recall is that Johnson is violating the district's conflict of interest policy.
Johnson works at Blue Cross of Idaho, a health insurance company that has supported masks and COVID-19 vaccines.
Multiple West Ada School Board members resigned last year amid anger about decisions the board made throughout the pandemic.
Recent Headlines
---