Chip Shots Oct. 5, 2021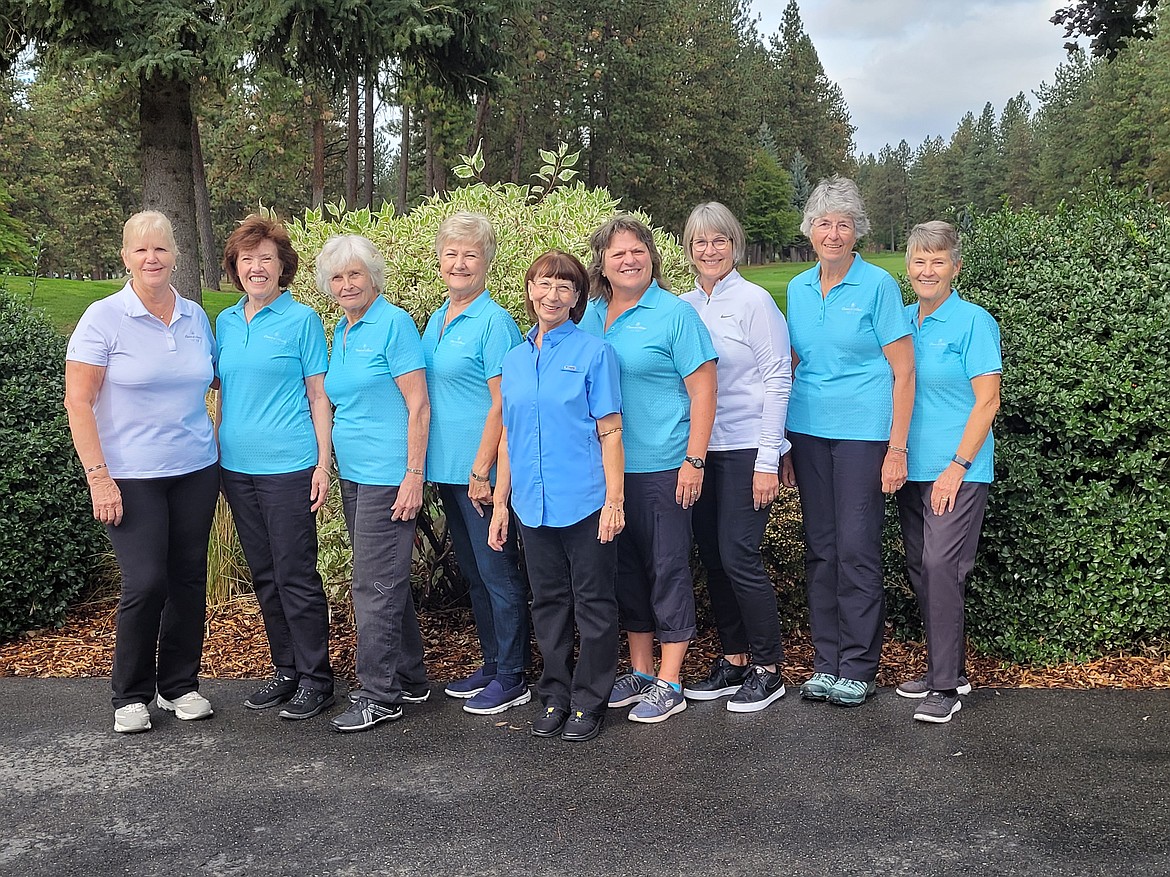 Courtesy photo The team from the Coeur d'Alene Golf Club won the championship of the Inland Empire Nine Hole Golf competition, competing with teams from around North Idaho and Spokane over the summer. From left are Lonna Devol, Judy Huntington, Merrilee Norris Wales, Sue Keto, Jean Endsley, Diane Turner, Sally West, Ann Melbourn and Andrea Sime. Not pictured is Pegi Russell.
|
October 5, 2021 1:00 AM
AVONDALE GOLF CLUB
Thursday 18-hole women's league
Sept. 30
Game: 2 Best Ball Variation
FIRST PLACE — Jean Thornton, Debra Woody, Linda Isaacson, Annie Amendola, 130
SECOND PLACE — Tie, Yvonne Titus, Judy Boyle, Chrissy Myall, Deann Shillington; and Twyla Cope, Nancy Hurley, Tami Savage, Maggie Johnson, 132.
FOURTH PLACE — Carol Duda, Judy Almquist, Dianne Best, Lesley Chace, 135.
THE HIGHLANDS
Tuesday Ladies Twilight League
Club Championship
CLUB CHAMPION — Pat Thyssen 87.
FLIGHT A — Gross: 1, Rowena Sinclair-Long 94. 2, Debbie Kovash 99. Net: 1, Johnna Hendricks 68. 2, Ellen Stamsos 70.
FLIGHT B — Gross: 1, Donna Heleker 107. 2 (tie), Gloria Slezak, Dorcas Tapper 110. Net: 1, Cindy Jordan 68. 2, Jennifer Jenkins 74.
FLIGHT C — Gross: 1, Susan Halstead 108. 2, Diana Raugust 112. Net: 1, Karen Thurston 67. 2, Diane Kamphaus 70.
MOST IMPROVED — Kelly Dunne, from 32 to 25.
PONDEROSA SPRINGS
Hosford Tournament
FLIGHT A — Low net: Diana Raugust. Low gross: Leslie Stockdale.
FLIGHT B — Low net: Sue Wolfe. Low gross: Jeannie Billmire.
Ladies League Championship
CLUB CHAMPION — Johnna Hendricks
FLIGHT A — 1, Johnna Hendricks. 2, Diana Raugust. 3, Shannon Mills.
FLIGHT B — 1, Jackie Alkier. 2, Gayle Baxley. 3, Glenda Bayley. — 1, Julie Judd. 2, Sue Wolfe. 3, Arlene Anderson.
Chip Shots is a weekly feature of The Press. Golf courses and local golf organizations may submit items by noon Mondays for publications Tuesdays. Email information to sports@cdapress.com, or submit information to Coeur d'Alene Press, Sports Department, 215 N. 2nd Street, Coeur d'Alene, ID 83814.
Recent Headlines
---