Mayoral candidates face crisis questions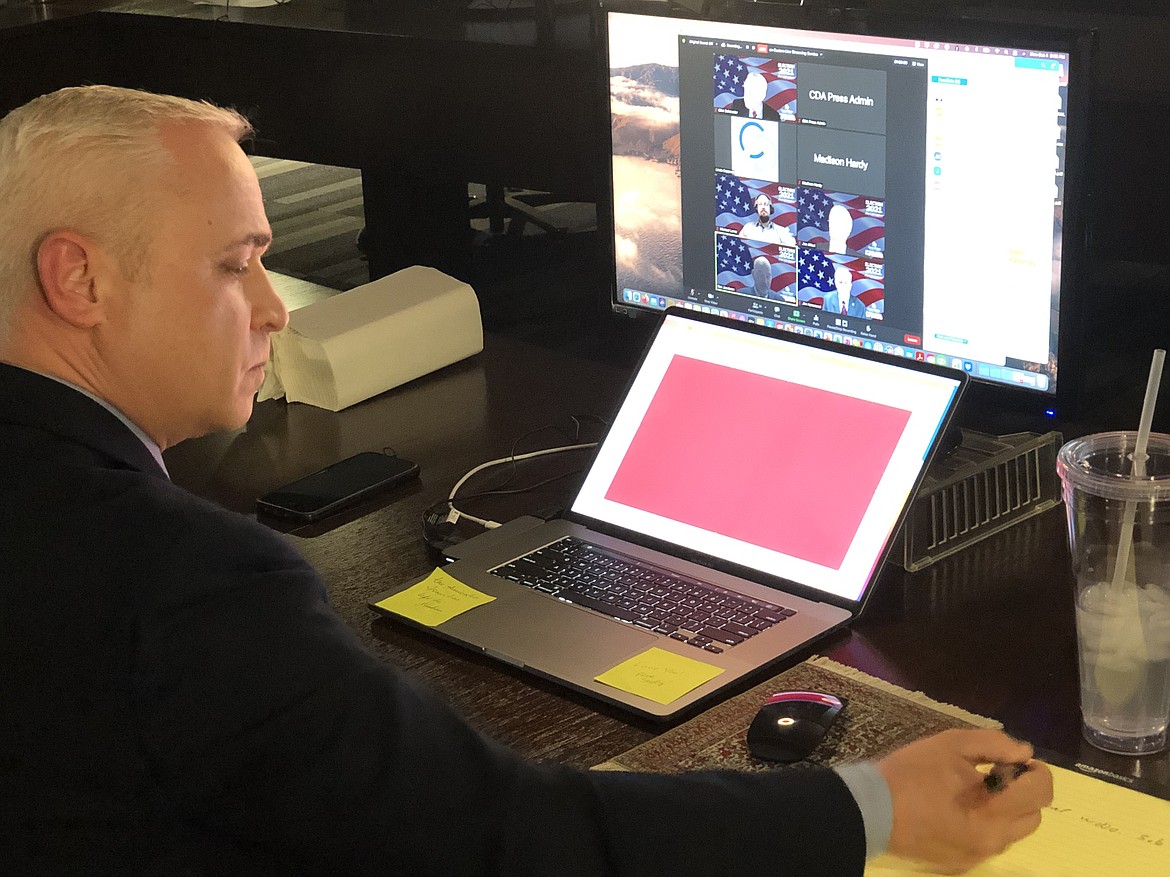 Press publisher and forum moderator Clint Schroeder goes over instructions with mayoral candidates Monday night moments before the forum aired live. It can be viewed on cdapress.com under the heading, Meet the Candidates. (MIKE PATRICK/Press)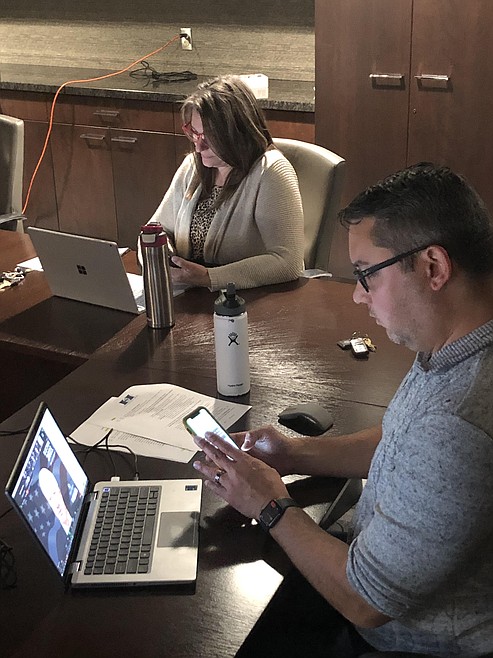 Interim Coeur d'Alene Regional Chamber President Linda Coppess and Jason Kama serve as producers of Monday night's mayoral candidate forum. (MIKE PATRICK/Press)
Previous
Next
by
MADISON HARDY
Staff Writer
|
October 5, 2021 1:07 AM
The pandemic swept through Monday night's mayoral candidate forum. While several COVID-related questions left some anxious looks on candidates' faces, none of them appeared to get sick.
Participating candidates were:
Post Falls — Ron Jacobson
Coeur d'Alene — Jim Hammond, Joe Alfieri, and Michael Lentz
Vaccination or ivermectin? That was the first question asked of candidates, followed by how they, as mayor, would maneuver a surge of COVID-19 cases in their city. 
When it comes to public health decisions, Coeur d'Alene candidate Joe Alfieri said, the city's role is to advise people of what steps they can take to care for themselves. But he said the city should not influence an individual's health decision-making. 
"I would publicize information about alternate forms of treatment which seem to be working elsewhere in the world and have been ignored in our area," Alfieri said. "From the reading I've done, if ivermectin is administered within the first couple days, it has a dramatic effect on that virus." 
Jim Hammond, a former Post Falls mayor and state senator, also supported the idea of education but said community members should follow the guidance of health experts. 
"We're blessed in this community with some very wise and educated medical professionals. I think it would be our job to listen to those professionals," he said. "The best thing we can do is educate people and work together to try to make sure that we overcome this pandemic." 
Echoing his competitors, Michael Lentz emphasized education and trusting science. In response to his preference — vaccination or ivermectin — Lentz said neither. He said he fought through "14 days of suffering" without vaccine or ivermectin when he had the virus.
"I think there has been an unfortunate emphasis on specific science or specific information that gets talked about, and that doesn't do the community a service, and it doesn't do public health a service," he said. "I think the city can do a much better job of educating people on health if we want to mitigate the effects of COVID." 
All candidates expressed their opposition to a mask mandate. Post Falls Mayor Ron Jacobson pointed out that he supported the idea of a mandate when the city previously discussed it last year. Since then, the incumbent has changed his tune. 
"The mandates have done nothing more, in my opinion, than create more divisiveness and anger among our people," Jacobson said. "I would encourage people to wear masks when appropriate. However, I would also not want to put our police department in a situation where they're going to have to try to enforce a law that, in my opinion, is not enforceable."
Touching on the recent Coeur d'Alene School Board meeting that trustees abruptly canceled due to community backlash, moderator Clint Schroeder asked how candidates would respond if a similar situation occurred at the city council level. 
To better gain resident input, Hammond would opt to reschedule the regular meeting for a town hall forum. But he didn't like what he saw at the school board meeting. 
"It was very disheartening for me to see that happening. I think we as a community need to pull together," he said. "The best decisions are always made when all the information comes to the table, and this is no exception." 
Following the school board meeting reports, Alfieri said he spoke to several eyewitnesses. He described the trustees' actions as "cowardly at best" and wondered aloud, "do our elected officials not want to hear from their constituents?" 
"As far as what would happen in the city council meeting, we would keep the meeting open," Alfieri said. "We need to hear that they're upset about what goes on because obviously, we're not serving their interests, and we're doing something wrong if we're not listening to them."
If elected Coeur d'Alene mayor, Lentz said it would be his prerogative to "give (residents) vehicles to say what they want" and "hear them" air their concerns. 
"There's no sense in really running for an elected position if you're not going to listen to the people that you're trying to represent," Lentz said. "If that happened at a city council meeting, I agree, you have to keep the city council meeting going, and you have to give people an opportunity to talk."
Jacobson said he spends a good portion of his time listening to constituent concerns. What strains the conversation, he said, is when individuals are disrespectful rather than collaborative.
"It is important that we do listen to the folks ... They can get emotional, but if they express themselves in an acceptable fashion, you're going to listen to them," Jacobson said. "If they come up and start calling you names, then it kind of changes the tone of things. I think that's one of the things that we're missing right now is civility."
Monday night's forum is posted on The Press website under the "Meet the Candidates" tab located at https://cda-meet-the-candidates-2021.webflow.io/. 
All five Coeur d'Alene school board candidates are scheduled to participate in the final forum Wednesday at 6:30 p.m. It will be livestreamed on The Press Facebook page, then posted on cdapress.com under Meet the Candidates first thing Thursday morning. 
The forums are produced in partnership with The Press and The Coeur d'Alene Regional Chamber.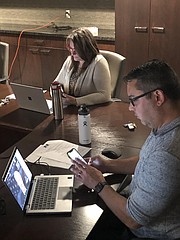 Recent Headlines
---