MacLennan sues NIC
COEUR d'ALENE — President Rick MacLennan was fired on a 3-2 vote Sept. 22, dismissed as president of North Idaho College without cause.
On Friday, MacLennan fired back.
The college leader since 2016 is suing his former employer and individual members of its board of trustees for violating NIC policies as well as state and federal laws that protect public employees, according to a press release from the Coeur d'Alene law firm Smith + Malek.
The trustees named as individuals but in their official capacities in the suit, which was filed Friday afternoon, include Board Chair Todd Banducci, Vice Chair Greg McKenzie and Trustee Michael Barnes. Those are the three who voted to terminate MacLennan's contract.
In the suit, MacLennan argues that his termination by the board was in retaliation for his good faith reporting of several suspected violations of the law by the trustees, including:
• Banducci verbally and physically assaulting a female college employee at a college-sponsored event in December 2019;
• Banducci's November 2020 statement that he would give MacLennan "marching orders" in violation of state law, which vests power in the board of trustees as a whole rather than as individual trustees;
• Banducci's disparaging comments in November 2020 regarding MacLennan's private political beliefs during which he threatened MacLennan's employment by implication; and
• Banducci's confrontation with another college employee in January 2021 for contributing financially to Banducci's political rival.
The Press contacted Banducci's office Friday afternoon and was told he was gone for the weekend. Banducci has not responded to multiple Press attempts for comment in recent weeks.
MacLennan's firing gave him one day to leave his campus office. Dozens of NIC employees gathered to applaud him and wish him well.
The firing does guarantee MacLennan will be paid his $222,000 salary over the next year, plus benefits.
According to a Smith + Malek press release, "The First Amendment of the U.S. Constitution protects public employees' rights to free speech."
Several Idaho laws are also cited in the complaint, including The Idaho Protection of Public Employees Act.
The release also notes that a complaint was previously filed by third parties with NIC's accrediting organization, the Northwest Commission on Colleges and Universities. Those complaints came from regional human rights organizations.
The Northwest Commission on Colleges and Universities is a nonprofit corporation recognized by the United States Department of Education and the Council on Higher Education to accredit postsecondary institutions in Alaska, Idaho, Montana, Nevada, Oregon, Utah, Washington and British Columbia.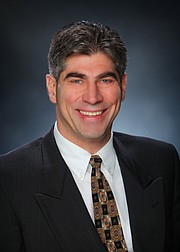 Recent Headlines
---