'Backwoods' gives East Sherman a shot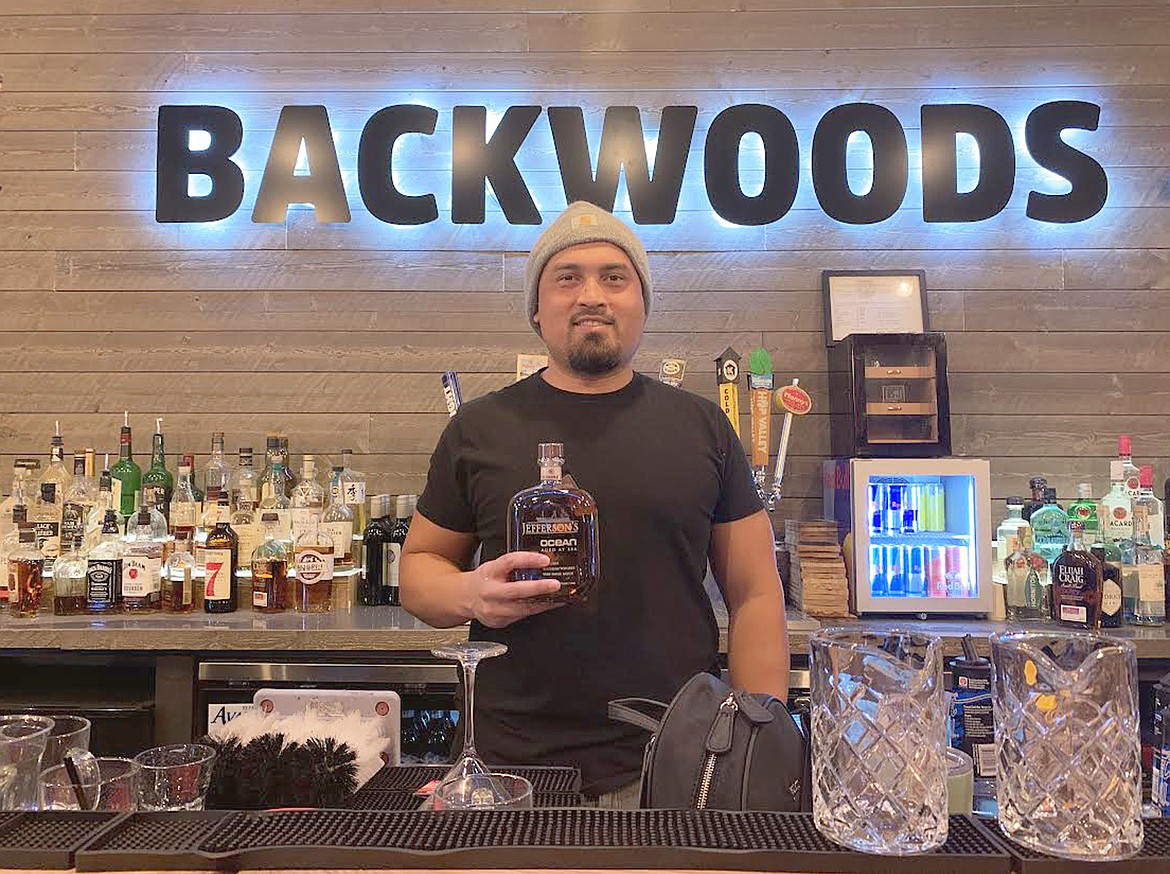 Jace Perry celebrated the grand opening of Backwoods Whiskey Bar at 1920 E. Sherman Ave., following extensive renovations.
BILL BULEY/Press
by
BILL BULEY
Staff Writer
|
November 29, 2021 1:08 AM
COEUR d'ALENE — Jace Perry saw an opportunity at 1920 E. Sherman Ave.
Eight months and some $100,000 in renovations later, the result is Backwoods Whiskey Bar, which recently celebrated with a grand opening.
"I care a lot about what I do," he said. "I kind of felt like it was an obligation to do something really special."
The Backwoods logo, which Perry designed himself, is a combination of antlers and mountains.
"I wanted to create something that would resonate with North Idaho," he said.
Perry seems to have succeeded.
Friday, it was packed with 20-somethings to 60-somethings gathered for the grand opening. They chatted, listened to music, sipped beers, mixed drinks, wines and of course, whiskey, of which Perry is a fan. They have more than 40 whiskies.
"We're a whiskey bar first because I love whiskey," he said, smiling.
The Coeur d'Alene man did away with the metallic marina theme of the former Hogfish Bar (Chillers before that) and replaced it with something open, relaxing and inviting. He believes the new iteration will connect generations.
It has a large wooden bar, pool tables, darts, games and large-screen TVs. There's a heated area outside, and even the restrooms were renovated, including antler chandeliers.
The exterior was given a cleaner, classier look.
Perry pointed to the tables made from a fallen pine tree, a victim of the January storm. The back wall is old timber from local land. The long bar is also from a pine tree.
"Little details," the self-described history nerd said. "It's all in my head. I just love being able to kind of create these visions of life."
The move falls in line with the city's efforts that began nearly a decade ago to encourage revitalization of East Sherman Avenue. Together with CDA 2030 and Community Builders, it set out to "Create a shared community vision for East Sherman Avenue to guide long-term decision making," and create "an action oriented plan for the physical and economic development of East Sherman Avenue."
It's happening.
The city put in a pocket park at 16th and Sherman. Across the street, next to thriving Jimmy's Down the Street, the Wine House opened last year, and the Blue Shell opened at 19th and Sherman next to the popular Relic restaurant and across from longtime favorite Fins and Feathers.
Schmidty's Burgers is expected to open soon at 1524 E. Sherman.
Michael D's Eatery at 203 E. Coeur d'Alene Lake Drive remains an area anchor, and Vertical Earth at 1323 E. Sherman is riding high.
A development is underway at 20th and Sherman.
But challenges remain.
Cool Cars and Trucks recently closed at 18th and Sherman, as did the 1210 Tavern earlier this year.
Perry is confident in the area's potential.
The investor with artistic talents attended Camas Wash. High School and graduated from Washington State University in 2008, where he played football, a running back.
He lived on Oahu for a time and San Diego before coming to North Idaho.
He and his wife have four children.
Perry has been in the software industry for 16 years and owns Diamond Investments, a real estate development company.
"When I moved here, I started buying real estate. And that's how I got started. And now the company has grown quite a bit," he said.
He said Panhandle Cone & Coffee in the Midtown area on Fourth Street was his first project. He bought the building and divided it into smaller units.
"It's done really well," Perry said. "I just love developing some of the older real estate in town and make it more palatable for the current generations."
At Backwoods, he has seven employees.
He considers it a high-energy place "you can take a friend or spouse any time of the day or night and have a great time."
Perry was especially proud that a downtown bar owner visited Backwoods, introduced himself and told him, "I just want to let you know what you've done here is amazing."
Perry was delighted at such praise.
"It's good to hear from an iconic figure in the bar industry," he said. "It's a good feeling."
He'll drink to that.
Whiskey, please.
Recent Headlines
---