Peter "Pete" Maurice Rose, 76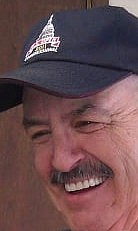 |
November 21, 2021 1:00 AM
Peter "Pete" Maurice Rose 76, passed away at his home in Post Falls, Idaho, on Nov. 6, 2021. He was born in San Diego, Calif., to Gaitano Modesto Asciutto and Wanda Lou Hill. Courtland Eugene Rose raised Pete.
Pete grew up on his family's farm in Ashland, Ore. He loved his childhood on the farm with his favorite memory being taking naps in the field with his favorite cow Tulip. He attended Ashland High School where he was the pitcher for his baseball team, which he played well into his adult life. He graduated in 1963. When Pete was 18 years old, he joined the U.S. Army National Guard. He used the name Rose.
A few years later in 1969 Pete and a friend started on a life changing adventure. They got into their car to see where they would end up. Cd'A is where they stopped, and it was the beginning of the rest of his life. Pete's life was full of adventure and accomplishments. Soon after arriving Pete got married and had two daughters — Stephanie and Amy. He worked hard to give his family everything they had and made sure his daughters were able to do what was important to them, their dance lessons and competitions. He was always so proud to watch them in their recitals and competitions.
During his younger years he joined the National Guard, was a volunteer firefighter, then became a logger then truck driver. He was excited to get a job at the mill. Unfortunately, he was in a horrible accident that burned most of his back. He had a long and painful recovery. That didn't stop him from moving forward and finding his career of sales that he loved until retirement. He worked for a lightning company then went into car sales and finance. He loved selling cars but loved doing the creative financing even more! Eventually he wanted to slow down a bit and go a different direction in his life.
He met and fell in love with Sunne Rounds, they got married, and he started the final leg of his career in RV sales and finance. Pete always said these were the happiest years of his life. He loved what retired life gave him; time to do all his favorite things. He was able to spend his days with his wife, take art classes, painting, his drives with Sunne and spending time with his friends and family and grandchildren. All who knew Pete will miss his smile and kind soul.
Pete is survived by his wife Sunne (Rounds), his daughter Stephanie (David) Kilpatrick and grandchildren Alexandra, Lance (Monica), Aiden and Gage. With great-grandchildren Kalista and Kayson. His daughter, Amy (David) Newbre and grandchildren Emma, Zac, Tucker, Reid and Rylie. His sisters Tharon (Clark) Jardine and Laura (Tom) Flynn. Pete is also survived by Sunne's two daughters, Vanessa (John) Hendry and Jennifer Dambrackas. Also, numerous nieces and nephews and many friends he cared about dearly. Pete will be greatly missed. He was a wonderful person. As his wife I loved him very much.
Recent Headlines
---