Back from the ashes
by
NILS ROSDAHL/Special To The Press
|
November 21, 2021 1:07 AM
The commercial spaces are leased on the main floor of the building being constructed (replacing the one that burned) at Fourth and Lakeside.
The occupants will be an engineering company, an organic, skincare, massage and med space and a fast-food casual restaurant with outside seating.
The second floor will have eight apartments with a mix of studio, one-bedroom and two-bedroom spaces. Anyone interested can connect with DLRproperties.net as they get closer to completion in early 2022.
Allergy Free Air opens downtown
A new office for Allergy Free Air is open in Suite 500 of the 500 N. Government Way complex near downtown.
Marketing the Hyla product, owner Jerrod Escritt and sales associate Kaden Beck help families with allergies, asthma and breathing issues by appointment 9 a.m. to 8 p.m.
"Our product takes all the allergens and pollution from the home and filters it through a gallon of water to provide a healthier lifestyle," Escritt said.
Phone 712-309-8837. Check www.hyla-usa.com.,
Roasted Coffee opens at Dalton-Government
With many beverage and fresh baked items, Roasted Coffee Co. has opened in a former cupcake location at 233c W. Dalton Ave. (at Government Way).
The mother-daughter team of Danielle Touchton and McKenna Murray and assistant manager Jordan Fonville offer hot, iced or blended espresso drinks, ice cream blends, kid-friendly drinks, pup cups, fresh baked goods from Rustic CDA and daily and weekly specials with military, first-responder and student discounts with deliveries planned.
Hours are 5:30 a.m. to 6 p.m. weekdays and 7 a.m. to 5 p.m. Saturdays and Sundays. They also have a place at Pleasant View and Riverbend in Post Falls. Phone 208-518-1555. Check www.roasted-coffee-co-cda.business.site.
Four businesses in new Lucille building
With one 800-square-foot space remaining, four businesses are planned for the Lucille building under construction at 2605 N. Fourth St., just north of Verizon.
Opening in early 2022, places planned include Heirloom (custom wedding dresses), Refined Salon (hair), Stylus Wine & Vinyl Bar and Northwest Construction Management.
Owners are Chad Oakland and Dan Stubbs. For information phone Oakland at 208-7040-2000 or Josh Beebe at 208-699-7980.
Now the Tidbits
HeatPraxia saunas is opening off the southeast corner of Fourth Street and Sherman Avenue.
Valley Roots is new at 1001 Spokane St., in Post Falls.
A building permit for the former Shopko building says "Sportsman & Ski."
HDR Engineering has leased space in Riverstone.
Prairie Xpress gas station and convenience store will be in the northwest corner of Prairie Avenue and Government Way.
A sign on the south Fifth Avenue side at the Sherman intersection says "Best Life CdA Coming Soon." Any help with that one?
A sign on Wayne Drive in Hayden says "Future home of Blue Chip Chiropractic."
Northwest Specialty Hospital is expanding at 1551 E. Mullan Ave., in Post Falls.
Open Arms Real Choice Clinic will move from 1800 Lincoln Way to 8056 N. Wayne Drive in Hayden.
Metro Express Car Wash is building a large new place in the northwest corner of Highway 41 and I-90.
Lone Mountain Farms & Brewery will have a new place in the Lancaster Market development at U.S. 95 and Lancaster Road.
Consign Furniture has a "coming soon" sign southwest of the U.S. 95-Lancaster Road intersection.
Renew Aesthetics & IV Hydration Bar will move from 515 Fourth St. to 1101 W. Ironwood Drive in January.
An Express Exterior Carwash is being built in the 3400 block of Seltice Way in Post Falls.
Black Lodge Brewing will open soon on Third Street downtown.
The Rebel Junk Shoppe at 2424 N. Fourth St., will expand to a street-side location.
Bruchi's quick service restaurant is planned for a new building north of the corner of Highway 41 and Mullan Avenue.
The new Dairy Queen at 513 W. Hayden Ave., just west of U.S. 95, will open in late November.
The former Ugly Fish restaurant building will be a Berkshire Hathaway Realty in Riverstone.
Watch for construction of Vantage Point Brewery across from Michael D's Eatery off Coeur d'Alene Lake Drive.
Pedego Electric Bikes is coming into Riverstone.
Kaffee Meister will be at 9212 Government Way.
A Sweet Lou's restaurant and a Grease Monkey auto place will be at the Crossings in Athol.
Gathered Restaurant is new on Spokane Street in Post Falls.
The Lucille building under construction at 2605 N. Fourth St. will have five commercial suites.
TownPlace Suites by Marriott Hotel will be built where the Outback Steakhouse was in the southeast corner of I-90 and Northwest Boulevard.
Several steel storage buildings will be built at 3758 W. Hanley Ave. (off Atlas Road) for Hern Ironworks.
New places coming to Silver Lake Mall include Nailed It, Customs Laser Engraving, All Fired Up, Crime Scene Entertainment and American Heritage. Black Sheep will open soon in the former Penney's location.
A Sarah Hamilton Face place will be at 2120 Northwest Blvd.
A new commercial and residential building will be built at Government Way and Davidson Ave.
Watch for major changes with the Burger Bunker and Bunker Bar off Spokane Street in Post Falls.
A new building for Linden Coffee Co. is under construction at 1502 N. Third St.
A new gas station-convenience store will be in the northeast corner of Atlas at Seltice.
We have rumors of new Costcos in Hayden and State Line and a Trader Joe's in Coeur d'Alene. We'll see.
A large storage complex and new corporate office for Steel Structures of America is being built off Highway 41.
The Den will be a new tavern at 761 N. Idaho St., in Post Falls.
My Nails & Spa will be off Canfield Ave.
The CD'A Corner Store is adding a kitchen and tables downtown.
Takara restaurant will be downtown.
Schmidty's Burgers will be at 1524 E. Sherman Ave.
Napa Auto & Truck is building a new location in Rathdrum.
Coeur d'Alene Nissan will have a major addition to its building off U.S. 95.
Watch for a new apartment building at 128 W. Neider Ave., across from Safeway.
Mountain Goat Lounge is under construction connected to the Moose Lounge downtown.
The Lake Coeur d'Alene Inn is under construction on Coeur d'Alene Lake Drive between Mullan Avenue and Michael D's Eatery.
It's interesting that we say "Oh, boy!," "Oh, man!" and "Hey, you guys!" What about the females?
Contact Nils Rosdahl at nrosdahl@cdapress.com.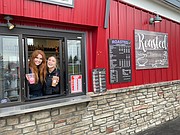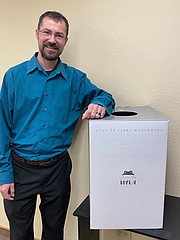 Recent Headlines
---