ZAGS TRACKER: Zags' kids to get an early challenge from transfer-laden Texas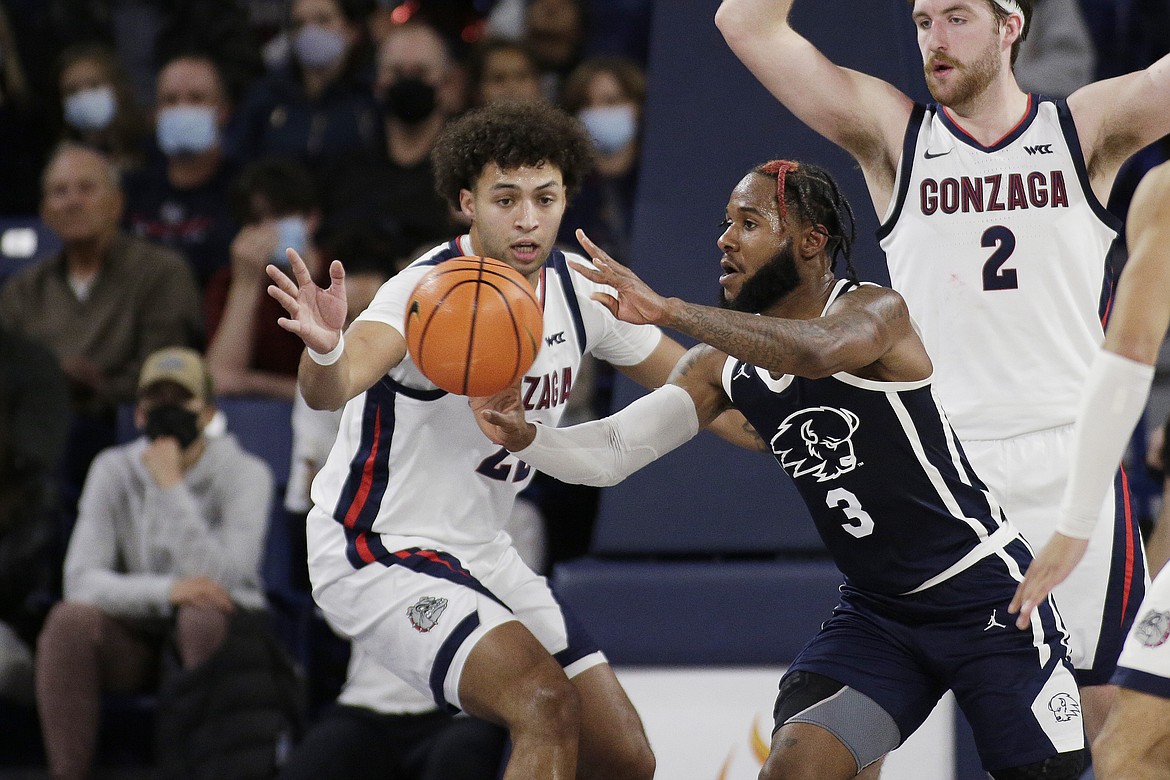 YOUNG KWAK/Associated Press Gonzaga forward Anton Watson, left, who grew up in Coeur d'Alene, and Dixie State guard Cameron Gooden go after the ball during the second half of Tuesday's game in Spokane.
|
November 12, 2021 1:30 AM
By STEVE CAMERON
Zag Tracker
So, how good are the Zags?
Almost every poll and ranking has pegged them as the No. 1 team in the country — the gang that finally can deliver a national championship for Mark Few.
Before we get too deep into this analysis, though, it might be important to make a distinction between this year's Gonzaga team and the group that won 31 straight last season, before running into that Baylor buzzsaw in the title game.
Here's the thing …
A year ago, the Zags were terrific right out of the gate, beating Kansas 102-90 and simply rolling along from there.
It was a veteran team, led by Corey Kispert and Joel Ayayi, with big man Drew Timme developing into a star and freshman Jalen Suggs running the show at point guard.
That blend of experience and young talent gave the Zags a running start, and they carried it all the way to the last game of the season.
They were a generational team, only prevented from the ultimate glory because they collided with another generational team.
THIS TIME around, Few must find several new pieces to replace Suggs, Kispert and Ayayi, who are all in the NBA.
The Zags have Timme back (the preseason favorite for national player of the year), along with solid guard Andrew Nembhard and a finally healthy Anton Watson.
But the other starters and regular rotation players are all new to the task.
No one is exactly crying for the Zags, you understand.
Few welcomes five freshmen — the headliner being 7-footer Chet Holmgren, the top recruit in the nation — and Resir Bolton, a transfer from Iowa State who knows the ropes of big-time hoops and averaged 16 points a year ago.
There are also two exciting sophomores who were blooded in the program last season, although guard Dominick Harris — counted on for some much-needed long-range shooting — is out indefinitely with a foot injury.
The other soph, 6-7 wing Julian Strawther, inherits Kispert's role, which won't be easy despite Strawther's obvious talent.
Going off the Zags' two exhibition games and a romp over Dixie State, it appears Strawther will start — along with Timme, Nembhard, Holmgren and Bolton.
THE OTHER kids figure to fit in when and where it becomes necessary.
Guards Nolan Hickman and Hunter Sallis are both 5-star recruits, and each is blessed with otherworldly speed getting up and down the court.
Hickman is a natural point guard, and will play a lot at that position, while Sallis is more like Ayayi — if Joel had played with his hair on fire.
Big man Kaden Perry will see action as he develops, and so will Ben Gregg, the 6-9 kid who graduated early from high school to spend an entire semester on last year's Gonzaga roster.
The wild card in the entire cast could be Watson, who missed almost his entire freshman season after having shoulder surgery, and then never really found his explosiveness as a sophomore.
However …
Watson now looks like the 5-star who came into the program from Gonzaga Prep, and — not counting the gigantic Holmgren — might be the Zags' best defender at 6-foot-8.
When Gonzaga presses to change the rhythm of games, it's Watson who plays the point and sets chaos in motion.
THERE IS no doubt these Zags will be national challengers, but how will all the new parts fit together?
Few has lined up a brutal non-conference schedule to create something of a trial by fire — Gonzaga faces UCLA, Duke, Alabama and Texas Tech, among others.
Perhaps the toughest test could come immediately, when an absolutely loaded Texas mob (led by new coach Chris Beard) visits The Kennel on Saturday night.
The No. 5-ranked Longhorns would have been very good with just their returning talent (guards Andrew Jones and Courtney Ramey leading the way), but Beard absolutely killed it in the transfer portal, landing Marcus Carr from Minnesota, Christian Bishop from Creighton, Timmy Allen from Utah and Tre Mitchell from UMass.
Every one of those transfers averaged in double figures last season, as did holdovers Jones and Ramey.
If Beard has an issue to address (besides doling out playing time), it might be the lack of a powerhouse post presence.
Except for the 6-9 Mitchell, everyone else is a mid-size guard or wing player.
WE SHOULD see right off the bat how Gonzaga handles an entire platoon of super athletes.
Likewise, it will be interesting to watch how Few tries to batter the Longhorns with Timme and Holmgren around the basket.
It's safe to say none of the Texas players have seen a shot-blocker like Holmgren, who set the school single-game record with seven rejections in the opener against Dixie State.
Texas, on the other hand, appears to have one huge advantage — its 3-point shooting. The Horns hit 13 of 22 from deep while blowing out Houston Baptist 92-48 in their opener.
Gonzaga was hoping to get some of that from Harris, but it won't be soon.
Bolton connected on three of four 3-pointers against Dixie, but the rest of the Zags made just three of 17 tries behind the arc.
Hickman (1-for-4) has a nice stroke and might help once he settles into the flow of games, but …
The Zags surely must find a few key 3-pointers from somewhere.
At the moment, that would appear to be this team's only serious weakness, and perhaps it can be cured, because …
You have to wonder if Gonzaga can beat really good teams without the threat of 3-balls.
We might find out on Saturday night.
Email: scameron@cdapress.com
Steve Cameron's "Cheap Seats" columns appear in The Press on Mondays, Wednesdays and Fridays.
He also writes Zags Tracker, a commentary on Gonzaga basketball which is published weekly during the season.
Recent Headlines
---