'This is our superpower'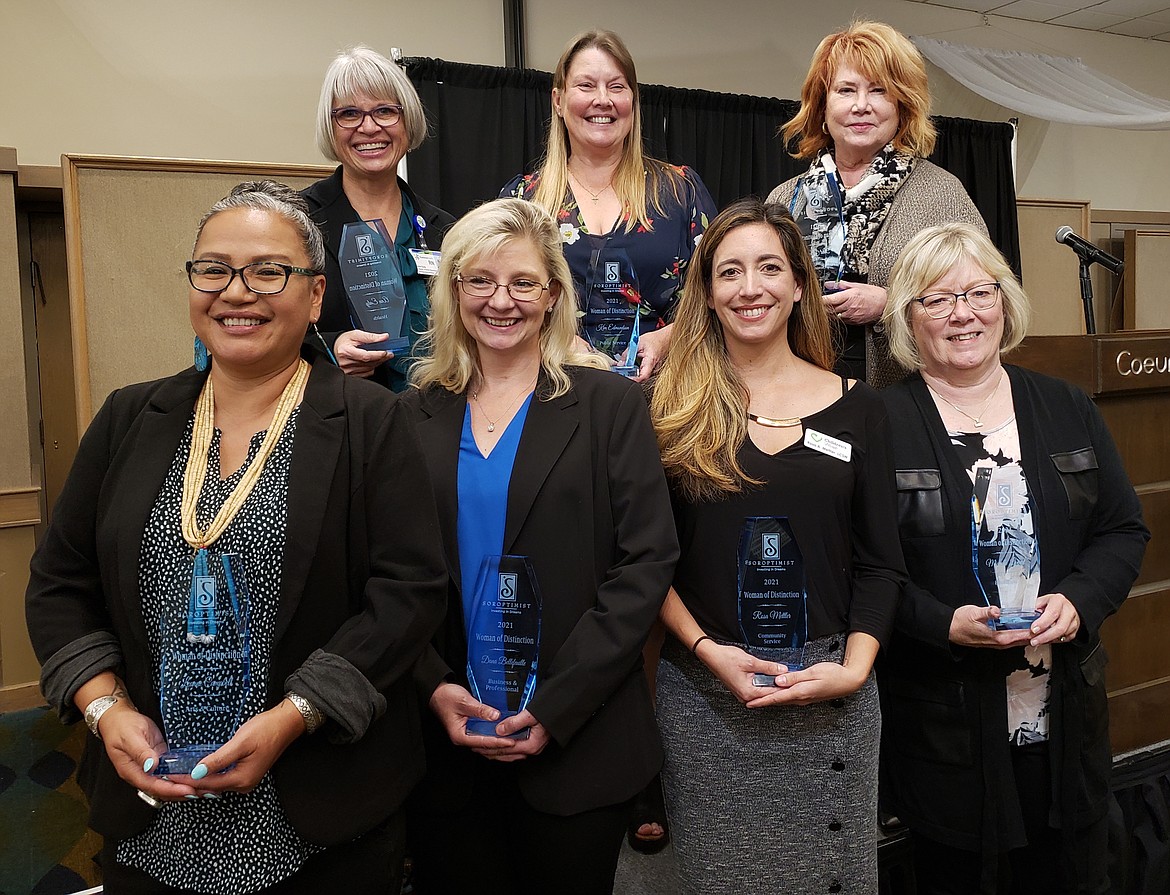 2021 Women of Distinction award winners, bottom row from left, Leanne Campbell, Arts and Culture; Dana Bellefeuille, Business and Professional; Rosa Mettler, Community Service and Michelle Lippert, Education. Top row from left, Ann Ealy, Health; Kim Edmondson, Public Service and Pat Krug, Senior.
Photo courtesy of Kerri Thoreson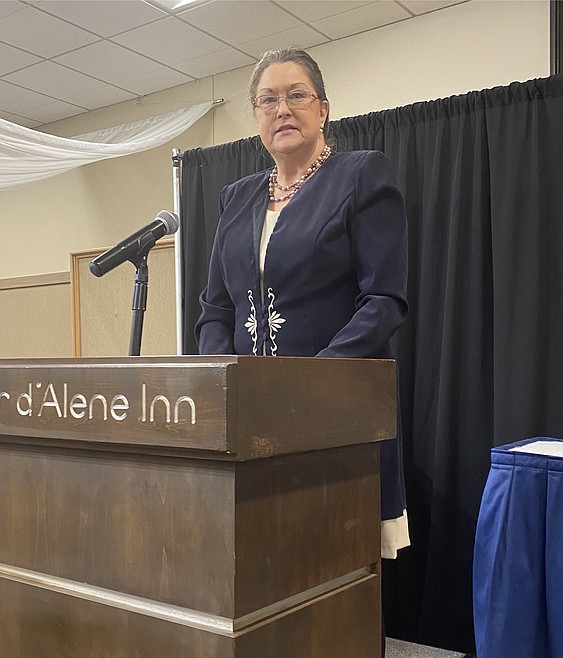 Peggy Gunther, the Women of Distinction keynote speaker and 2019 Live Your Dream scholarship award winner. Gunther shared the story of her experience as a non-traditional college student.
Previous
Next
by
ELLI GOLDMAN HILBERT
Staff Writer
|
November 8, 2021 1:09 AM
COEUR d'ALENE — For the Soroptimist Women of Distinction winners, success is all about having the support of the community.
In the program's 39th year, seven women were recognized Friday for their outstanding work in Kootenai County.
Tables were filled not only with Soroptimists, but with family, friends and co-workers of those being honored.
"Community is a verb," said Kim Edmondson, a retired Kootenai County Sheriff's Office captain. Edmondson was honored with the award for public service.
Edmondson recounted many times she received support from other women in the room.
"Laura (Umthun) believed in me back in the late '80s and '90s when I was a student at North Idaho College," Edmondson said. "Kerri (Thoreson) was always my cheerleader in the background through things that I've done throughout my career."
It is these "threads of our community" that make us so strong, Edmondson said. "We are intertwined one way or another with each other."
During her 29-year career in law enforcement, Edmondson was secretary, treasurer and president of the Montana-Idaho FBI National Academy Association, president of the Idaho Jail Administrators, secretary of the North Idaho Fair & Rodeo Foundation and on the ICARE board.
Though retired, Edmondson continues in her dedication to those around her, volunteering for Hospice of North Idaho, Bright and Beautiful Pet Therapy and the Office of Emergency Management. Edmondson is also a member of Rotary International.
Dana Bellefeuille, pastry chef and owner of The Village Bakery, was honored with the Business and Professional award. Bellefeuille was nominated by three individuals for her extraordinary work — a record number of nominations, said mistress of ceremonies Angela Comstock.
As the mother of two special needs children, Bellefeuille educates others on what it means to hire the community's special needs individuals, giving them valuable experience and a sense of purpose.
A tireless volunteer and fundraiser, her delicious baked goods raised over $10,000 for the Autism Society. Bellefeuille assisted on an event for Children's Village that raised over $250,000. She's also raised money for the Coeur d'Alene and Silver Valley Special Olympics.
With a hint of tears in her eyes, Bellefeuille said she wouldn't be able to do what she does without the support of those around her.
"Every single person in our community has been behind us helping us every step of the way," she said. "I'm so grateful and so thankful for the Soroptimists and what they do for the women in our community. I look around this room and I am surrounded by angels. Your stories continue to inspire me."
Keynote speaker Peggy Gunther, the 2019 Live Your Dream scholarship award winner, spoke about attending college in her 40s.
Gunther's parents hadn't studied beyond elementary school. Raised in a low-income household, attending college was a foreign concept, Gunther said. But that didn't stop her.
Gunther worked full-time while in school, had two daughters at home and suffered the passing of her husband while attending college.
"I did not even understand the lack of education that I had," Gunther said.
Starting with courses at North Idaho College, Gunther credits professors like English instructor Molly Michaud for helping her through it.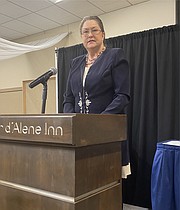 Attempting to complete school without the accumulation of student loan debt, Gunther began to search for scholarships and came across the Soroptimist Live Your Dream opportunity.
"When I received the award, it was like winning the lottery," she said.
Graduating from Lewis-Clark State College with a degree in business with an accounting emphasis, Gunther now works for the Area Agency on Aging of North Idaho.
Thoreson, a past Soroptimist Legacy Award winner and columnist with The Press, took a few minutes to address the crowd.
Recognizing that none of the honorees do what they do to receive accolades, she lauded the inspiration they bring to others.
"To inspire others, don't show them your superpowers," Thoreson said. "Show them theirs. That is what the Soroptimists have been doing for many, many years."
"This is community. This is our superpower," Thoreson said.
Other 2021 honorees are Leanne Campbell, Arts and Culture award; Rosa Mettler, Community Service award; Michelle Lippert, Education award; Ann Ealy, Health award; and Pat Krug, Senior award.
Recent Headlines
---