ENT Gathering of bands on Thursday
|
November 5, 2021 1:00 AM
North Idaho College is hosting its annual "Gathering of the Bands" concert at 7 p.m., Wednesday, Nov. 10, in the Boswell Hall Schuler Performing Arts Center on NIC's main campus.
"It will be an amazing musical experience for our audience of young musicians and people of all ages and musical levels," NIC band director Bryan Hannaford said. "Make sure to mark your calendar for Nov. 10."
Student musicians from Coeur d'Alene Charter Academy, Kellogg Middle School, Lakes Middle School and Sandpoint Middle School will comprise this year's concert band. In previous years, a guest conductor has rehearsed the middle school band, but this year the group will be conducted by Hannaford.
"During our event we will showcase over 100 students coming from four different middle schools that will form the Gathering Band," Hannaford said.
Students will perform music by Matt Conaway, Robert Buckley and Tom Tucker. There will also be a Taiko Drum inspired Percussion Ensemble performance led by Keith Nielsen, percussion instructor at NIC, and a performance by the NIC Wind Symphony led by Hannaford.
The Wind Symphony will perform works by Alfred Reed, Paul Murtha, Gary Kuo, Gustav Holst, Samuel Hazo and John Philip Sousa.
"This concert is the same week as Veterans Day so this year's concert has a patriotic theme, with an ensemble that has members aged 16 to 86 honoring our current and past members who served in the Armed Forces," Hannaford said.
The Wind Symphony's performance will feature classics of the repertoire like "Jubilant Overture" by Alfred Reed and Gustav Holst's "Second Suite in E-flat for Military Band," but it will also feature a much newer composition performed by NIC horn instructor MariAnn Flynn. Flynn will be featured on the Gary Kuo composition, "Wingspan."
The NIC Wind Symphony is a multi-generational community group that blends high school students, college students and community members into one ensemble to create music.
The concert is free and open to the public.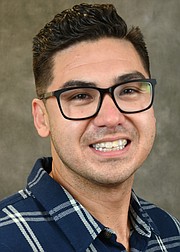 Recent Headlines
---