Flags & Faith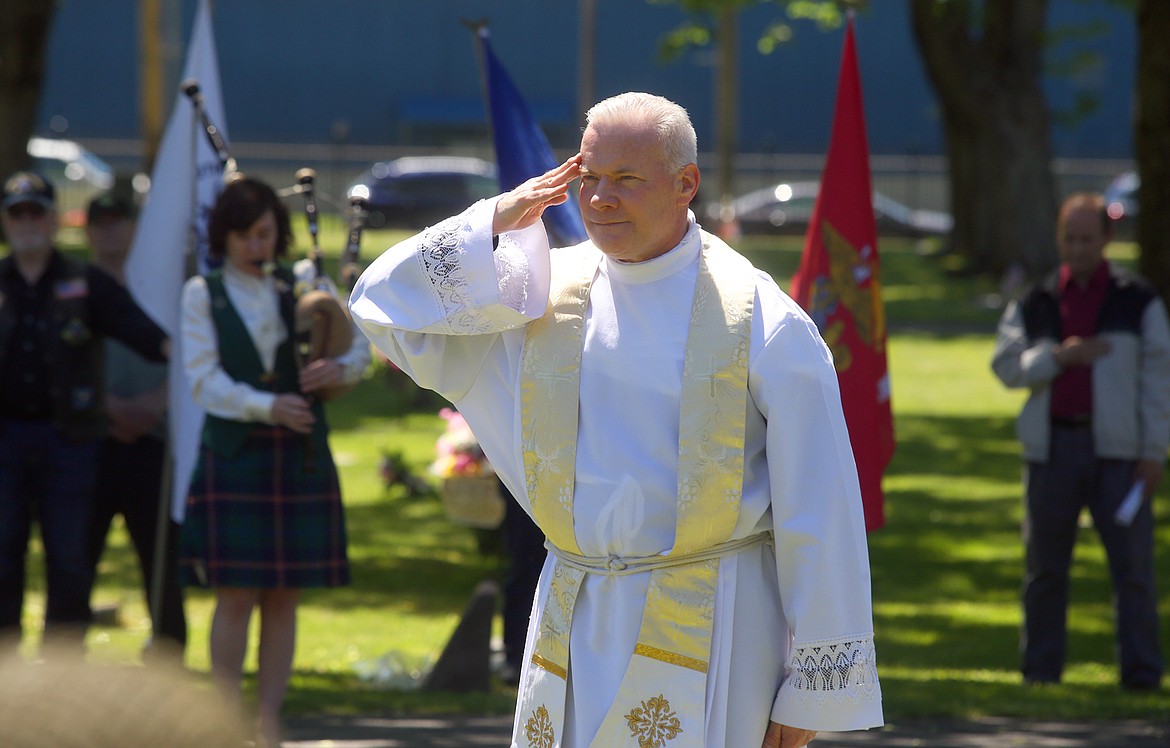 Father John Mosier of St. Thomas Catholic Church, also a veteran, salutes during the playing of Taps on Sunday at St. Thomas Cemetery.
BILL BULEY/Press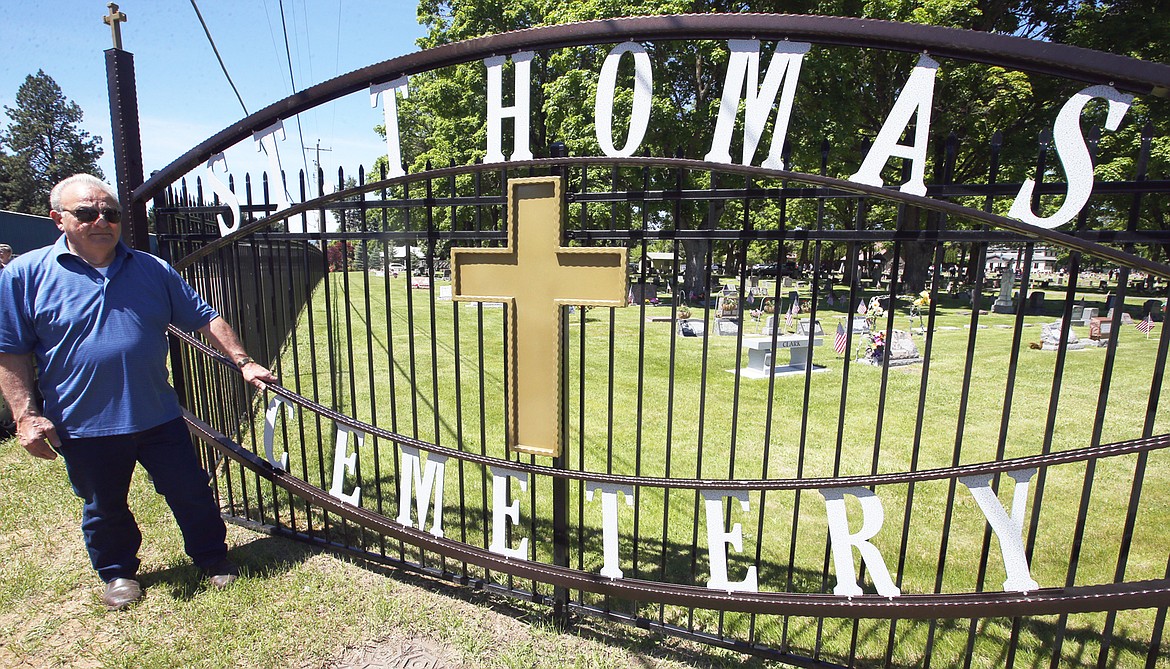 Ray Stongle of Hayden stands by the sign he designed and made at the southeast corner of St. Thomas Cemetery on Sunday.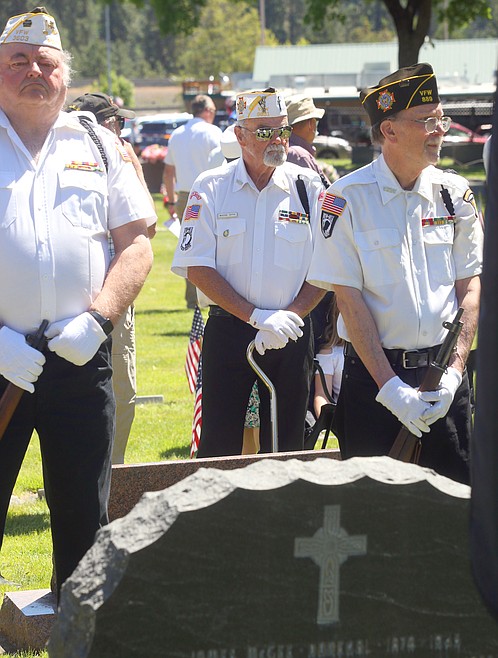 Veterans, from left, Emmett Sullivan, Wayne Syth and Mike Mihelich participate in Sunday's memorial ceremonies at St. Thomas Cemetery.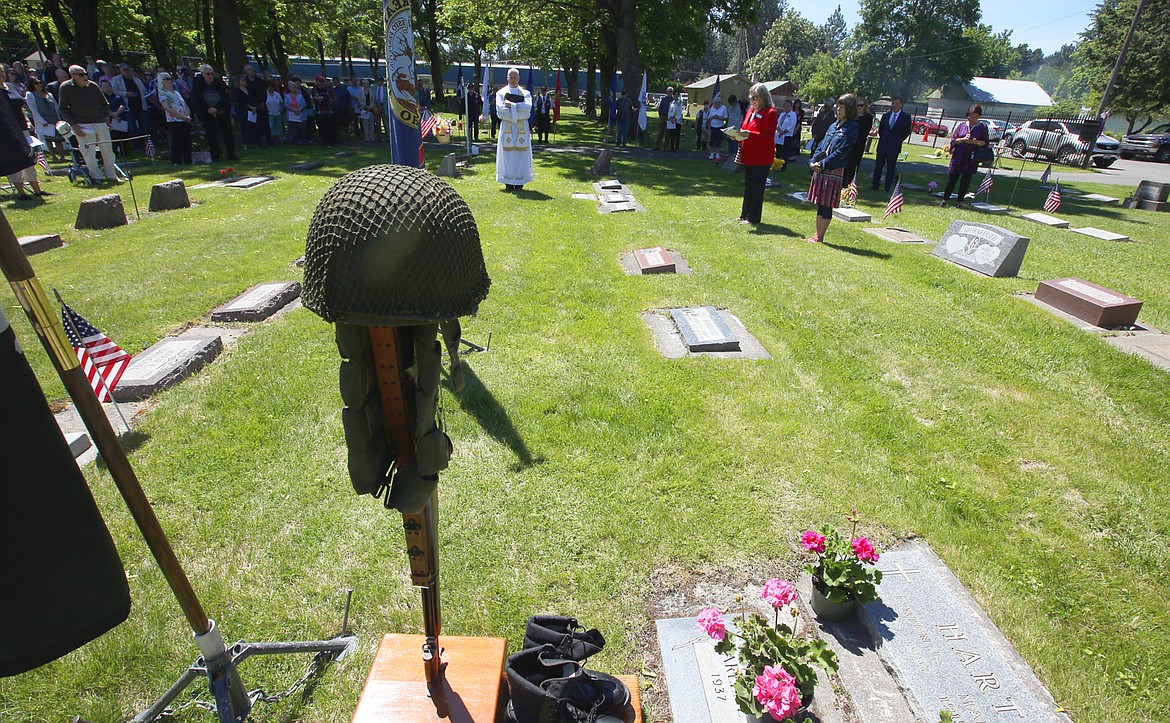 A crowd watches the ceremonies at St. Thomas Cemetery on Sunday.
Previous
Next
by
BILL BULEY
Staff Writer
|
May 31, 2021 1:09 AM
COEUR d'ALENE — With about 150 people at St. Thomas Cemetery for the fourth annual memorial ceremony dedicated to veterans, Anne Wilson was pleased.
"I just want to thank everyone for being here today," she said Sunday. "Every year we get a little bigger and every year it is more meaningful than ever. God bless you and God bless our veterans."
Wilson is chair of the St. Thomas Catholic Church Stars and Stripes Ministry that led the military tribute on a sunny morning at the small cemetery on the east end of Sherman Avenue.
The ceremony to honor veterans who lost their lives serving their country included a Color Guard, a bagpiper playing taps, Boy Scouts and the Patriot Riders standing silently while holding flags.
A rededication of the cemetery, which has undergone extensive improvements in the past year, also took place, led by Father John Mosier, Marine veteran.
Men, women and children stood together, some in the shade of tall trees, for prayer, songs and praise, as flags and flowers fluttered with the wind.
"Many parishioners and people in the community have come forward and helped us refresh this beautiful place," Mosier said.
New fencing, signage, statues, benches and a QR coded-system to make it easier to find gravesites are some of the changes funded by donations and sponsorships. The shrine is also being updated.
A plan to raise funds for a veterans monument at St. Thomas Cemetery was announced Sunday. It will be in the center of the cemetery and include a 20- to 25-foot flagpole.
About 20 percent of the graves at the cemetery, which dates back to 1890, belong to veterans.
"We rightly so owe that to our veterans and those interred here," Mosier said.
Ray Stongle of Hayden designed and welded the new 14-foot, 3-inch wide, 6-foot, 3-inch tall sign at the southeast corner of St. Thomas Cemetery, and made the gold crosses that adorn it.
A member of the church and of the Knights of Columbus, Stongle donated his time and talents to the project.
As he spoke of what it took to create the metal sign he installed Saturday, it was easy to tell he was proud.
"Yes, I am," he said
Tina Johnson, who formed a committee at St. Thomas Catholic Church with the goal to bring new life to the 3-acre cemetery, was glad to see a good turnout for Sunday's event.
"I'm hoping we'll get more interest in the cemetery now that more people have seen it," she said.
Veterans Wayne Syth, Emmett Sullivan and Mike Mihelich were part of the Color Guard.
Syth enjoyed the morning and liked what he saw.
"It looks like everybody is getting patriotic," he said. "Hopefully it continues."
"It's sad, but it's good," Sullivan said of the memorial ceremony. "People are coming out."
The Stars and Stripes has two other main events each year: a Blue Mass on Sept. 11, when they show appreciation to first responders, and a veterans Mass, Nov. 7, which is followed by a luncheon with tributes to military.
"Our goal is to let our veterans, their families and first responders know how much they are valued," Wilson wrote.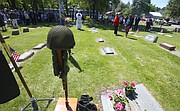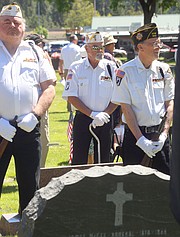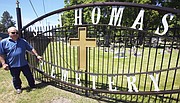 Recent Headlines
---