'A story that has to be told'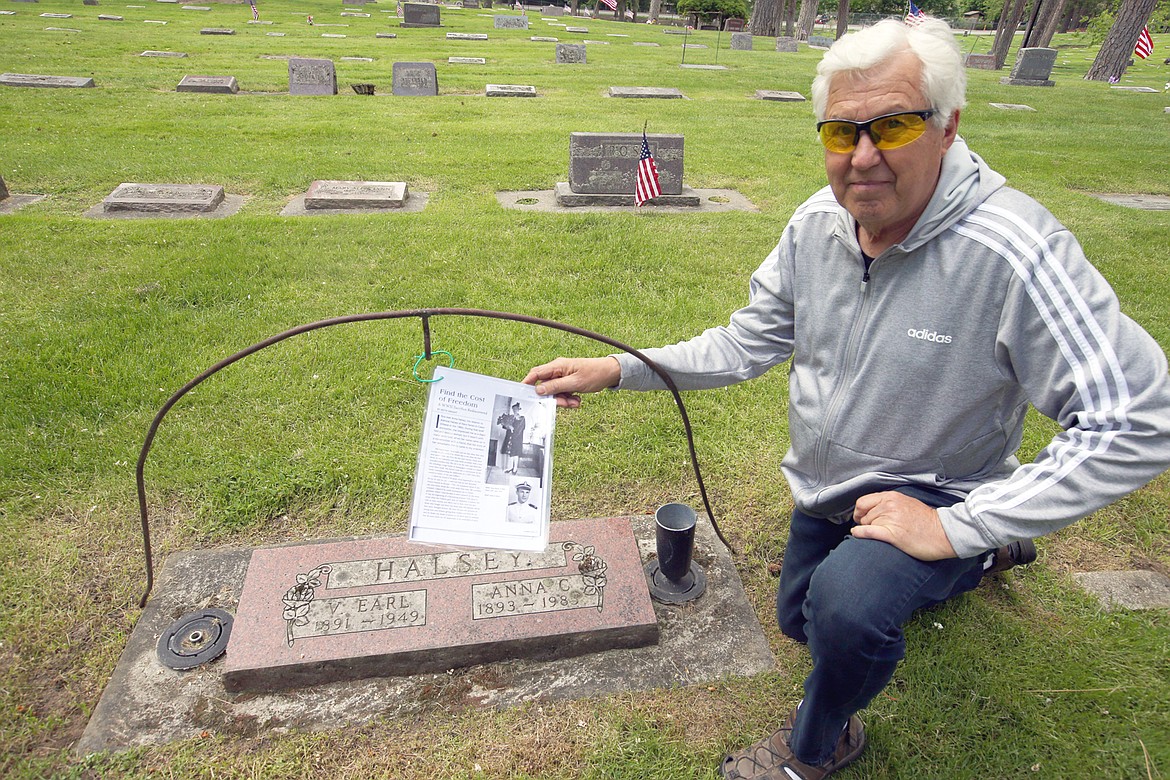 Keith Knight of Hayden holds a copy of the story he wrote about the Halsey family as he visits the gravesite of Vern and Anna Halsey at Forest Cemetery on Friday.
BILL BULEY/Press
COEUR d'ALENE — Keith Knight didn't know Anna Halsey well.
In fact, their early 1980s encounter in Coeur d'Alene was brief. He was subbing for a van driver and picking up senior citizens and driving them to church.
Anna Halsey was among them. They chatted, and even then, she made an impression as "a dignified and devout woman."
Knight delivered her safely to church. It was years later in speaking with a friend that her name came up. She had died.
But there was more Knight needed to know.
"There's a story about her," the friend told Knight.
Vern and Anna Halsey, who lived in a small home at the corner of Fifth Street and Coeur d'Alene, had lost two sons in World War II.
Delbert Halsey was a pilot and a member of a squadron of torpedo bombers that attacked the Japanese fleet in the Battle of Midway. His squadron was destroyed before it could drop its torpedoes, but Halsey "made it through the onslaught and released his ordnance."
His plane was shot up and didn't make it back to the carrier Enterprise, lost in the Pacific Ocean.
Donald Halsey, Vern and Anna's eldest son, was killed in action in Belgium in February 1945, a few months before the war ended.
Knight, a retired Kellogg school teacher, researched the family's history, interviewed relatives, and wrote a story, "Find the Cost of Freedom: A WWII Sacrifice Rediscovered," that was published in Idaho Magazine in March 2013.
When he visited Vern and Anna's gravesite at Forest Cemetery in Coeur d'Alene, he looked around at so many fluttering flags and noticed there wasn't one for the Halseys.
"It just struck me that first time I came out here on Memorial Day," he said.
That, he decided, had to change.
"If anybody deserves a flag, it's this family," Knight said.
Since, Knight has usually planted a flag at the Halseys' gravesite on Memorial Day or around that date. He also leaves a copy of the detailed story he wrote about them. It's a story he believes people need to know. It's a story of love, sacrifice, death and broken hearts.
"After knowing all this, she never had a flag," he said as he visited the gravesite Friday. "Somebody really needs to know this story."
He said so many resting at cemeteries sacrificed much for their country, and few know of those sacrifices.
"How many other families here are just not recognized?" Knight continued. "They really sacrificed so much."
He wants others to remember, especially on Memorial Day.
"These were people with feelings and hearts and tears," he said.
Vern Halsey died in 1949, "some say of a broken heart," wrote Knight.
Anna died in 1985.

Another part of the story Knight unveiled is that the Navy later wanted to name a vessel the USS Delbert W. Halsey. The family was invited to the naval shipyard at Mare Island, Calif., for the tradition of breaking a champagne bottle on the ship's bow. The Halseys said they would be there, but because Anna was a Baptist, she wouldn't have anything to do with booze.
So, the Navy sent a sailor to Lake Coeur d'Alene to fill a bottle with water.
"The bottle broken over the hull of the new ship and the presentation bottle Anna and her family received did not contain champagne, but water from Lake Coeur d'Alene," Knight wrote.
The Halseys kept the bottle for years. Later, relatives donated it to the National Naval Aviation Museum in Pensacola, Fla., where it sits today.
Knight emphasizes that his goal is to tell their story. It's why he leaves a copy at their gravesite. He hopes people listen. He hopes they read it.
"That is a story that has to be told," he said.
So he told it.
Recent Headlines
---