THE CHEAP SEATS with STEVE CAMERON: A salute to women, including one who left us far too soon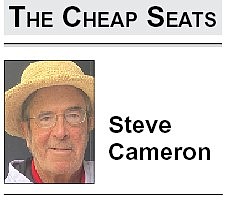 We're doing an XX version of the column today.
That's the combination of sex chromosomes that almost always produces a female.
What, you flunked biology?
Anyhow, I decided to do a Cheap Seats based exclusively on female athletes — and the timing is not a coincidence.
It was 10 years ago this week (May 27, 2011) that sports lost one of the most lovely and amazing people I've ever had the privilege to know.
Malgorzata (Margo) Dydek died of a heart attack at her home in Brisbane, Australia.
Margo was just 37, just beginning a coaching career, and expecting her third child.
To back up …
 She was a rookie with the now-defunct WNBA Utah Starzz when I met her in 1998.
You would think the young Polish center would be self-conscious, or at least a little nervous entering American basketball — especially since she was 7-foot-2.
Yes, 7-foot-2.
Instead of lugging around any worries, Margo was fun, full of humor, gracious, incredibly popular with everyone in the league — plus, all those she'd met while playing in Europe.
She thought it was hilarious that WNBA players took to calling her "Large Marge."
She spoke seven languages, and her international friends claimed she could make you laugh in any of them.
During her 10 years in the WNBA, Margo set a career record for blocked shots (877) that may stand for a long, long time.
TO GIVE that number of rejections some context, women's hoop icon Lisa Leslie (6-foot-5) is second on the blocks list — but she had 55 less blocks despite playing 40 more games.
Margo wasn't exactly a ballerina at her height, but she was no plow horse, either.
She was a terrific athlete who won awards on multiple continents, and was inducted into the FIBA Hall of Fame in 2019.
Beyond her size and contributions to some women's basketball teams, though, Margo was simply a wonderful person.
One tiny example: She never dunked in a game because she felt it would be too embarrassing for the defender to have it shown on TV.
Imagine that line of thinking.
And by the way, Margo DID have a good time dunking at will — mostly to entertain fans — during pregame warm-ups.
Margo Dydek died far too young, without any warning at all, and with so much more to give.
I remember feeling almost physically sick when I heard the news.
In the cruelest possible irony, Margo's life was far, far too short.
ITEM: Simone Biles is upset, and I don't blame her.
Biles is the best gymnast who has ever competed in that sport — several moves are named for her, and she hasn't lost in any sort of competition since 2013.
Now, however, she seems to be facing defeat at the hands of the International Gymnastics Federation.
Here's what's happening…
Biles has attempted and completed many maneuvers that no other gymnast has even tried.
Her latest (Yurchenko double pike) is on the vault, and recently she took this jaw-dropping skill into an actual competition.
Seriously, do yourself a favor and go check this vault on YouTube.
Let me quote Yahoo's Jay Busbee on what Biles actually did…
"Biles is launching herself from a handstand backwards onto the vaulting table, then vaulting high enough to flip two complete times in the pike position — legs straight out — and finally landing on her feet."
Here's the kicker, however…
Under the guidelines of the international federation, judges set the provisional scoring value of the Yurchenko double pike at 6.6 — a number roughly equivalent to many other common, safer, and far, far less difficult vaults.
The federation admits it has undercut the scoring value, but says it's done so to discourage other gymnasts from trying it — for their own safety.
Far more likely in the world of gymnastics, however, is that the Yurchenko double pike is being underscored simply to keep Biles in check.
To put it simply, she's gotten so good that she's taken the sport to a different universe, and the federation doesn't like the idea of one lone American out there, all by herself.
For her part, Biles says she plans to let the world enjoy the thrill of the Yurchenko (and some other maneuvers that are hers all alone) at the Olympics in Tokyo this summer.
But why, since they won't give her an appropriate score?
"Because I can," Biles said.
ITEM: We've gotten used to the idea of Gonzaga recruiting at the top, competing for the very best players available to college basketball.
The Zags men, that is.
However, the Gonzaga women are now climbing up toward that same heady level.
Coach Lisa Fortier's team finished 14th in the final AP rankings — and fourth in the powerhouse western U.S. behind only No. 2 Stanford, No. 9 UCLA and No. 11 Arizona.
Now, just as it happened with the men, the strength of the Zags women's program is showing up on the recruiting trail.
For instance, Gonzaga ranged far to the east and landed a true star — the top-ranked recruit in program history.
The Zags signed Bree Salenbein, the Gatorade state player of the year from Lenawee Christian School in Adrian, Mich.
Salenbein is a 6-foot-3 guard who averaged 26.9 points and 12.4 rebounds per game this past season. She also chipped in 4.6 assists, 3.4 blocks and 3.4 steals per game — and did it less than a year after suffering a torn anterior cruciate ligament in her right knee.
Salenbein managed it all, including the rehab on her knee, while carrying a weighted 4.07 GPA.
"Bree is a phenomenal shooter and passer. She is extremely smooth and comfortable anywhere she is on the floor," Fortier said of the Zags' new player.
"She has the ability to post up players smaller than her, make full court passes, defend the best player on the other team, you name it."
ITEM: And finally in our all-female column, the defending WNBA champion Seattle Storm must do without 6-2 forward Kiki Herbert Harrigan this year.
It seems that Kiki is pregnant.
"I'm very much looking forward to motherhood and starting a family with my boyfriend Stanford," Herbert Harrigan said in a statement released by the team.
"While I'm disappointed to miss the 2021 WNBA season, I appreciate the supportive environment the Storm family has provided for me.
"See you next year!"
There's more to this story, however, than just a player's pregnancy and the Storm being short a forward.
Per the WNBA's collective bargaining agreement, players receive fully paid maternity leave.
"The deal represents moving forward both from a WNBA perspective, but also in general, for women in sports and society," Sue Bird, a member of the WNBA Players Association executive committee, told the Seattle Times last year when the CBA was ratified.
"When you look at things like what we're able to do with maternity leave and family planning, we're going to be looked at as — I think — pioneers in the sports world," Bird said.
Congratulations to Kiki, and…
Yes, Sue, the WNBA is getting it right.
Email: scameron@cdapress.com
Steve Cameron's "Cheap Seats" columns appear in The Press on Mondays, Wednesdays and Fridays. "Moments, Memories and Madness," his reminiscences from several decades as a sports journalist, runs each Sunday.
Steve also writes Zags Tracker, a commentary on Gonzaga basketball which is published monthly during the offseason.
Recent Headlines
---