THE FRONT ROW with MARK NELKE: Unusual plays not just limited to big-leaguers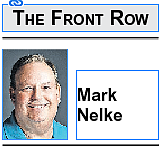 Watching the Pittsburgh Pirates botch a simple 5-3 groundout the other day — the Cubs scored two runs after the Pirates first baseman, fielding a wide throw to first, tried to tag the retreating batter, rather than simply stepping on first base for the inning-ending forceout — got me to thinking about other bizarre plays I've seen in baseball.
BROKEN BATS are a part of major league baseball.
But it's not supposed to happen to aluminum bats, which are the bat of choice in college and high school ball.
But I saw it happen, one time at Memorial Field in Sandpoint.
I can't remember if it was in high school or American Legion ball, but it seems like it was in the early 1990s.
A Sandpoint batter put a ball into play, and the "ping" of the aluminum was followed by the bat shearing off in two — just above the bat handle.
I don't remember if the hitter was jammed, or hit it off the end of the bat — the common causes of a wood bat breaking.
Or perhaps it was a defective aluminum bat.
I just remember him taking a few steps up the line, holding part of an aluminum bat in his hands, and a puzzled look on his face.
Never seen it before, or since.
By the way, if my memory is still correct some three decades later, that player lives in Sandpoint — and his son was just selected MVP in 4A Inland Empire League baseball.
THERE WAS a time when Babe Ruth League baseball (for ages 13-15) was a big deal in North Idaho.
One year, sometime in the mid-1990s, Sandpoint hosted an eight-team state Babe Ruth tournament at Memorial Field.
Sandpoint, as you might expect from a team offering to host, had a strong team — in part because they had two or three left-handed pitchers with terrific pickoff moves.
Time after time, opposing batters reached first base — only to be frozen, then picked off, by Sandpoint pitchers.
Anyway, Sandpoint made a good run until being eliminated Sunday afternoon. The championship game, between two teams from elsewhere in the state — perhaps both from eastern Idaho? — was scheduled for 10 a.m. Monday morning.
For some reason, tourney organizers wanted a six-man umpiring crew — like you see for the World Series — for the title game.
Only problem was, trying to find enough volunteers among the regular working folk that were available on a Monday morning.
"Hey, you're going to be here anyway," someone said to me. "Why don't you be one of the umps?"
Yeah, sure.
Figuring a death in the family was my only way out of this, I said OK — but put me down one of the foul lines, because I had to peel off and grab my camera in the final inning to get a celebration shot.
Though, looking back, why would anybody in Sandpoint, looking in their local paper the next day, want to see a picture of eastern Idaho kids celebrating?
Anyway, there wasn't much action down the left field line for most of the game — after a while, I wondered if I needed to be there or not.
Then a ball came rolling toward me.
Where did that come from?
Apparently from one of the batters. A sharply hit grounder down the line.
But was it fair or foul?
I deferred to the third-base umpire, since he was right near the bag. Certainly he had a good look at the ball as it passed the bag — as opposed to me, who was standing closer to the Pend Oreille River than to third base, it felt like.
So naturally, he looked at me.
So did everybody else.
Uh, looked foul to me.
Looking back, I don't remember a whole lot of beefing about the call from the team that was batting — if we'd ruled the ball fair, a run or two might have scored. And I also don't remember if that team ended up losing the game.
So either they agreed with the call, or were just showing incredible sportsmanship.
Besides, there were no such things as camera phones back in those days. And if someone had their Betamax rolling ... well, it would have been much later before they discovered their team had been wronged — and they would have been hundreds of miles away.
So, with that in mind ...
"Foul ball!"
Mark Nelke is sports editor of The Press. He can be reached at 664-8176, Ext. 2019, or via email at mnelke@cdapress.com. Follow him on Twitter @CdAPressSports.
Recent Headlines
---