Helen Rosella Gross, 92
Our beloved Mother and Grandmother, Helen Rosella Gross, 92, passed away peacefully at home, surrounded by family on Jan. 3, 2021.
Helen was born on Oct. 3, 1928, in Berkeley, Calif., to James Bruner and Ethel Spaulding. Raised in a loving home first by Grandmother Rachel and then by her aunt May, Helen grew up as a self-appointed "tom-boy," riding her bike, playing tennis and spending time with her older brothers, Albert and Ed.
After graduating high school in 1946 Helen attended the University of California Berkeley and promptly became a member of the ZTA sorority. Once she graduated, Helen went on to become a third grade teacher. Soon thereafter, she met the love of her life at a church social, Harold (Dean) Gross, and were later married.
Helen and Dean went on to create a beautiful family complete with one son, Samuel, and four daughters, Pamela, Karen, Laura and Elizabeth. Soon after all five children were born, they moved to Santa Monica, Calif., where as a family of seven they enjoyed playing musical instruments, horseback riding, water skiing at Lake Tahoe, and spending time with their Newfoundlands, Opie and Monty.
After Dean retired, they moved from Southern California to Coeur d'Alene, Idaho, to be closer to family.
Helen dedicated her life to genealogy research, spending countless hours corresponding with relatives around the world and documenting her findings. She loved to travel, especially if it meant visiting family or a fun opportunity to do some genealogy work.
But most of all, Helen cherished the time spent with her loved ones near and far. She always remembered birthdays and wrote handwritten Christmas cards. Helen was a participant in life, always doing. She was always up for a game of darts or mini golf or just an opportunity to be out and about. She will be forever loved and missed by all that knew her.
Helen is survived by her five children: Pamela McGowen (Moke), Samuel Gross, Karen Simandle, Laura Jordahl (Lon), Elizabeth Enyeart (Ron); grandchildren: Alissa Twiss (Shawn), Natalie Poteet (Ryan), Chelsea Meister (Brandon), Tyler Simandle, Daniella Jordahl (Jason), Jody Jordahl (Nancy), Jacqueline Henry (James), Dana Pake (Brian), Kat Larson, James Larson, Sara Larson; and great grandchildren: Taryn, Ayden, Zandyr, Camdyn, Sakura, Avery, Maddie.
Memorial services will be held at 11 a.m. Thursday, June 3, 2021, at the Yates Funeral Home, Hayden Chapel, 373 E. Hayden Ave., Hayden, Idaho.
Helen will be interred next to Dean at Forest Lawn, in Glendale, Calif.
Yates Funeral Home has been entrusted with the care of final arrangements. Please visit Helen's online memorial at www.yatesfuneralhomes.com and sign her guest book.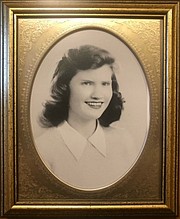 Recent Headlines
---