Movers & Shakers
Range NW expanding team
Range has hired Kristin Kilmer as a Senior Marketing Executive. Kristin will assist with ongoing business development throughout the United States, servicing existing client's marketing campaigns and developing advertising and media plan strategies for clients.
Prior to joining Range, Kristin was most recently a video producer for a nationally recognized production company that specializes in commercials and corporate videos. Her time in Los Angeles and Seattle working in the film/TV industry has given her the perfect combination of experience and confidence. Kristin currently sits on the Coeur d'Alene Arts & Culture Alliance's Board of Directors.
"We have brought Kristin on board because she has natural talent and understanding of the marketing and advertising industry and she has a long history of producing video, as well as project management," said Adam Graves, co-founder of Range. "The ambition she displays, combined with her detailed planning experience and friendly personality, make her a perfect fit for our existing clients and for the our new client development side."
Range is an integrated branding and marketing firm with offices in Coeur d'Alene and Dallas, Texas, with a client list of all sizes from Fortune 500 companies to small start-ups from around the world. Range prides itself on being approachable and works on projects of any scope and size. To learn more go to www.rangeus.com.
ALLWEST hires Finance Manager
Julie Cronnelly has joined ALLWEST as Finance Manager, based in the firm's corporate office in Hayden.
Cronnelly has more than 20 years of experience in accounting management in the engineering and construction industry. Prior to joining ALLWEST, she most recently worked as a Senior Accountant for Hecla Mining Company.
She holds a bachelor's degree in business administration with an emphasis in accounting from Lewis-Clark State College. As ALLWEST's Finance Manager, Cronnelly will be instrumental in managing financial processes for the employee-owned company, which has five offices in three states.
HMH Engineering's Baker passes licensing exam
HMH Engineering announced that Christine Baker has passed the professional engineer's exam, earning her Professional Engineering License in the state of Idaho.
Baker is a project engineer with HMH Engineering. She has four years of engineering experience with an emphasis in roadway design and transportation engineering.
Baker graduated from Boise State University in 2016 with a bachelor of science in civil engineering. She then moved to Coeur d'Alene and joined the HMH design team.
In her free time, she enjoys exploring the outdoors of Idaho, and spending time with friends and family.
• • •
If you have a new, relocated or expanded business, or announcement of events, promotions or awards, The Press wants to let our readers know. Email the details to hmain@cdapress.com.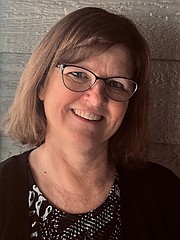 Recent Headlines
---